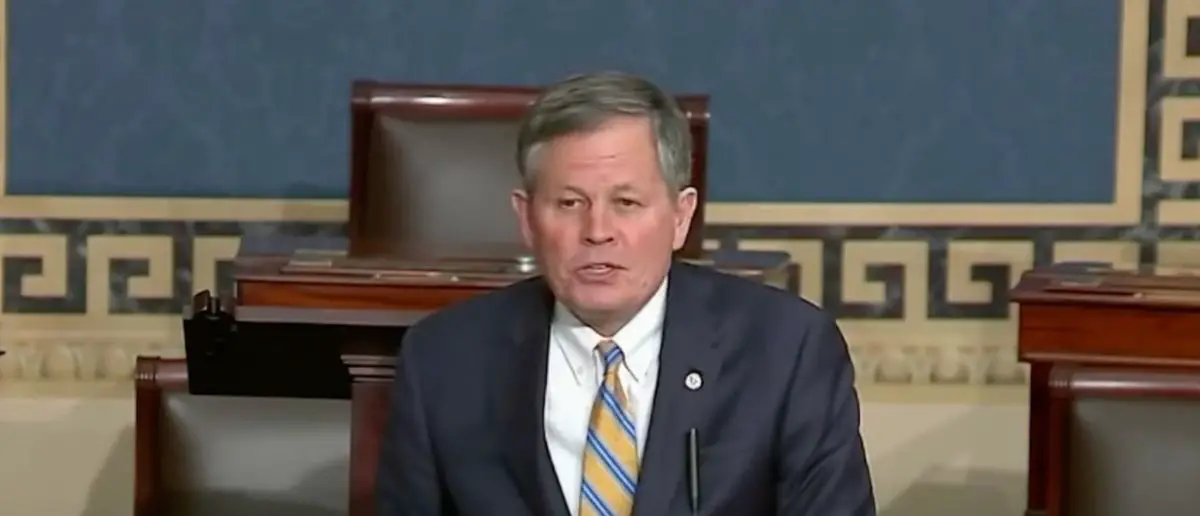 Getting into politics can be a dangerous game. Sometimes politicians learn that the hard way.
And now a top Republican went white as a ghost after this gruesome photo surfaced.
Republicans are used to being blackmailed and targeted – just take a look at the entire Trump presidency.
The Left will do anything and everything to silence those who oppose them.
And they have some powerful friends in high places like social media giants the likes of Facebook and Twitter.
Conservatives and their opinions are routinely censored and we're only now seeing the tip of the iceberg of their silencing campaign.
Sen. Steve Daines (R-MT) was banned out of his Twitter account after changing his profile photo to a shot of him and his wife on a hunting trip.
The post breached Twitter rules on "graphic violence or adult content in profile images," according to a notice from the social media giant supplied by Daines spokeswoman Rachel Dumke. "We consider graphic violence to be any form of gory media related to death, serious injury, violence, or surgical procedures," the notice continued.
.@SteveDaines' twitter account was locked last night for displaying "graphic violence" in his profile picture.

Because going hunting with your wife is apparently against @Twitter rules now.

What a joke. pic.twitter.com/gy4XIu3cv0

— Rachel Dumke (@RachelDumke9) February 7, 2023
Daines was told that in order to unlock his account, he needed to erase his profile photo.
"This is insane. Twitter should immediately reverse this suspension," National Republican Senatorial Committee spokesman Philip Letsou said in a statement provided to The Daily Wire.
Other lawmakers condemned the social media company's action. "If you don't like hunting, fine, don't go. But don't censor others who disagree. And I'm pretty sure this is a formal job responsibility for a senator from Montana!" Senator Ted Cruz (R-TX) responded. "Stop censoring our Montana way of life! Great shot, Cindy!" Rep. Ryan Zinke (R-MT) concurred.
Elon Musk paid $44 billion for Twitter last year in an effort to restore free speech to the network. The world's second-richest man initially told advertisers that he acquired the company to "have a common digital town square, where a wide range of beliefs can be debated in a healthy manner, without resorting to violence."
He swore that the social media site would not devolve into a "free-for-all hellscape" where users may break the law without consequence.
Though a number of conservative accounts, like DailyWire+ host Jordan Peterson and Christian parody site The Babylon Bee, have been welcomed back to the network since Musk took charge, numerous censorship efforts appear to have persisted.
Project Veritas was "wrongfully locked out" of Twitter for over two hours after publishing a stinging video of a Pfizer employee confessing that the corporation is unsure why their vaccines are interfering with women's menstrual cycles.
The organization prompted the restriction by uploading video of one of their reporters asking YouTube Vice President of Global Trust and Safety Matt Halprin about why the corporation blocked the sting.
Daines' suspension comes as lawmakers prepare to question Musk-fired Twitter executives, including former Chief Legal Officer Vijaya Gadde, former Deputy General Counsel James Baker, and former Global Head of Trust and Safety Yoel Roth, about their efforts to suppress information that could have influenced the outcome of the 2020 election.
The suppression of a New York Post story published shortly before the election revealed that Hunter Biden, the son of soon-to-be President Joe Biden, introduced his father to a Ukrainian businessman alarmed lawmakers.
"Big Tech and the Swamp colluded to censor reporting about the Biden family's shady business schemes," House Oversight Committee Chairman James Comer (R-KY) said in a press release.
"We also know members of Twitter's top censorship team debated how they could justify limiting the spread of the story. They landed on a policy that even some among them doubted."
Stay tuned to DC Daily Journal.