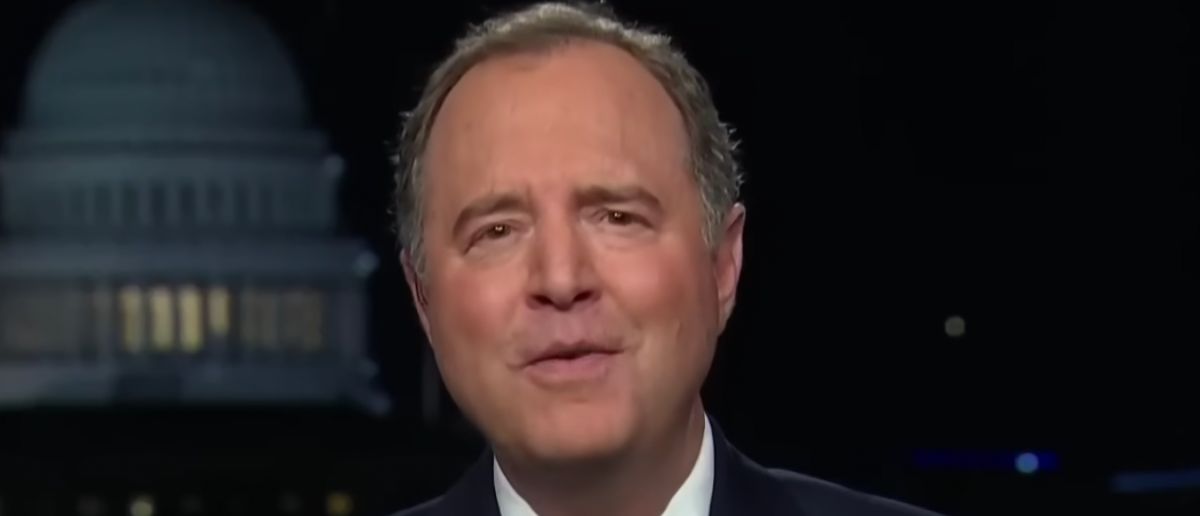 Many conservatives have been waiting for this day to come. But no one could've predicted the madhouse it would create on the House floor.
And Adam Schiff's greatest nightmare just sent Congress into chaos.
Rep. Adam Schiff (D-CA) has made a name for himself by spearheading the witch hunt against Donald Trump for the past 7 years.
Without Trump as a punching bag, no one would even know who he is.
But now he's reaping the whirlwind for his lies and deceit.
The lower chamber voted along party lines to rebuke Rep. Adam Schiff for boosting suspicions that Donald Trump's 2016 presidential campaign cooperated with Russia on Wednesday night.
Democrats crowded around House Speaker Kevin McCarthy (R-Calif.) following the vote, yelling "Shame" and "Santos" as he attempted to read the resolution.
"I have all night," McCarthy remarked, attempting to summon Schiff (D-Calif.) so he might be censured.
McCarthy's repeated gavel bangs had no effect on the jeering, which lasted around five minutes before Democratic members let McCarthy to speak.
The House Intelligence Committee's former chairman, Rep. Adam Schiff, was censured by a vote of 213-209, with six lawmakers voting "present."
Reps. Michael Guest (R-Miss. ), David Joyce (R-Ohio), Andrew Garbarino (R-NY), John Rutherford (R-Fla.), and Michelle Fischbach (R-Minn.) voted present, as did Rep. Ken Buck (R-Colo.).
Last Monday, an original proposal to reprimand Schiff was defeated 225-196, with 20 Republicans voting against it.
According to Rep. Anna Paulina Luna (R-FL), who sponsored both legislation, the resolution included a provision to fine Schiff $16 million, which is half of the money taxpayers paid for special counsel Robert Mueller's collusion investigation.
The resolution passed on Wednesday eliminated the fee and made other changes to appease House Republicans such as Rep. Thomas Massie (R-Ky.), who opposed the original version.
Schiff has called the censorship efforts "false and defamatory" and accused Republicans of retaliating against him for holding Trump accountable. He also referred to it as a "badge of honor."
"You honor me with your enmity. You flatter me with this falsehood," Schiff said on the floor Wednesday. "Today I wear this partisan vote as a badge of honor, knowing that I have lived my oath."
Prior to the vote, Republicans and Democrats traded barbs, highlighting intense tensions in the Senate over the Russia investigation, which was begun by the FBI nearly seven years ago.
"You are the party of George Santos. Who are you holding accountable?" Rep. Dan Goldman (D-NY) chastised his Republican colleagues. "Don't lecture us with your projection."
"If Adam Schiff has a shred of human decency left, he would resign from Congress in disgrace. His tombstone should read of his failed career in Congress and should be one word: LIAR," Rep. Lauren Boebert (R-Colo.) said.
Stay tuned to DC Daily Journal.