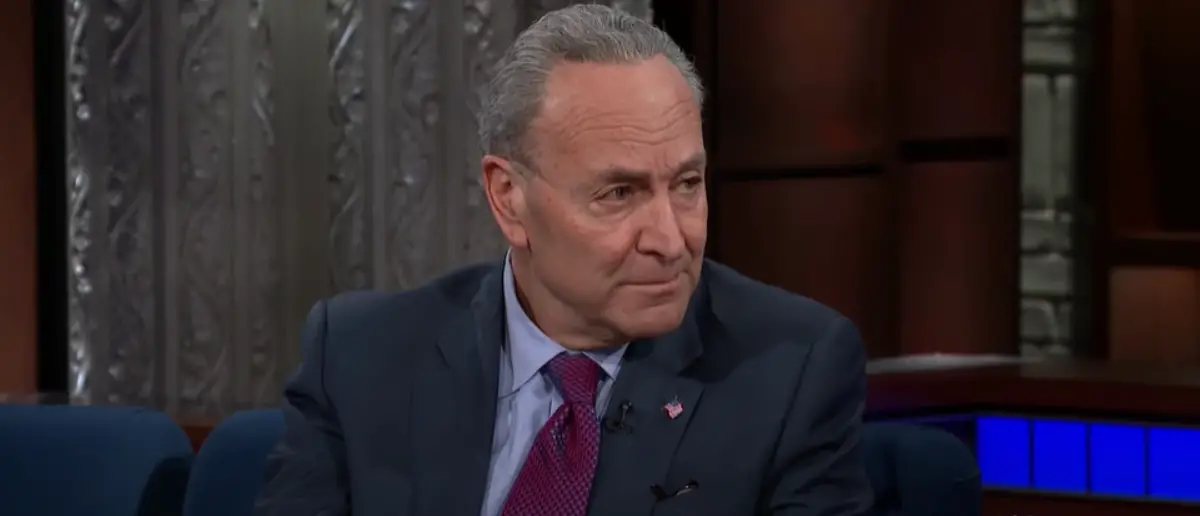 U.S. Senate Majority Leader is hard to like. He's an utter failure in his "leadership" role.
But now Chuck Schumer is toast after he discovered this plan to kick him to the curb once and for all.
A slew of high-profile Republicans are rallying behind Tim Sheehy's campaign to unseat Montana's lone Democrat in statewide office.
Millionaire aerospace entrepreneur and former Navy SEAL Patrick Sheehy is running for the Republican nomination to challenge incumbent Democratic Senator Jon Tester. To discourage any primary challengers, he has amassed a large number of Republican endorsements, including that of Republican Governor Greg Gianforte of Montana.
Within days of Mr. Sheehy's campaign start last week, Mr. Gianforte became the latest GOP official to endorse him. Mr. Gianforte referred to Mr. Sheehy as a "good friend" and praised his business acumen and military service.
Mr. Gianforte said in a statement, "I know Tim Sheehy will serve Montana well in the U.S. Senate, and he has my full support."
Republican senators flooded in with their support as well. Markwayne Mullin of Oklahoma, Marsha Blackburn of Tennessee, and Tom Cotton of Arkansas.
The fate of the Democrats' slim majority in the Senate rests on a few of races, including this one in Montana.
The Democratic majority in the Senate is only 51-49, and Mr. Tester is one of the party's most endangered incumbents. In a state that has shifted to the right over the past few years, he is the only Democrat who holds statewide office.
After Mr. Sheehy made his declaration, the Montana Democratic Party wasted no time in attacking him. To call attention to the fact that Mr. Sheehy was recruited by national Republicans, the party developed the website transplanttim.com.
Sen. Steve Daines, the junior senator from Montana and the head of the National Republican Senatorial Committee, is responsible for recruiting Mr. Sheehy, a native of Minnesota.
The Republican Party in Montana has taken no position in the primary election.
Mr. Sheehy is now in the lead for the Montana Republican nomination, although there is some speculation that incumbent Rep. Matt Rosendale will enter the Republican primary.
Mr. Rosendale, who was defeated by Mr. Tester in 2018 by a margin of more than 3 percentage points, has not dismissed the possibility.
Mr. Rosendale, in a series of social media posts last week, criticized Mr. Sheehy's decision to run for office, saying the businessman was an establishment candidate recruited by Senate Republican leader Mitch McConnell, a Kentucky Republican who is widely reviled by the party's conservative wing.
A spokeswoman for Mr. Rosendale pointed out that he leads Mr. Sheehy by 54 points in a Public Policy Polling study from last month and leads Mr. Tester by 5 points in an OnMessage poll from February.
Representative Ryan Zinke, a fellow Navy SEAL who presented Mr. Sheehy with the Purple Heart Award in 2015, is another likely possibility. Although Mr. Zinke has not officially declared his candidacy for re-election in Montana's 1st Congressional District, he has shown his support for Mr. Sheehy.
Zinke told the press, "He's a phenomenal candidate… would be a great senator."
Whoever it is that runs, conservatives in the Republican Party seem prepared to take our John Tester in 2024 to help flip the majority of the U.S. Senate.
If successful, Chuck Schumer's tenure as the Senate "leader" will be over, and embarrassing possibility for the New York Democrat because he has failed to accomplish much at all so far.
Though, given Chuck Schumer's low approval ratings, it seems as though the American people would be over the moon should that happen.
Stay tuned to the DC Daily Journal.