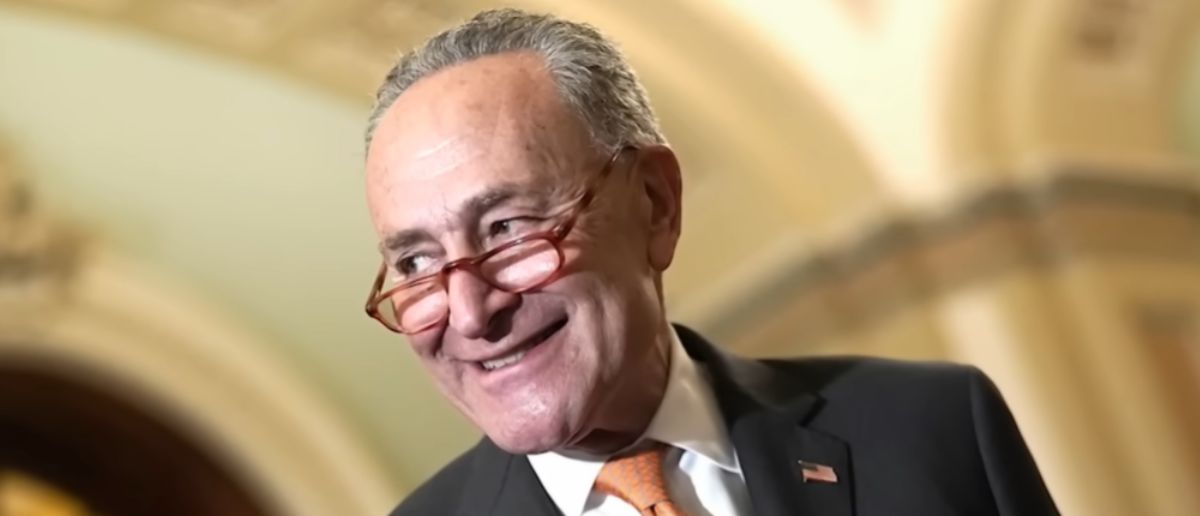 Senate Majority Leader Chuck Schumer is in huge trouble with the Democrat Party. He's completely failed to do his job.
And now Chuck Schumer is officially waving the white flag of surrender.
U.S. Senator Chuck Schumer has to be one of the most annoying members in all of Congress right?
He's got some stiff competition for that label with the likes of Alexandria Ocasio-Cortez and Nancy Pelosi in Congress as well, but Chuck Schumer seems to handle himself quite well in vying for that title.
What's most annoying about Chuck Schumer is that he simply isn't nearly as effective as he believes he is as the Senate Democrat leader.
In the few years, he's been the Democrat leader in the Upper Chamber of Congress, he's accomplished next to nothing that's noteworthy.
This is evident by the fact that there are quite literally hundreds of Biden nominations for the Department of Defense that are being held up in the U.S. Senate.
The reason why they are being held up? Chuck Schumer has refused to allow a vote on the Senate floor to address the backward policies that the Pentagon has regarding abortion.
Conservatives in the U.S. Senate like Mike Lee (R-UT) and Tommy Tuberville (R-AL) have been critical of the policy of the Pentagon to force the taxpayer to pay for the travel of women in the military to go get elective abortions if elective abortions are illegal in their state.
This is seemingly a bypassing of the Hyde Amendment which is supposed to keep federal funds kept far away from paying for abortion services because abortion is found reprehensible by millions upon millions of taxpayers.
The Democrats have been furious with Chuck Schumer for not addressing this roadblock to President Biden getting nominations confirmed.
But it seems as though Chuck Schumer is going to bend the knee and let Tuberville get his way with trying to do away with the Pentagon's policy of paying for travel for elective abortions.
"The bottom line is that if he wants to have an affirmative vote, we would not object to it," U.S. Senator Chuck Schumer said at a press conference this week.
"Tuberville said he wanted a vote. We'll see what happens," he added.
President Biden raised eyebrows when he admitted that he wasn't going to be reaching out to Tuberville because he believes that he can't change Tuberville's opinion. He even said he's unwilling to talk to him.
Biden say's he's willing to talk to him if I thought there was any possibility he would change his ridiculous position on this."
Tuberville says that the Democrats are simply not doing their job and trying to reach a compromise that works for all parties.
A 10 minute call with SECDEF Austin months ago.

ZERO contact from the White House.

ZERO contact from Chuck Schumer.

ZERO Generals called up for a vote for "national security".

EVERY job is being done.

SHOCKER…more political theatre from the Dems. https://t.co/dbOtZvpJ9o

— Tommy Tuberville (@TTuberville) July 13, 2023
But now it seems as though Tuberville may finally be getting what he wanted in trying to get rid of an arguably unconstitutional policy on abortion at the Pentagon.
Chuck Schumer is probably willing to risk the policy being voted away to because he knows his political career is on the line.
He's a do-nothing politician who is clearly over his head as the U.S. Senate Majority leader.
Stay tuned to the DC Daily Journal.