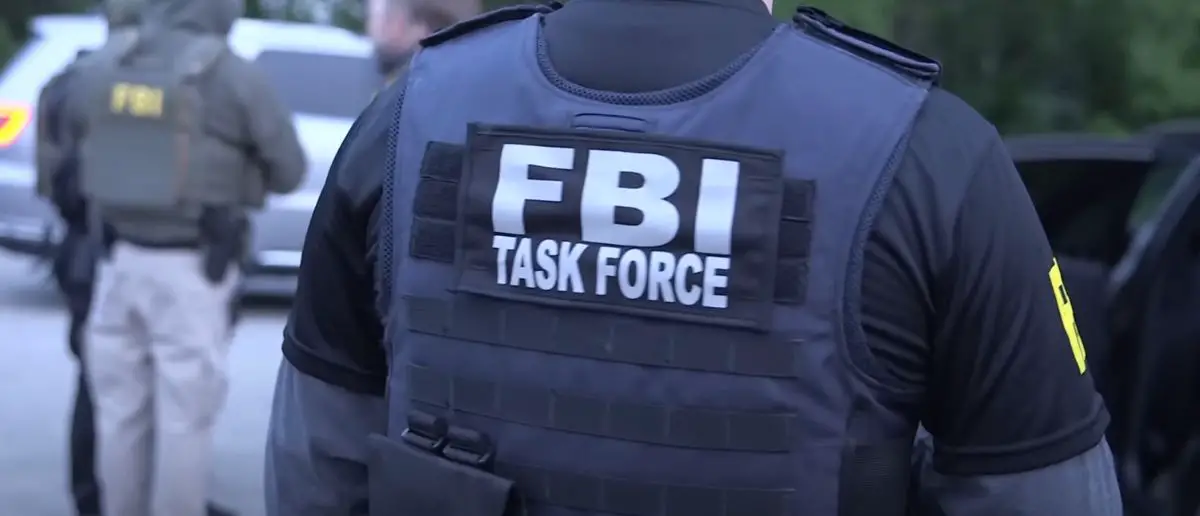 Trust in the FBI is at an all-time low right now. Which makes this development so concerning.
As Congress has voted to do the unthinkable for Joe Biden's FBI.
On Wednesday, a bill that would have prevented the FBI from building a new, expansive headquarters at a cost of $300 million to taxpayers, was defeated no thanks to the votes of 70 Republicans and 203 Democrats who crossed the aisle to vote against it.
On the same day as the disgraceful vote, FBI agents descended with an assault on the quiet New Jersey town of Helmetta to apprehend Gregory Yetman, who was wanted for allegedly spraying pepper spray at Capitol Police on January 6, 2021.
The mayor of the town said that this display of strength included the use of heavy armor.
Seeing officers from the FBI and tanks in your village is not something people in Helmetta are used to seeing, the mayor added, causing "heightened anxiety," as reported by USA Today.
Certainly, using pepper spray against law enforcement isn't called for and he should face some consequences for that. But why does the FBI need to launch a small war on a small town because of one man using pepper spray? Doesn't that sound disproportionate?
Rep. Marjorie Taylor Greene (R-GA) was stunned by the FBI's methods and expressed her shock publicly on Twitter.
"FBI manhunt and tanks for a guy who used pepper spray at police on Jan6?" Marjorie Taylor Greene asked her followers in a post to X (formerly known as Twitter).
FBI manhunt and tanks for a guy who used pepper spray at police on Jan6?

They don't do this for Antifa/BLM rioters or Ceasefire Now Pro-Hamas/terrorists insurrectionists or 1.8 million unknown illegal gotaways that came across our border or Epstein's client list.

Only J6'ers. https://t.co/n5voQFPla2

— Rep. Marjorie Taylor Greene🇺🇸 (@RepMTG) November 9, 2023
Of course Greene opposed the new FBI headquarters and voted against financing for it.
The whole list of Republican defectors who sided with the dictatorial Bureau would be too long to print here. Reps. Don Bacon (R-NE), Ken Buck (R-CO), and Mike Rogers (R-AL) were among the infamous RINOs that participated.
Reps. Pete Sessions (R-Texas) and Steve Womack (R-Arkansas) were two other well-known representatives who joined in to vote for the FBI getting a new headquarters.
Representatives Dan Crenshaw of Texas and Kevin McCarthy of California, who had served as speaker of the House previously, did not cast votes on this measure.
The anti-FBI amendment was introduced by Florida Representative Matt Gaetz.
Gaetz criticized Womack and fellow Republicans on X on Wednesday for seeking an incentive for the FBI. The Florida lawmaker also said that the FBI ought to stay put until it stops using violence and intimidation against the American people.
"Those in the J. Edgar Hoover Building should sit in that rat-infested building until they get their act straight," Gaetz said online.
Republicans like @Rep_SteveWomack believe the FBI should be rewarded with a new $300M headquarters larger than the Pentagon because the building is "crumbling."

Guess what? Our country is crumbling when a weaponized security state targets the civil liberties of American citizens… pic.twitter.com/MbQaYxsE9e

— Rep. Matt Gaetz (@RepMattGaetz) November 8, 2023
Following the amendment's defeat, Gaetz criticized Republicans for giving the FBI a new facility that is apparently "larger than the Pentagon."
70 Republicans voted to reward the Weaponized FBI with a new $300M headquarters – larger than the Pentagon.

Sad! https://t.co/QwbOZFQMov pic.twitter.com/owtPkHEI9I

— Rep. Matt Gaetz (@RepMattGaetz) November 9, 2023
Stay tuned to the DC Daily Journal.