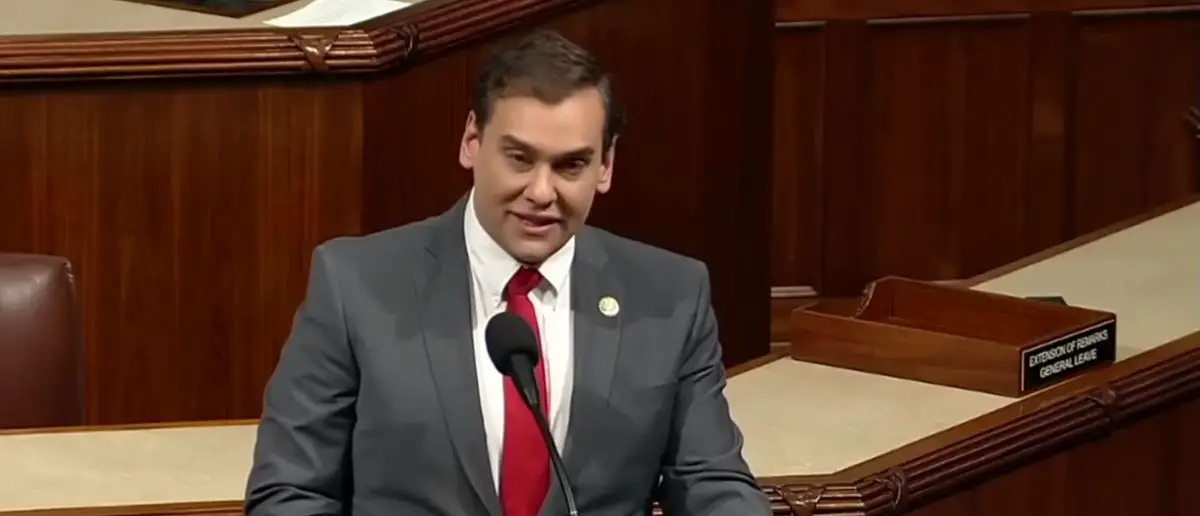 Politicians in D.C. have become a laughing stock. All they do is take their paycheck and get nothing done.
But this GOP Congressman did the unthinkable and now he could lose his job.
Rep. George Santos (R-NY) will face a third attempt to be removed from his New York House seat after Ethics Committee Chairman Michael Guest (R-MS) introduced a motion to remove him following his panel's report revealing evidence the freshman engaged in illegal conduct "below the dignity" of Congress.
Guest filed the request on Friday, saying "substantial evidence" from the Ethics probe show that Santos willfully violated the law and misappropriated campaign funds while campaigning for Congress last year.
Although the report did not propose any specific punishment be taken against Santos, Guest and several other members of the Ethics Committee stated that it had reached the level of expulsion.
"Given the intense public scrutiny surrounding Representative Santos and the ongoing activity at the DOJ, including indictments, the Ethics Committee decided to finish its work without going through a lengthier process that provides for the Committee to make a recommendation of punishment to the House," the statement said.
"The evidence uncovered in the Ethics Committee's Investigative Subcommittee investigation is more than sufficient to warrant punishment, and the most appropriate punishment, is expulsion. So, separate from the Committee process and my role as Chairman, I have filed an expulsion resolution."
On Thursday, the committee issued a 56-page report detailing the findings of its months-long investigation into the embattled freshman, concluding that Santos had knowingly filed false or incomplete reports to the Federal Election Commission, used campaign funds for personal purposes, and "engaged in knowing and willful violations" of the Ethics in Government Act.
According to the investigation, Santos "blatantly" stole funds by duping contributors into making contributions to his campaign that were subsequently utilized "for his personal benefit."
Santos allegedly accomplished this by reporting "fictitious loans to his political committees" in order to entice donors to make additional contributions, but then using those contributions as "repayments" on his personal loans.
"He used his connections to high value donors and other political campaigns to obtain additional funds for himself through fraudulent or otherwise questionable business dealings," according to the study.
"And he sustained all of this through a constant series of lies to his constituents, donors, and staff about his background and experience."
It's unclear when members will vote on Santos' expulsion, but it's likely to come up when the House returns from its Christmas break on Nov. 28.
A motion to expel a member requires a two-thirds majority vote, which means that the motion must be supported by at least 290 members if all MPs are present and voting.
Santos has already avoided two expulsion attempts in the House, including one proposed by his New York Republican colleagues.
However, the most recent attempt to expel Santos failed last month after a majority of Republicans and a few Democrats said they wanted to wait until the inquiry was concluded before making a decision.
Several members who previously voted against the motion have stated that they will back his expulsion this time.
Even after the report was revealed on Thursday, Santos maintained his innocence, calling the inquiry politically motivated.
However, the first-term incumbent has announced that he would not seek re-election next year and will hold a press conference on the Capitol steps on Nov. 30.
Stay tuned to the DC Daily Journal.