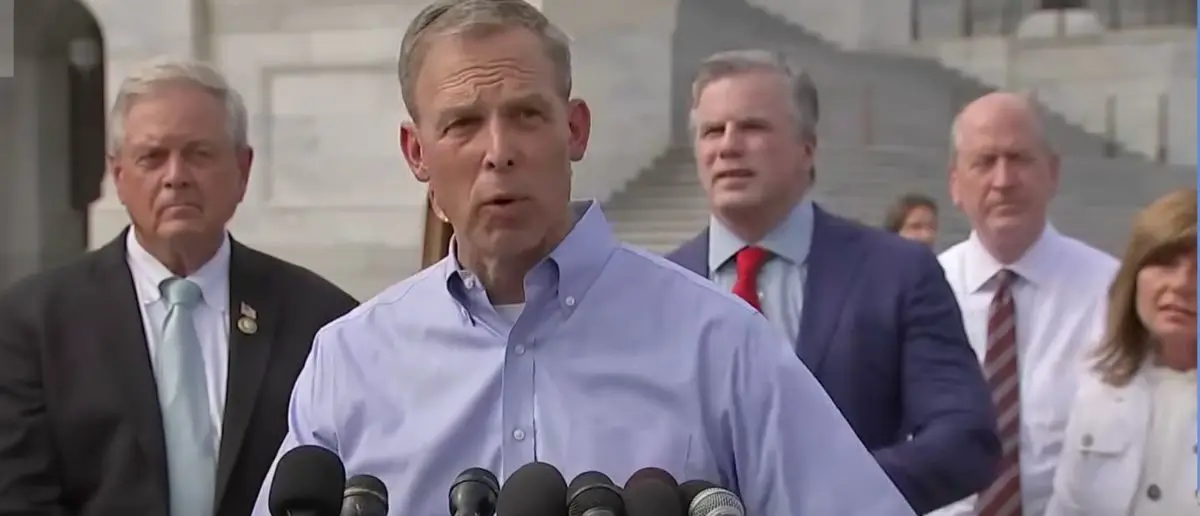 Much of the media are in the Democrats' back pockets. But now they're getting what they deserve.
Because a GOP Congressman screamed at one reporter for asking this boneheaded question.
It's become all too common for mass media figureheads to peddle the Democrat party line.
One of the areas that shows just how bought and sold they are is their coverage of Joe Biden's alleged crimes.
Can you imagine if Donald Trump was accused to selling American secrets for bribes, using his political influence for personal favors, and enriching his family?
The firestorm would be enormous and CNN, MSNBC, and the like would be playing it non-stop.
When Biden is defendant, the media is curiously silent. Not only that, but they will go to bat for him against Congressional Republican investigators.
But Republicans are having none of that and are putting them in their place.
Rep. Scott Perry (R-PA) said little during a Freedom Caucus press conference on the steps of the United States Capitol on Tuesday, following Speaker Kevin McCarthy's (R-CA) announcement of an impeachment investigation into President Joe Biden.
"What actual evidence do you have as opposed to allegations to show to the American public that would merit an actual impeachment inquiry of Joe Biden and prove that today isn't just about some of you [inaudible]?" enquired an off-camera reporter.
McCarthy, according to the reporter, was acting in "political retaliation for Donald Trump's impeachments."
"This isn't about political revenge. We have the bank accounts we can see, ma'am," Perry fired back.
"You can see that the homes that the Bidens own can't be afforded on a congressional or Senate salary. You also understand that it's not normal for family members to receive millions of dollars from overseas interests. Those things aren't normal."
"That's not normal to have 20 shell companies, these things are not normal," he continued.
"And it alludes to not only just widespread corruption, but money laundering, if not influence peddling itself and we also have the president, the vice president at the time, on record saying that the prosecutor was fired. 'Well, son of a b****! The prosecutor was fired,' right? Because the prosecutor was going after the company that his son was working on."
"That's what we have. If you can't see that. If you want, if you are that blind, I'll turn it over to the attorneys," Perry concluded as he walked away from the podium.
"The American people can't see that, they think it's political revenge," replied the reporter.
Perry rushed back and shouted at the reporter: "It's because you don't report on it!"
WATCH:
.@RepScottPerry unloads on a reporter who says Republicans' impeachment inquiry is about "political revenge," not evidence of Biden corruption:

"You can see that the homes that the Bidens own can't be afforded on a congressional or Senate salary. You also understand that it's… pic.twitter.com/fBcJnG0Ps7

— Tom Elliott (@tomselliott) September 12, 2023
Stay tuned to the DC Daily Journal.