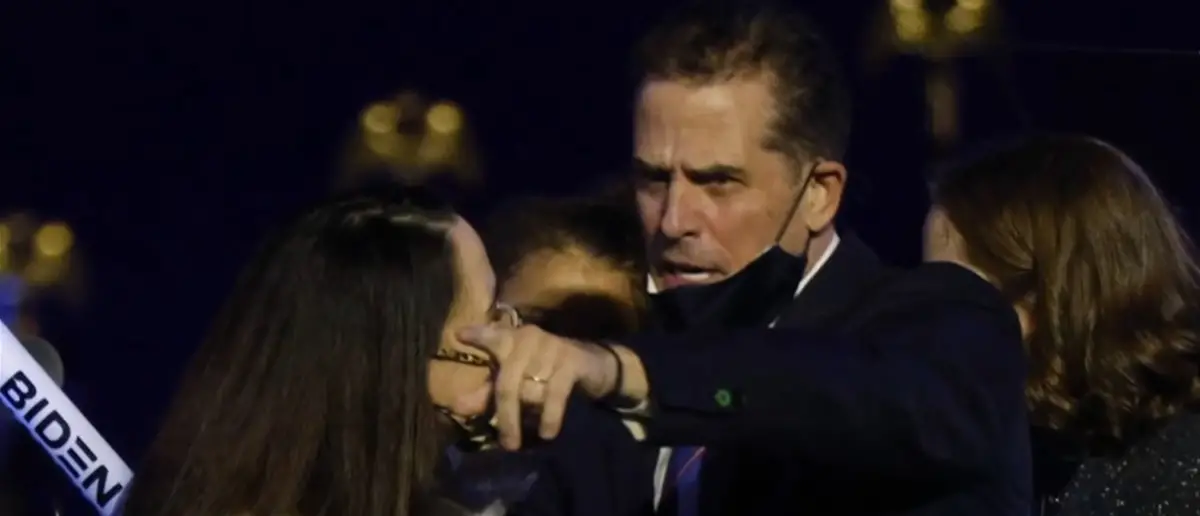 The disgraced son of Joe Biden has been a thorn in the side of the Biden family for years. They can't protect him anymore.
And Hunter Biden's world crashed down when Republicans found these hidden documents.
Americans are sick and tired of the two-tiered justice system in this country.
Politicians and their families are able to commit acts that any average citizen would be thrown in jail for.
Just take a look at Hunter Biden – He used his father's political influence to profit personally.
Not only that but the extent of Joe Biden's own involvement in his business ventures has still not full been revealed.
But we do know that Biden used his power as Vice President during the Obama administration to strong-arm Ukraine into dropping an investigation into his son – the same form of abuse of power they accused Donald Trump of committing.
It doesn't help that Left-wing media outlets like CNN and MSNBC spent years claiming evidence of Hunter's corruption on his laptop was Russian misinformation.
They've been forced to eat their words, but it almost seems like too little too late since Joe Biden is in office.
But Hunter just got hit with surprise straight out of left field.
Representative James Comer, the head of the House Oversight and Accountability Committee, subpoenaed financial information from Bank of America for Rob Walker, a former business colleague of Hunter Biden, and two other individuals on Monday.
A spokesperson for the Comer-led House Oversight Committee told the Washington Examiner, "The Oversight Committee has subpoenaed and obtained financial records related to the Biden family's influence peddling. These documents solidify our understanding of several areas of concern and have opened new avenues of investigation about the Biden family's business schemes."
The subpoena was revealed in a letter from Representative Jamie Raskin to Comer, who stated that the chairman subpoenaed "all financial records" from three people, with Walker being the only one identified, dating back to January 20, 2009.
According to Comer, "by 2017, Biden family members and their associates, including John R. Walker, formed a joint venture with CEFC China executives" and were looking into Hunter Biden's dealings with Chinese companies.
Comer's subpoena "compelled the production of and obtained thousands of pages of Mr. Walker's private financial information" according to Raskin, and "these documents go well beyond any business deal with Hunter Biden or CEFC."
CEFC is a multibillion-dollar Chinese energy company, and its executive director, Zang Jianjun, is close to President Xi Jinping and the Chinese Communist Party.
Ye Jianming, a business magnate who has since gone, founded CEFC.
Tony Bobulinksi, Hunter Biden's former business partner turned whistleblower, has given numerous documents that link Joe Biden and his son to corruption and influence peddling. In an email dated May 13, 2017, Walker, Bobulinski, Hunter, and James Biden received a reference to "the big guy." from a different Hunter Biden business colleague, James Gilliar.
Bobulinski has said "the big guy" is Joe Biden.
"Hunter Biden and his associated businesses received at least $5 million in payments from CEFC in 2017 and 2018, and CEFC deputy Patrick Ho also agreed to pay Hunter Biden a $1 million retainer." according to the Washington Examiner.
Stay tuned to DC Daily Journal.