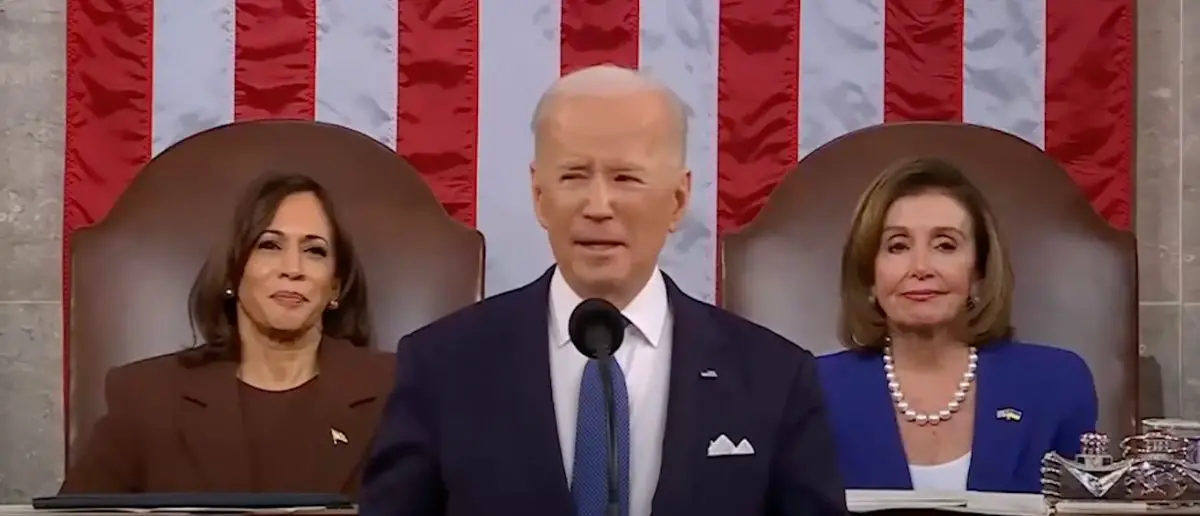 President Biden is set to give his State of the Union speech tomorrow night. But now the White House is in chaos.
Because Joe Biden ripped up his State of the Union address after being blindsided.
It's a well-known fact to anyone who has been paying attention that Joe Biden's presidency is falling apart at the seams.
His destructive mishandling of the crisis at the southern border, where he's allowed over six million illegal immigrants in with no resistance, is one thing.
His disastrous poll numbers and failure to convince the American public that he is even fit for office is another.
And over the weekend he allowed the Chinese to spy on American soil without any repercussions via a spy balloon.
Now it's forcing him to rewrite his entire State of the Union speech.
As Biden's speechwriters work to help the president emphasize a series of accomplishments during this week's State of the Union address, Axios reports that the president will try to be "nimble" and will "likely rewrite" his portion on China, while the administration also deals with Beijing's threat of repercussions for downing the spy balloon.
China will be an uninvited guest at President Biden's State of the Union address Tuesday night, as he takes credit for a resilient economy, celebrates record-low unemployment, and previews a broader domestic agenda. https://t.co/UX7Jasr66W

— Axios (@axios) February 5, 2023
On Thursday, people in the United States spotted a spy balloon flying over their homes. After the news broke, a senior defense official said last week, "We are confident that this high-altitude surveillance balloon belongs to the [People's Republic of China]."
The suspected Chinese spy balloon was shot down over the Atlantic Ocean off the Carolina coast on Saturday morning, after hovering around the continental United States for days.
South Carolina locals captured video evidence of the spy balloon being shot out of the sky by the US military on Saturday:
Here's the best video of the U.S. military shooting down the Chinese spy balloon that I have seen, posted by @ashlynforsc: pic.twitter.com/HuCISoBmDj

— Brian Stelter (@brianstelter) February 4, 2023
"This afternoon, at the direction of President Biden, U.S. fighter aircraft assigned to U.S. Northern Command successfully brought down the high altitude surveillance balloon launched by and belonging to the People's Republic of China (PRC) over the water off the coast of South Carolina in U.S. airspace," Secretary of Defense Lloyd J. Austin III said in a statement on Saturday.
However, the Chinese spy balloon and the State of the Union address occur at a unique point in Biden's presidency.
The Chinese spy balloon, which sparked bipartisan indignation, will eventually be added to the list of probes into the Biden administration that the next Republican-controlled House plans to conduct.
In addition to China, House Republicans have planned a spate of probes on Biden. As a result, the Chinese surveillance balloon eventually adds fuel to the fire.
Despite this, Axios reports that Biden, who is reportedly planning a second term, will use the speech to try to maintain his administration's ability to work with China after Biden and Chinese leader Xi Jinping met last November and agreed to have more channels for their officials to communicate on a more regular basis.
Biden's Special Presidential Envoy for Climate (SPEC) John Kerry allegedly has been holding climate negotiations with his Chinese counterpart, and Treasury Secretary Janet Yellen recently met with her Chinese counterpart in Zurich.
Stay tuned to DC Daily Journal.