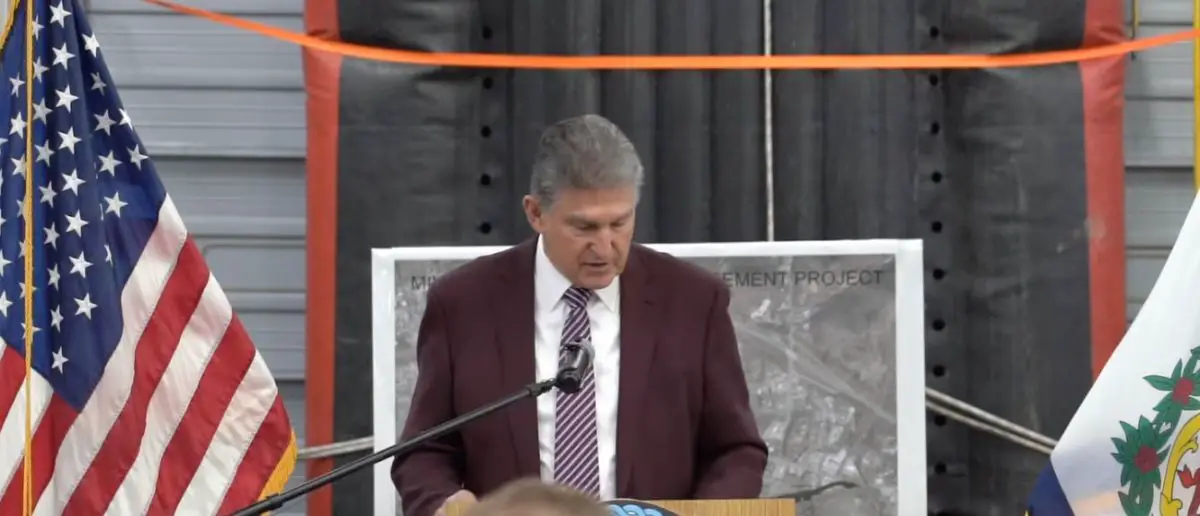 Senator Manchin's relationship with fellow Democrats has soured over the past years. Many think he'll jump ship soon.
And Joe Manchin just put Biden on blast on live TV.
The radical Left's most potent weapon has been their use of cancel culture.
If anyone dissents from the liberal orthodoxy, they are slandered as caving to Republicans or backstabbing the party.
But many Democrats aren't too happy with the direction of the party.
Famously, Former Congresswoman Tulsi Gabbard and Senator Kyrsten Sinema left the Democrat Party for its rigid radicalism.
And now Joe Manchin and President Biden are coming to blows.
He issued a scathing statement on Friday, following the Biden administration's publication of guidelines limiting whether electric cars (EV) are eligible for tax incentives under the Inflation Reduction Act (IRA).
Despite the IRA's goal of reducing reliance on China, Manchin, the chairman of the Senate Energy and Natural Resources Committee, believes the Treasury Department restrictions strengthen Chinese supply lines and Chinese Communist Party-affiliated enterprises. The Democrat was a key supporter of the IRA, which was enacted by Congress and signed into law by President Biden in August.
"Yet again – the guidance released by the Department of the Treasury completely ignores the intent of the Inflation Reduction Act. It is horrific that the Administration continues to ignore the purpose of the law which is to bring manufacturing back to America and ensure we have reliable and secure supply chains," Manchin said Friday. "American tax dollars should not be used to support manufacturing jobs overseas."Chi
"It is a pathetic excuse to spend more taxpayer dollars as quickly as possible and further cedes control to the Chinese Communist Party in the process. The guidance includes a 60-day comment period and I ask for every American to comment," the West Virginia lawmaker continued. "My comment is simple: stop this now – just follow the law."
The Treasury Department rules, which were issued on Friday, detail the sourcing requirements for essential minerals and battery components that automakers must utilize in EV batteries in order to be eligible for the entire $7,500 credit.
The IRA requires that EV batteries have a specified amount of essential minerals and components from the United States or countries with which the United States has a free trade agreement.
Ford said in February that it would collaborate with the huge Chinese tech giant Contemporary Amperex Technologies (CATL) to establish a new EV battery plant in Michigan. While Ford stated that CATL will have "limited involvement" as a contractual service provider and technology licensor to Ford, the Chinese business stands to earn indirectly if EVs equipped with batteries manufactured at the site qualify for IRA tax credits.
According to Bloomberg, Tesla is also planning to establish a battery plant in the United States using CATL's technology.
An administration official declined to comment on individual deals like the Ford-CATL pact during a press call ahead of Friday's announcement, but said it was excellent that the IRA was incentivizing multinational corporations to bring cash to the United States.
Furthermore, the Treasury Department delayed implementing an IRA clause that prohibits EVs manufactured with any battery components or essential minerals obtained from a "foreign entity of concern" commencing in 2024 and 2025, respectively.
A separate administration official told reporters that details on how that option will be implemented would be revealed at a later date.
Ford, Hyundai, and several industry groups, such as the Zero Emission Transportation Association, which includes Tesla, Rivian, and Uber, have urged the Treasury Department to publish looser IRA instructions to ensure that more vehicles are qualified. They have taken particular issue with a wide definition of a "foreign entity of concern."
Because China is likely to fall under that category, depending on how the Treasury Department interprets the statute, EVs containing any Chinese-sourced components and minerals may be ineligible for the credit. According to a Brookings Institution study published last year, China presently has 78% of the world's cell manufacturing capacity for EV batteries.
In February, former White House National Security Advisor Robert O'Brien told Fox News Digital, "It's shocking that Ford is doing this."
"We just had a Chinese spy balloon traverse the length and breadth of our country and violate our sovereignty. And Ford is partnering with our leading competitor, our adversary, to work on battery technology and build batteries here in America."
"On top of that, they're trying to work out a loophole to get U.S. taxpayers to support and subsidize their dealings with China and to bolster a Chinese company with U.S. tax dollars, the tax credits in the Inflation Reduction Act," he said.
"It's a total perversion of the Inflation Reduction Act which was intended to bring manufacturing home with U.S. supply chains and exclude the Chinese."
Stay tuned to DC Daily Journal.