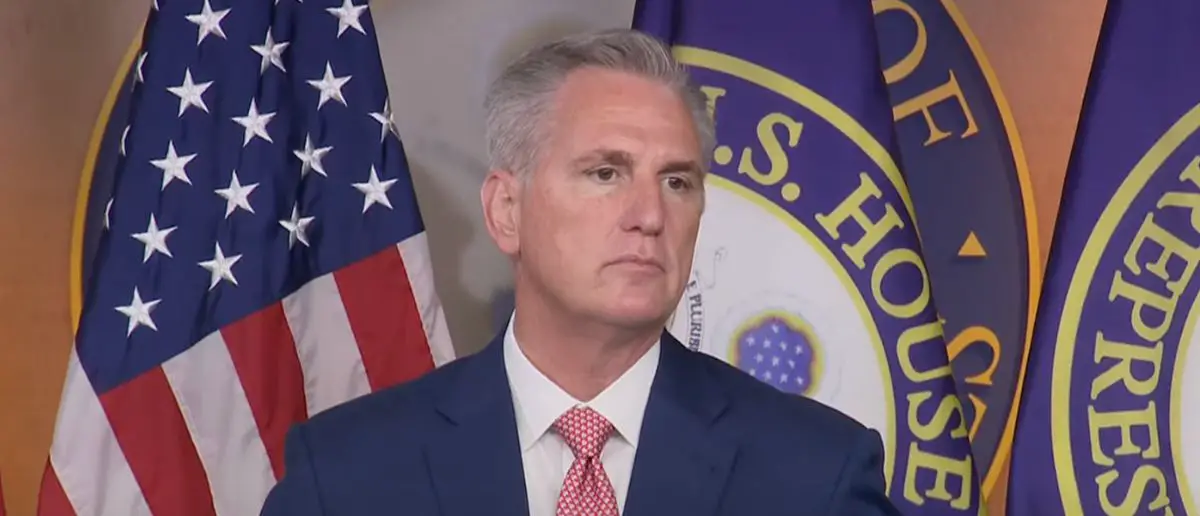 Even though the vote for Speaker of the House is coming up soon, nobody knows who will win. That's because more and more conservative Republicans in the House are not going to vote for the frontrunner, Kevin McCarthy.
And Kevin McCarthy just got the shock of his life from the last person he ever expected.
Since the GOP won the U.S. House by a small margin in November, they get to choose the next Speaker.
And everyone thought that choice would be Kevin McCarthy, a Republican from California who is the Minority Leader right now.
But on the way to McCarthy's coronation, something funny happened: he found out that there are people who don't agree with him.
McCarthy needs 218 votes to become Speaker, and Republicans have 222 representatives, so he won't be able to do it.
But at least 5 of those 222 people have already said they won't vote for McCarthy, and at least a dozen more say they aren't ready to back him yet.
Matt Gaetz, a fiery conservative from Florida, is one of the five people who voted no.
And Gaetz recently made his case in an opinion piece for The Daily Caller.
In his opinion piece, Gaetz explained why he won't vote for McCarthy for Speaker and said that McCarthy has "no ideology."
In an interview with the Daily Caller, Gaetz also said that the current GOP Minority Leader is called "Cavin' McCarthy."
But Gaetz went even further, saying that most Republicans who support Kevin McCarthy for Speaker "benefit" from money from special interests.
At the recent AmericaFest conference, the Daily Caller talked to Gaetz and asked him who he thought should be the next Speaker of the House.
McCarthy does have one opponent, Andy Biggs, a Republican from Arizona who is running a tough campaign.
But there are also other names being suggested.
Even more so because it looks like McCarthy isn't going to get the votes he needs.
To lose, he can't have more than four Republicans vote against him, and the five Republicans who voted against him have all said they won't change their minds.
"I'm not voting for Kevin McCarthy, because I think he's just a shill of the establishment. I think that Kevin McCarthy is little more than a vessel through which lobbyists and special interests operate," Gaetz told the Daily Caller.
Gaetz then told his fellow GOP members who are backing McCarthy a very harsh truth.
"The reason most of my Republican colleagues are supporting him is because they benefit from the redistribution of lobbyist and special interest money through McCarthy to their campaign accounts," Gaetz said.
He then warned his fellow Republicans, "The bottom line is, that's not going to work anymore."
Gaetz went on to say that someone like Congressman Jim Jordan is needed in the House (R-OH).
Gaetz said this at the same time he was tweeting for people to tell Jordan to run for office.
"We need someone like Jim Jordan as the Speaker of the House, who can cast a vision and who has the trust and confidence of the people across the spectrum in the House," Gaetz said.
As of right now, McCarthy will not be taking the gavel from the Speaker.
Congressmen Andy Biggs (R-AZ), Matt Gaetz (R-FL), Ralph Norman (R-SC), Matt Rosendale (R-MT), and Bob Good are the five who won't vote for the bill (R-VA).
Axios reported recently that the five plan to vote together on McCarthy's nomination when it comes up for a vote.
"We all operate as five. […] We come as five, so we're going to agree on all [of the concessions we need]," Norman said, according to Axios.
If that stays the same, it could be bad news for McCarthy, who can only lose four GOP votes next month.
McCarthy is even more worried about the growing number of GOP Representatives who have not said how they will vote but have given a list of demands for the new Speaker.
Given that five members are against McCarthy, it seems less and less likely that we will hear from McCarthy this year.
Stay tuned to DC Daily Journal.