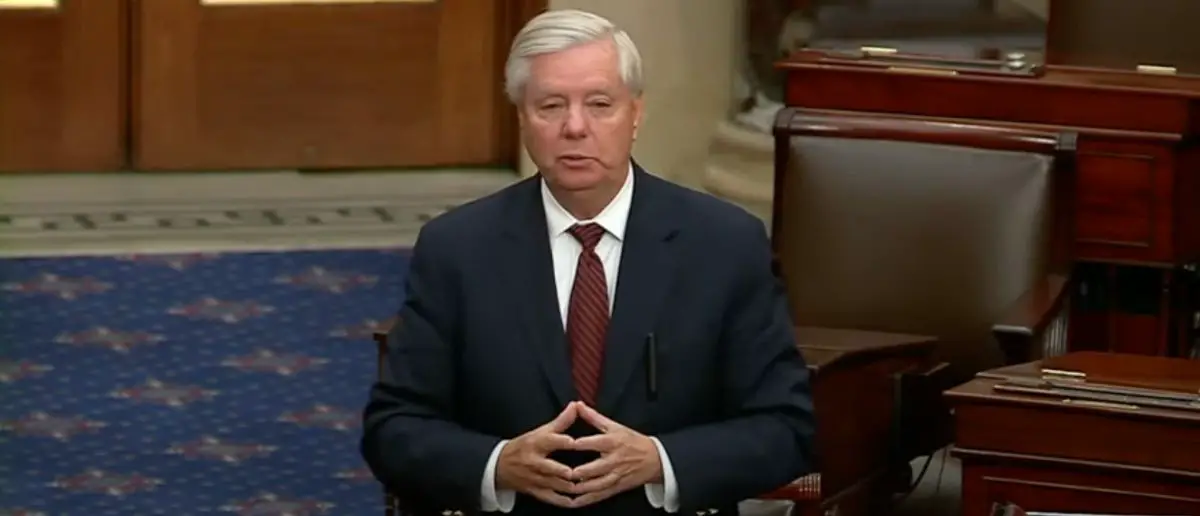 No one ever accused Lindsey Graham of being "too conservative." He's willing to join forces with Democrats whenever he wants.
And Lindsey Graham switched parties during one critical fight.
Senator Lindsey Graham appears to be reaching a breaking point with fellow Republican Senator Tommy Tuberville.
Mr. Graham warned Republicans on the Senate floor shortly after midnight Thursday that he would join Democrats in bypassing Mr. Tuberville's blocking of hundreds of military promotions due to the Pentagon's abortion policy.
"I promise you this: This will be the last holiday this happens. If it takes me to vote to break loose these folks, I will," Mr. Graham said.
"To my pro-life friends: You're not advancing this cause. You're hurting this cause if the average American believes that the reason these people are getting blocked from promotion is because of a policy choice they didn't make."
The South Carolina senator and Air Force veteran's cautious words make him the first Republican to openly declare he's inclined to favor a legislative workaround, highlighting the growing anger among some GOP senators and the building pressure on Mr. Tuberville of Alabama.
After the Thanksgiving vacation, Senate Majority Leader Charles E. Schumer, a New York Democrat, will craft legislation to confirm en bloc the roughly 450 pending nominations that have gathered during Mr. Tuberville's 10-month delay.
The Senate Rules Committee advanced the bill along party lines this week, despite Republican concerns that it would erode any senator's ability to reject appointments through unanimous consent.
However, Senate Republican Leader Mitch McConnell, who sits on the panel, has left the door open to supporting the unusual move to break Mr. Tuberville's impasse.
After raging against Mr. Tuberville and the Pentagon policy that funds out-of-state travel for service members seeking abortions, the Kentucky Republican indicated that he would "oppose going that route at this particular moment."
"Inserting our military into the center of a politically divisive subject isn't just an ill-advised policy choice. It's actually dangerous," Mr. McConnell said of the Pentagon.
Of Mr. Tuberville, he stated: "Any one of us can talk for days about the growing challenges we're facing around the world, but none of it is worth a dime if we can't put experienced commanders in command in a timely manner."
Democrats will need at least nine Republican senators to join them in voting. Mr. Tuberville stated that he is still looking for a way to avoid the vote, but failure to produce an alternative may influence enough Republicans to cross the aisle.
"There's some things I'm working on — hopefully — that it doesn't get to that point," Mr. Tuberville said Wednesday. "If I told you, it wouldn't be a secret."
The overnight session on Thursday followed a vote shortly before midnight on Wednesday on a stopgap funding plan to avoid a government shutdown. Mr. Graham and other Republican Sens. Joni Ernst of Iowa, Todd Young of Indiana, and Dan Sullivan of Alaska revived an attempt to confirm individual military nominations until around 3:30 a.m., to which Mr. Tuberville protested.
This time, Utah Republican Sen. Mike Lee defended Mr. Tuberville.
"He's chosen a tactic that is legitimate, and he has every right to deploy under the rules of the Senate, rules that go back nearly two and a half centuries in order to protect the individual rights of each senator," Mr. Lee said.
Mr. Graham accused Mr. Tuberville of "taking the military and throwing it in the ditch," and reiterated that a lawsuit should instead be brought.
Republicans are being instructed by former Trump attorney Jay Sekulow, who served on the ex-president's impeachment team during the first Senate trial, according to the South Carolinian. Mr. Graham said he thought "we found a way, talking to Jay, to bring a lawsuit," but he did not divulge additional details.
Mr. Tuberville has angrily refuted claims by Pentagon officials and even some Republicans that his holdings are endangering national security.
Stay tuned to the DC Daily Journal.