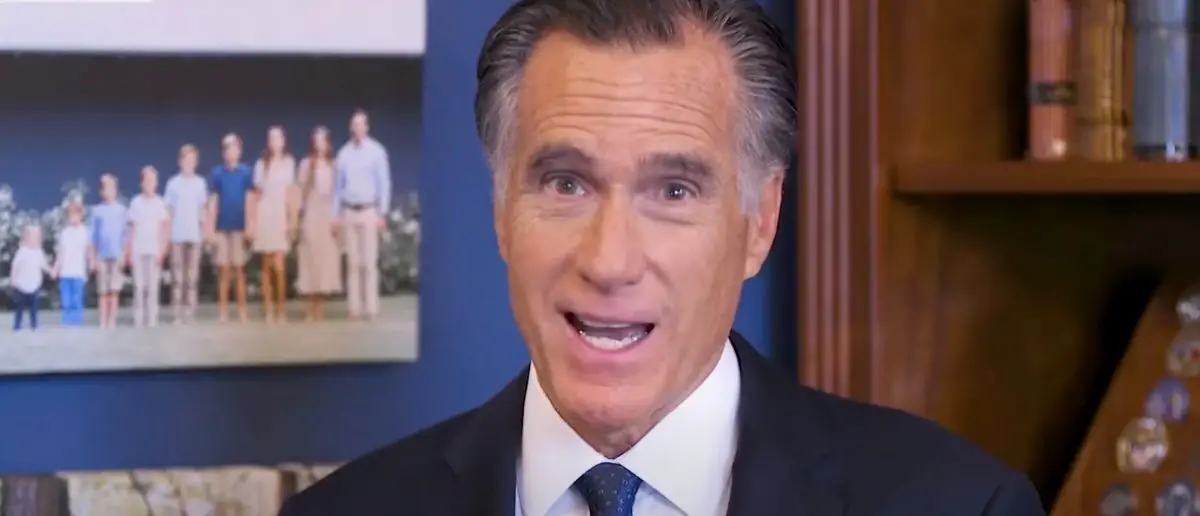 The election was bound to produce a few curveballs. But this one takes the cake.
Because a major Republican candidate just made a shocking exit from the 2024 race.
The Republican Party is at war with itself.
The fight is between America First conservatives and RINOs.
This Republican is sick and tired of it all, and is throwing in the towel.
Sen. Mitt Romney, 76, the Republican presidential contender who lost to Barack Obama in 2012 and then became a United States senator from Utah in 2018, has announced that he will not seek re-election to the Senate in 2024.
Romney told The Washington Post that he was disappointed with the GOP-controlled House and that either President Biden or former President Trump would be elected in 2024.
"It's very difficult for the House to operate, from what I can tell," he declared, "and two, and perhaps more importantly, we're probably going to have either Trump or Biden as our next president. And Biden is unable to lead on important matters and Trump is unwilling to lead on important matters."
Romney asserted that neither Biden nor Trump was serious about reducing the deficit, saying, "You've got both Biden and Trump saying we won't touch entitlements. How irresponsible is that!"
Romney said he would not publicly support any of the GOP presidential candidates challenging Trump, opining, "I doubt my support will mean anything positive to any of the candidates at the finish line. I'm not looking to get involved in that."
"It's pretty clear that the party is inclined to a populist demagogue message," he said, adding, "If it can change in the direction of a populist it can change back in the direction of my wing of the Republican Party."
Romney, the former governor of Massachusetts, was not the first member of his family to run for president; his father, George, who was governor of Michigan at the time, was a leading candidate in 1968, but lost to Richard Nixon.
As a senator, Romney voted twice to impeach Trump, earning the ire of Trump supporters. He said about Trump in January 2019:
After he became the nominee, I hoped his campaign would refrain from resentment and name-calling. It did not. When he won the election, I hoped he would rise to the occasion. His early appointments of Rex Tillerson, Jeff Sessions, Nikki Haley, Gary Cohn, H.R. McMaster, Kelly and Mattis were encouraging. But, on balance, his conduct over the past two years, particularly his actions last month, is evidence that the president has not risen to the mantle of the office.
"With the nation so divided, resentful and angry, presidential leadership in qualities of character is indispensable," he continued. "And it is in this province where the incumbent's shortfall has been most glaring."
In response to House Speaker Kevin McCarthy's directive to House committees to launch an impeachment investigation into President Biden, he declared, "This is not an impeachment. This is an inquiry, and I have heard no allegations that rise to the high-crimes-and-misdemeanors standard of the Constitution."
"I think it's of paramount importance to maintain our commitment to the Constitution and the liberal constitutional order," he stated.
"And I know that there are some in MAGA world who would like Republican rule, or authoritarian rule by Donald Trump. But I think they may be forgetting that the majority of people in America would not be voting for Donald J. Trump. The majority would probably be voting for the Democrats."
He concluded, "I do believe that our institutions, while under constant barrage, are strong, that our court system is strong and that, fundamentally, the American people stand by the Constitution and the constitutional norms."
Stay tuned to the DC Daily Journal.