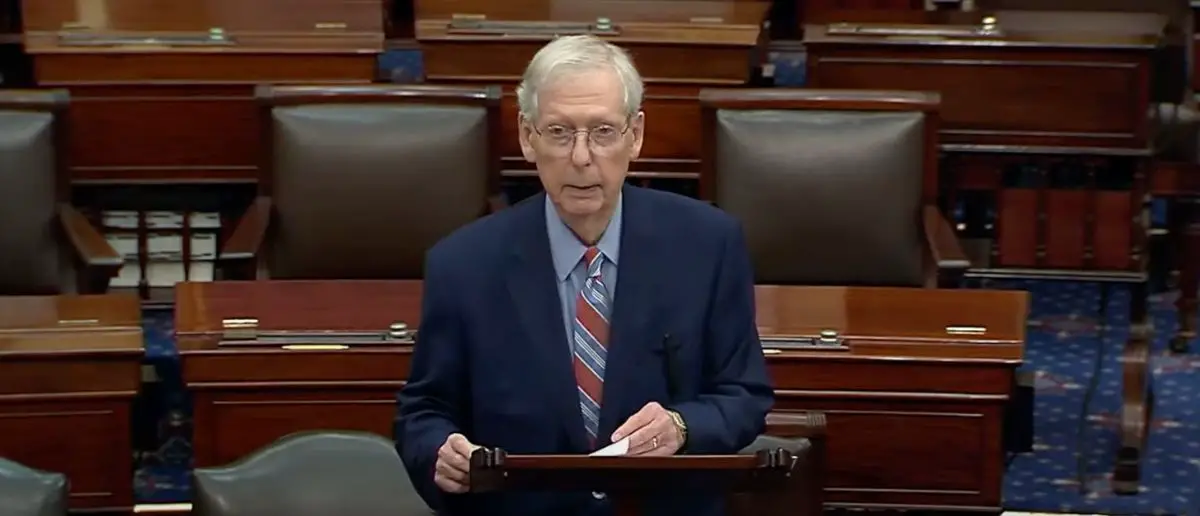 McConnell's health has been the subject of scrutiny lately. Now we have our answers.
Because Mitch McConnell's doctor announced this sobering news.
Senate Minority Leader Mitch McConnell (R-KY) does not appear to have had a stroke or to have a seizure disease, according to the attending physician of the United States Congress, who provided an update on Tuesday following the lawmaker's second freeze-up last week.
"My examination of you following your August 30, 2023 brief episode included several medical evaluations: brain MRI imaging, EEG study and consultations with several neurologists for a comprehensive neurology assessment," Dr. Brian Monahan said in a note released by McConnell's office.
"There is no evidence that you have a seizure disorder or that you experienced a stroke, TIA or movement disorder such as Parkinson's disease," the physician added.
"There are no changes recommended in treatment protocols as you continue recovery from your March 2023 fall."
McConnell, 81, was hospitalized in March with a concussion after collapsing at a hotel in Washington, D.C.
He looked to stop and struggle to answer questions while speaking to the press in recent weeks, first on Capitol Hill last month and then last week at a rally in Kentucky.
BREAKING NEWS: Sen. Mitch McConnell appearing to have another scary episode in the media gaggle in Covington today. Aides had to step in to help him out and repeat questions. He was eventually lead away. We'll have the full video on @WLWT pic.twitter.com/q9ex5MHxLV

— Hannah Thomas (@HannahPThomas) August 30, 2023
Monahan declared in a memo posted on Thursday that he had reviewed the most recent event and found that McConnell was fit to continue working.
"I have consulted with Leader McConnell and conferred with his neurology team. After evaluating yesterday's incident, I have informed Leader McConnell that he is medically clear to continue with his schedule as planned," Monahan said in his note last week.
"Occasional lightheadedness is not uncommon in concussion recovery and can also be expected as a result of dehydration," the physician added.
McConnell is among a group of elderly leaders, including President Joe Biden and Senator Dianne Feinstein (D-CA), who have faced health concerns and pressure to quit. In 2026, he will be up for re-election.
In the midst of rumors over McConnell's health and future in Congress, Sen. Mike Rounds (R-SD) told CNN on Sunday that the minority leader would return to Washington, D.C., after the summer recess and discuss the situation with his colleagues.
"Mitch is sharp, and he is shrewd. He understands what needs to be done. I will leave it up to him as to how he wants to discuss that with the American public," Rounds said, adding, "But there's no doubt in my mind that he is perfectly capable of continuing on at this stage of the game."
Though Mitch is old, and his pregnant pauses do not inspire any kind of confidence.
We have to remember that politics is a game. Do Republicans really want to force Mitch to resign instead of just primarying him?
Especially when the Democrat Kentucky Governor Andy Beshear has refused to commit to replacing Mitch with a Republican should his seat become vacant before his term is over.
"There is no Senate vacancy. Senator McConnell has said he's going to serve out his term, and I believe him, so I'm not going to speculate about something that hasn't happened and isn't going to happen," Beshear said.
Luckily Beshear is bound by a 2021 law to replace him with a member of his own party, but Democrats have skirted plenty of laws in the past.
Stay tuned to the DC Daily Journal.