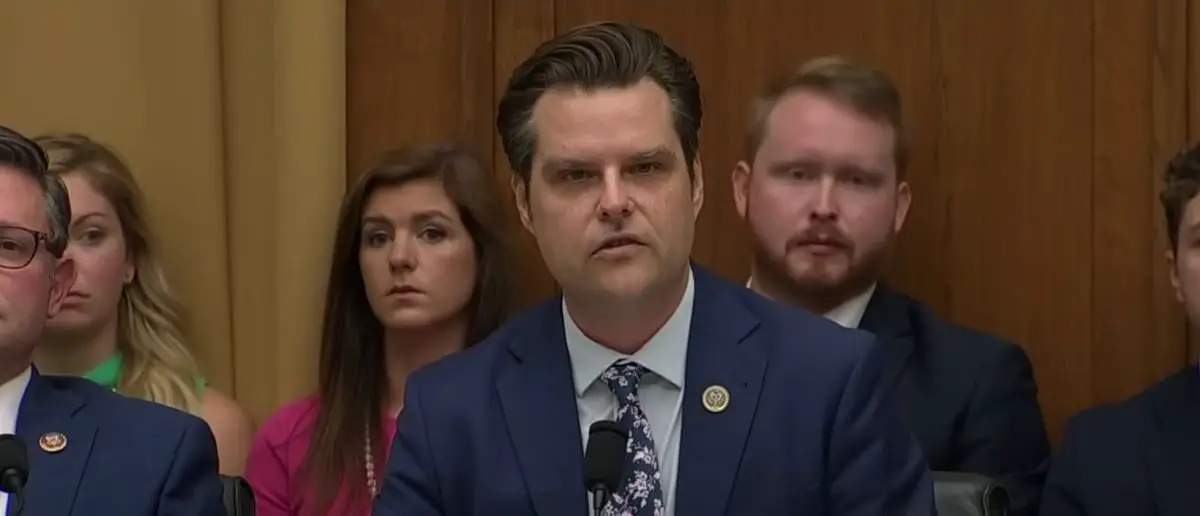 The Swamp rarely ever eats one of their own. But that's exactly what RINOs are cooking up.
And one GOP congressman is getting axed for this despicable reason.
Playing politics in Washington, D.C. can be a tricky game.
You never know if your friends are your enemies and if they'll stab you in the back.
One thing is for sure, no one is clean and anyone offered as a sacrifice at the altar of public opinion is no different than the rest.
And one Republican is learning that the hard way.
Former House Speaker Kevin McCarthy (R-CA) said on Sunday that Rep. Matt Gaetz (R-FL) would face the same expulsion threat as Rep. George Santos (R-NY) if the House Ethics Committee's report on him is public.
McCarthy made the remarks on Fox News' Sunday Morning Futures after being asked about House Speaker Mike Johnson's (R-LA) laddered continuing resolution, which would extend some spending bills into January and the remainder into February.
"I think Johnson was very smart about making sure keeping our troops paid, especially in the Mediterranean where they are right now," McCarthy began.
"Unfortunately, we had a number of members doing the exact same thing they did before, stopping bills from moving forward."
"We're gonna have to come together," he continued.
"We do know this is really driven … [by] Matt Gaetz's ethics complaint. I think once that ethics complaint comes forward, he could have the same problem that Santos has. I think the conference would be probably better united to be able to move forward and get this all done."
Gaetz led the push to remove McCarthy in early October, backed by seven of his Republican colleagues.
Gaetz and McCarthy have long had a strained relationship, which made national news when the former stopped McCarthy's bid for speaker in January.
McCarthy has claimed that Gaetz's efforts to derail him were motivated by personal grievances over McCarthy's inability to close the ethics investigation into allegations of sexual misbehavior and misuse of campaign funds by the Florida member.
Gaetz has received calls to resign from Congress from House Republicans angered by his historic attempt to depose a sitting speaker of his own party, but not by his ethics inquiry.
Santos, who has already survived two prior expulsion votes due to his numerous federal indictments, is certain to be ousted from the House when it returns from its Thanksgiving break.
A handful of members from both parties had voted no on prior expulsion motions because they wanted to wait for the ethics report.
Stay tuned to the DC Daily Journal.