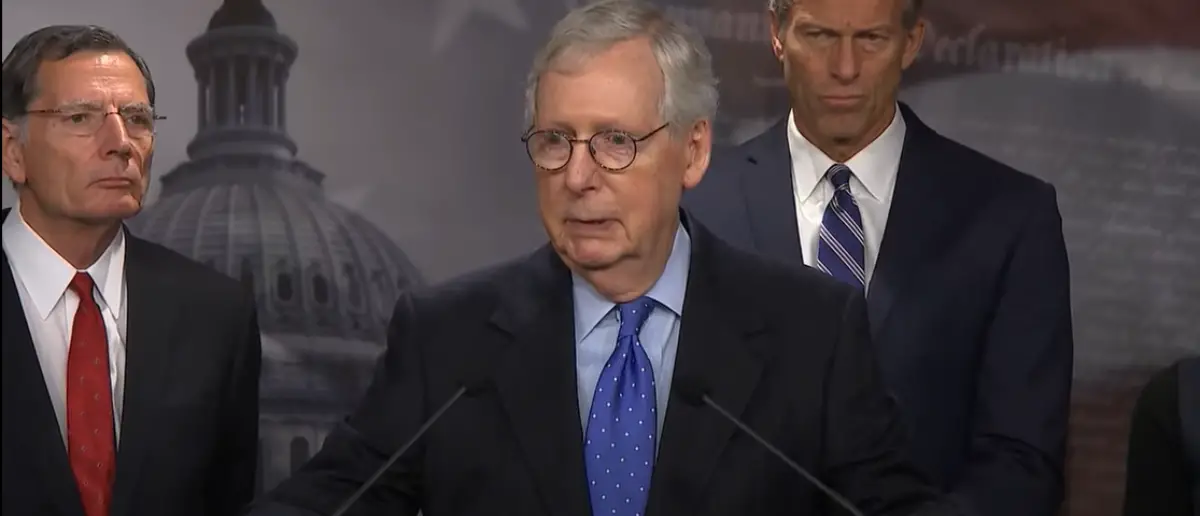 Major Republicans and Democrats are feeling the heat. Many of the biggest names in politics may make an announcement any day now.
And these resignation rumors sparked a meltdown on Capitol Hill.
With so many Senators and Representatives not showing up for work due to illness or injury, many are raising the question of whether they are fit for office.
Whether it's Mitch McConnell's fall at dinner that sent him to the hospital or Dianne Feinstein's shingles diagnosis, it's starting to get ridiculous.
And American voters feel the same way.
According to a new poll, over two-thirds of Republicans believe Senate Minority Leader Mitch McConnell (R-KY) should resign.
McConnell, 81, returned to the Senate last Monday after missing a month due to a concussion and rib fracture sustained in a fall at a Washington, D.C., hotel. Despite his return, an Economist/YouGov poll found that concerns about his health and age linger.
The poll, conducted between April 15 and 18, indicated that 64% of Republicans and an identical amount of Democrats thought McConnell should retire. Sixty-three percent of responders and 68% of voters agreed.
The poll additionally found that ideological conservatives and Trump supporters thought McConnell should resign more than ideological liberals and Biden supporters.
Despite mounting public pressure to retire, McConnell has showed no evidence of doing so thus far.
"I want to thank all my colleagues for their warm wishes shared over the past few weeks," McConnell said in a Senate floor speech. "Suffice to say this isn't the first time being hardheaded served me very well," he quipped with a laugh.
Since his return, the Senate minority leader has been juggling debt ceiling debates, blocking Senate Majority Leader Chuck Schumer's (D-NY) proposal to temporarily replace Sen. Dianne Feinstein (D-CA) on the Senate Judiciary Committee, and responding to Democratic concerns about Supreme Court Justice Clarence Thomas' recent gift-receiving scandal.
McConnell is one of three notable senators who have been absent for a prolonged amount of time due to health issues, the other two being Feinstein and Sen. John Fetterman (D-PA), who returned to the Senate on the same day as McConnell following a two-month hospital stint for treatment of clinical depression.
A separate Economist/YouGov poll indicated that about the same proportion of those who thought McConnell should resign feel Feinstein should quit. Fetterman received mixed results, with only a majority of Republicans suggesting he should leave.
The poll's findings could create further incentive for Feinstein to resign. Senate Republicans have refused to accept compromise solutions, such as temporarily replacing her on the Senate Judiciary Committee, as proposed by Senate Majority Leader Chuck Schumer (D-NY).
Though several top Democrats have defended her, like fellow Democratic Californian Rep. Nancy Pelosi, who called calls for her resignation sexist, some believe the party is gently pressuring her to resign.
"I think what the Democrats are trying to do to Dianne Feinstein is terrible — I think what they're trying to do is force her to resign," Sen. Josh Hawley (R-MO) told reporters on Tuesday.
"I think that this is a maneuver designed to fail. This has never been done — this kind of swapping in one member for another. I think they know it'll fail. And then they'll flip around and say to her, 'See? You have to resign,' and it's terrible, but it's not my call."
The Economist and YouGov polled 1,500 adults in the United States, with a margin of error of 3.2 percentage points.
Stay tuned to DC Daily Journal.