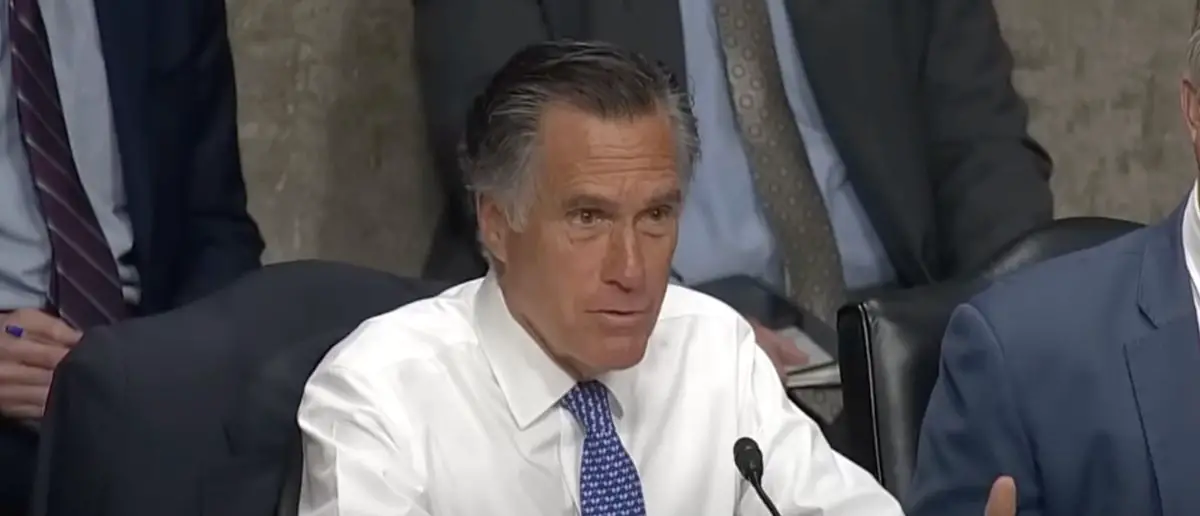 Senator Mitt Romney is easily one of the biggest phonies in the Republican Party. He constantly sides with Democrats and throws conservatives under the bus.
And RINO Mitt Romney was just hit with a brutal wake-up call.
RINO Mitt Romney was just hit with a brutal wakeup call.
You would think that after Republican voters chose Donald Trump and continue to support America First conservatives that RINOs would learn to give up.
But it's personal for them. They hate that the party was taken over by conservatives who care about principles and not backroom deals with Democrats.
Now Mitt Romney is getting attacked close to home.
Sen. Mitt Romney (R-UT) accused former President Donald Trump of bringing a recent indictment "upon himself," senatorial candidate and mayor of Riverton, Utah, Trent Staggs slammed the failed presidential candidate, whom he intends to unseat next year, accusing him of weakness in the face of the Justice Department's "weaponization" of political opponents.
Staggs accused President Joe Biden on Sunday in an exclusive statement to Breitbart News of "abusing his power to weaponize the Justice Department against a political opponent."
"This is full-on banana republic stuff here," he stated.
However, Romney's answer elicited even harsher condemnation.
"And — yet again — Mitt Romney gives a milquetoast response, showing us once more, he has no backbone," Staggs said.
"For him, the Senate is about settling his petty beefs, not upholding the Constitution," he concluded.
On Thursday, the mayor of Riverton bemoaned the "unprecedented times" we are living in, arguing that both Republicans and Democrats should be terrified, seeing recent occurrences "as a sign of things to come if we do not unite and say no more."
Romney made a statement on Friday alleging that former President Donald Trump "brought these charges upon himself," following the 45th president's announcement that he had been indicted on charges related to the secret document issue.
Romney, who had been harshly critical of the New York grand jury indictment of Trump pursued by Alvin Bragg in a separate case, took a different tone in a statement Friday morning, acknowledging that the former president is "entitled to the presumption of innocence," while claiming that Trump's indictment was his own doing.
Following the former Republican presidential nominee's decision to vote in support of raising the nation's debt ceiling, Staggs criticized Romney of prioritizing the favor of Senate Majority Leader Chuck Schumer (D-NY) over the interests of America.
Staggs, 49, is one of several potential candidates who are expected to take a more conservative stance than Romney, whom he described as a "millionaire from Massachusetts" who relocated to Utah.
Staggs had become increasingly vocal on a range of issues in the months preceding up to his public proclamation.
After launching his candidacy for the U.S. Senate in May, Staggs claimed that Romney "doesn't represent most Utahns," and that he couldn't stand by and let Romney and Schumer "mortgage my children's future."
"This guy votes to add trillions in spending, votes twice to impeach President Trump, but then turns around and votes to confirm guys like Open Borders Mayorkas and Radical Justice Ketanji Brown Jackson," he said, adding "it's unacceptable."
In March, he vowed to stop "communist-style social credit scoring" from guiding Riverton's investment decisions after his city unanimously approved a resolution opposing the use of environmental, social, and governance (ESG) policies in credit rating agencies, investment firms, and other financial institutions.
Following that, he lambasted the "indoctrination" in the country's schools, including the availability of "inappropriate" reading materials, as he asked for pupils' "physical, mental, and spiritual" safety to be prioritized.
Insisting "there should be no greater priority than our children's safety; physical, mental, and spiritual," Staggs said it was his "number one job to protect the health and safety of all our residents."
Stay tuned to the DC Daily Journal.