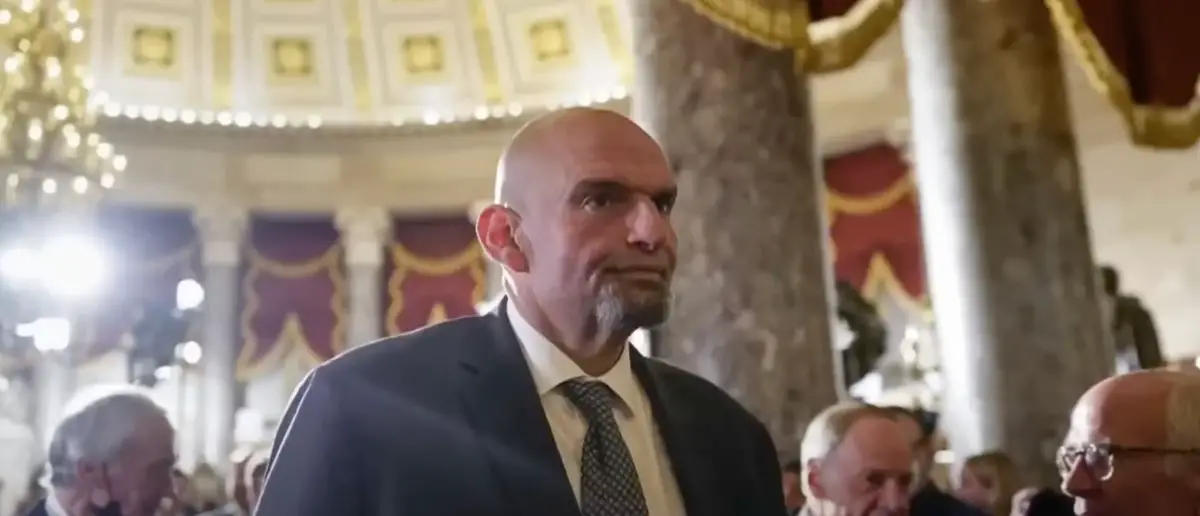 The fate of the Democrats' majority is up in the air. Now we know the answer.
Because Americans were just given a shocking update from a U.S. Senator's hospital bed.
Many politicians in Congress are well past their prime.
But no one is a better example than recently elected Pennsylvania Senator John Fetterman.
Fetterman won the Democratic nomination for office after delaying the release of the fact that he had suffered a major stroke.
Since then, he has struggled to comprehend spoken words. You read that right, Fetterman can't understand what words people are saying to him.
Reports have even claimed he hears others' voices as if they are the voice of the teacher from the "Peanuts" cartoon.
Despite his limitations, voters sent him to Capitol Hill in one of the most important positions in the nation.
Fetterman has struggled, complaining of lightheadedness and even checking himself into the hospital for severe depression.
But Americans were just given an update that no one expecting.
Gov. Josh Shapiro (D-PA) announced on Wednesday that he expects Sen. John Fetterman (D-PA) to make a full recovery after receiving depression therapy.
Fetterman was hospitalized after feeling lightheaded at a Democratic Senate retreat earlier this month, and he placed himself into inpatient care for severe clinical depression a week later, putting the freshman legislator out of commission for several weeks. 
Shapiro, who was also inaugurated into his first term last month, told the Philadelphia Inquirer that Fetterman will "come back stronger than ever" after therapy.
"He's going to get the help that he needs," Shapiro told the outlet, "and do a great job for the people of Pennsylvania as their senator for a long time."
Fetterman, who previously served as Pennsylvania's lieutenant governor and as mayor of the Rust Belt town of Braddock, suffered a stroke and was hospitalized in May 2022.
According to Fetterman's cardiologist, Ramesh Chandra, the official will be able to run for office and represent the commonwealth as long as he "takes his medication, eats healthy, and stays active."
If Fetterman decides to leave, Shapiro will be allowed to appoint a temporary replacement. He told the Philadelphia Inquirer that no prominent Pennsylvania Democrats have pushed him to ask for the lawmaker's resignation and clarified that he "would dismiss" any such pressure "immediately." 
The former Pennsylvania attorney general said that Fetterman's determination to be open about his mental health challenges has "really inspired" him.
The contest between Fetterman and his failed Republican opponent, Dr. Mehmet Oz, was marred by questions about the former candidate's mental capacity. Fetterman stumbled, slurred, and lost his line of thought during stump speeches throughout the summer and fall after being off the campaign trail for nearly two months. 
Despite the presence of a closed captioning device positioned behind the moderators, Fetterman struggled and offered choppy responses as the two candidates took the debate stage in late October.
Dasha Burns, an NBC News reporter, was one of the few members of the legacy media to report objectively about the health concerns; she faced backlash after conducting an interview with Fetterman and reporting that he "had trouble finding words" despite his use of a large computer screen and closed captioning system throughout the conversation. 
Gisele Fetterman, Fetterman's wife, called Burns a "ableist" for remarking that her husband had not offered an update on his rehabilitation.
"If this happened in a school, if this was a child that was ableist towards another child or a teacher, there would've been issues stated. There would have been new training done," she commented. 
"What is being done at the media after a reporter came out so openly ableist towards a person? I think shocked and appalled, but sadly not surprised. I know there's still so much to do, but it would be great to see some accountability, to actually see real change."
Apparently wanting someone who holds a massive amount of power to be mentally competent is wrong – who would've thought?
Stay tuned to DC Daily Journal.