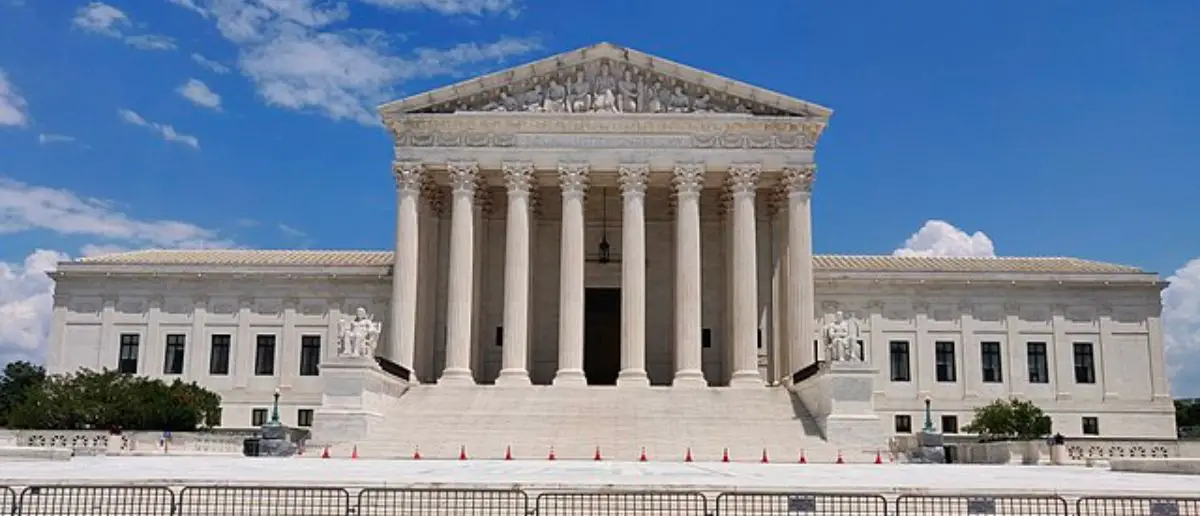 While the Supreme Court is out of session, they are still busy at work. Especially this year.
Because the Supreme Court just hit Congress with a wake-up call in this rare interview.
Justice Samuel Alito said that Congress does not have the power to impose an ethical rule on the justices in an extensive interview released on Friday.
In an interview with the Wall Street Journal, Alito emphasized that the Supreme Court was not established by Congress.
"I know this is a controversial view, but I'm willing to say it. No provision in the Constitution gives them the authority to regulate the Supreme Court — period."
All Democrats on the Senate Judiciary Committee voted in favor of moving forward with the Supreme Court Ethics, Recusal, and Transparency Act, while all Republicans voted against it. Alito's comments come in light of this.
The bill would, among other things, require the justices to adhere to a code of conduct determined by Congress, establish procedures for the disclosure of gifts, and broaden the grounds on which justices must disqualify themselves.
Some Republicans have claimed that the demand for "transparency" is really an attempt to discredit the Supreme Court. U.S. Senator Lindsey Graham has asserted that "this is about destroying a conservative court."
The associate justice did not reveal whether or not his fellow justices share his opinion on the independence of the Court.
"I don't know that any of my colleagues have spoken about it publicly, so I don't think I should say. But I think it is something we have all thought about," Alito said.
Chief Justice John Roberts declined a request to participate at a Supreme Court ethics hearing from Senate Judiciary chairman Dick Durbin (D., Ill.), but he included a statement on ethics in which all nine justices recommitted themselves willingly.
The conservative justices have been the subject of a number of publications alleging unethical behavior in the areas of disclosure and recusals, coinciding with the emergence of a call for greater adherence to ethical standards. ProPublica has produced the most notable articles.
The publication investigated the personal and professional ties between Supreme Court Justice Clarence Thomas and property mogul Harlan Crow. Both have claimed innocence. Alito's conduct during a trip to Alaska with hedge fund manager Paul Singer, who later had a matter before the Court, was also called into question by ProPublica.
Alito defended his decision to write an opinion piece about the ProPublica story ahead of its release in an interview published on Friday.
"I marvel at all the nonsense that has been written about me in the last year," Alito stated in an interview with the WSJ.
"The traditional idea about how judges and justices should behave is they should be mute," Alito added.
"But that's just not happening… And so at a certain point I've said to myself, nobody else is going to do this, so I have to defend myself."
When asked about the connection to Singer, Alito wrote that he was unaware of it and that "recusal in that case would not have been required or appropriate." He went on to say that the trip was portrayed inaccurately and that "personal hospitality need not be reported" under the old regulations.
Alito also pondered whether or not, for the first time since the Supreme Court's 1954 verdict in Brown v. Board of Education, open disobedience of the Court will occur in the near future.
There are some in Congress who think the Biden administration should disregard the court's decision regarding abortion pills. Protests outside the Court headquarters and the houses of the justices have escalated in recent years, prompting Vice President Joe Biden to remark that "this is not a normal Court."
"If we're viewed as illegitimate, then disregard of our decisions becomes more acceptable and more popular. So you can have a revival of the massive resistance that occurred in the South after Brown," Alito said.
The DC Daily Journal will keep you updated on any updates about Supreme Court ethics legislation from Congress.