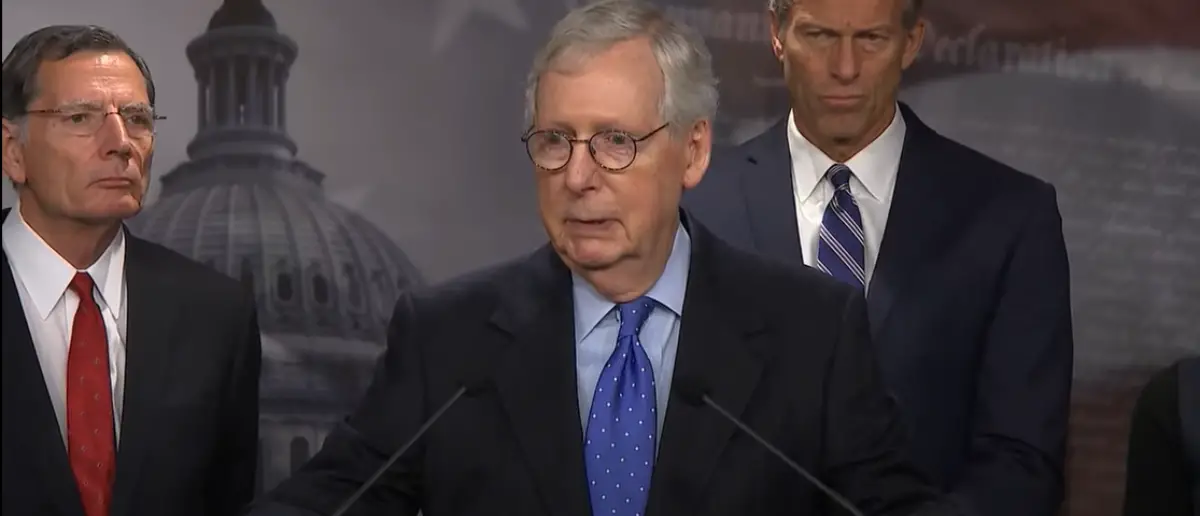 Former President Donald Trump still carries a ton of respect in the conservative, Republican world. That's why he's the leading Presidential candidate.
And now Donald Trump's dropped the hammer on Mitch McConnell in this stunning interview.
Late last week, we saw the Republican Senate Minority Leader, Mitch McConnell (R-KY), freeze up on camera while he was answering questions for reporters regarding the recently passed defense bill.
It was a stunning visual and immediately everyone feared the worst for Mitch McConnell who has been in Washington, D.C. politics for decades.
He is faring better since the episode and it's entirely possible that it was a one-off situation that won't impact his work in the Senate.
That being said, many in the conservative Republican circles are using this as an opportunity to call for new Senate leadership within the party.
Donald Trump, who probably carries the most weight in the Republican party to this day, is one such individual.
Former President Donald Trump gave an exclusive interview to Breitbart news and during the interview was asked about his thoughts on the McConnell freezing episode.
Trump was kind about it and said he hopes McConnell is doing better, but he didn't leave it at that.
Trump put McConnell on blast, saying that it's time for a new Senate leader who won't cave to the demands of the Democrat Party any time it gets tough.
The leading Republican presidential candidate pointed to how McConnell has been caught cutting backroom deals with radical Democrats time and again, including funding the Democrats' insane federal spending bills.
"I think it's a shame he went so far out to give Green New Deal money to Biden and Democrats. He got 10 people to vote because they needed 10 people, and he got 10 people to vote on numerous occasions for trillions of dollars," Donald Trump said.
He continued to put McConnell on blast for quietly working with the Democrats for their Green New Deal ideas that are "very expensive."
"But it was also sad that he gave trillions and trillions and trillions of dollars to the Democrats to waste on the Green New Deal, destroying our oceans and destroying our great, beautiful vistas and plains all over our country with windmills that are very expensive energy. So that's a very sad thing also," he continued.
Trump was asked by Breitbart interviewer Matt Boyle if there was anyone in mind that would be a better Senate leader than McConnell, one who wouldn't cave to the Democrats as regularly as McConnell has.
While Trump did not give a particular name, he did say there were quite a few individuals who would be a better fit for Senate leadership.
He also took the opportunity to praise several Republicans in the U.S. House of Representatives as he noted that he has a better relationship with the Republicans in the House than the Senate.
He highlighted Matt Gaetz and Marjorie Taylor Greene as a couple of individuals who he believes are "doing great" for their constituents, in contrast to the RINOs like McConnell.
You can watch a clip from the interview below:
Exclusive – Donald Trump: Mitch McConnell Health Problems 'Sad,' He Should Step Down pic.twitter.com/Ibw1JZuPJd

— Breitbart News (@BreitbartNews) July 30, 2023
Stay tuned to the DC Daily Journal.