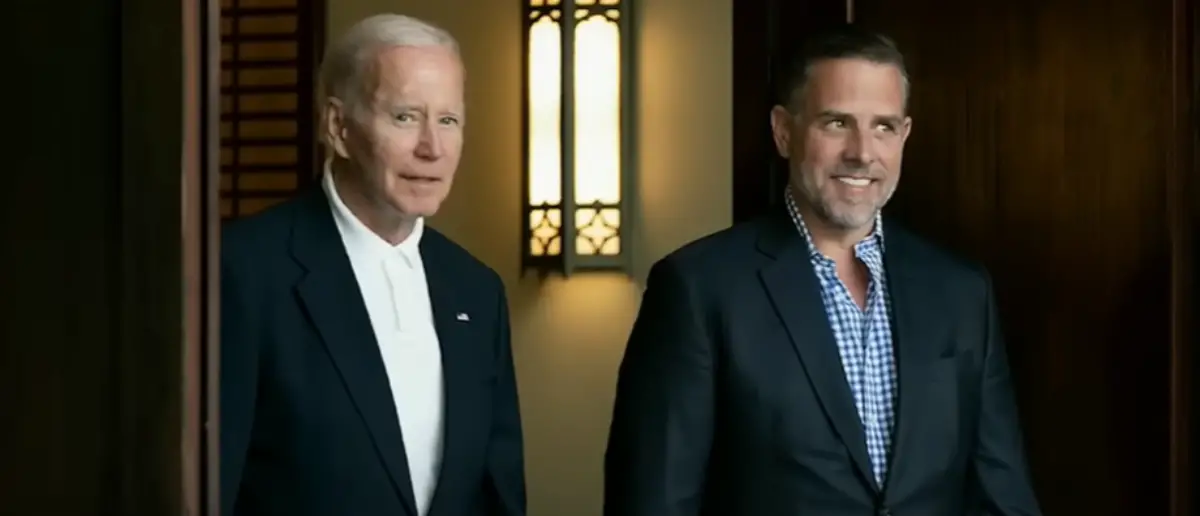 Joe Biden has been running from the law for far too long. Now he's out of time.
And a whistleblower revealed FBI evidence that will end Joe Biden
President Biden has been in the throes of scandal for years now, with the past few months only adding to his plate.
His classified document scandal, the crisis at the southern border, and his edging the United States towards nuclear war are all bad enough.
But one takes the cake – the Hunter Biden Laptop story which shows that Biden may have been enriching himself and his family at the expense of the United States.
And an FBI agent is finally blowing the whistle on what we all knew was true.
Senator Chuck Grassley (R-IA), testifying before the House's new Select Subcommittee on Political Weaponization on Thursday, stated whistleblower disclosures show the FBI has evidence that President Joe Biden is aware of the family business machinations, a statement that directly contradicts the president.
Joe Biden and his team have stated seven times that he was not involved in any of the family business plans.
"I've never spoken to my son about his overseas business dealings. Here's what I know — I know Trump deserves to be investigated," Biden claimed in 2019.
But Sen. Grassley, speaking before the first "Select Subcommittee on the Weaponization of the Federal Government" hearing, told House members that whistleblower disclosures "make clear the FBI has within its possession very significant, impactful, and voluminous evidence with respect to potential criminal conduct by Hunter and James Biden."
"These disclosures also allege that Joe Biden was aware of Hunter Biden's business arrangements and may have been involved in some of them," Grassley added.
It's unclear why the FBI hasn't taken action based on the supposed proof.
The FBI has Hunter Biden's infamous "Laptop from Hell," prompting many to label the Bidens the "Biden Crime Family."
According to a recent poll, 61% of Americans believe Joe Biden was involved in, and possibly profited from, his son Hunter's international business ventures, including at least one with a corporation in mainland China. 44 percent believe it is extremely likely.
Evidence from corporate transactions in Russia, Ukraine, and China backs up the public's perception. In one case involving Ukraine, Joe Biden talked at the Council on Foreign Relations about threatening to suspend military supplies to Ukraine in 2016.
The aim, according to Biden, then-vice president and "point person" for Ukraine, was to compel the dismissal of prosecutor Viktor Shokin. Burisma was being investigated by the prosecutor at the time.
Hunter joined the Burisma board in April 2014, just two years before Joe Biden said that he compelled the prosecutor investigating Burisma to resign. Hunter had no prior experience in Ukraine or in the oil industry.
Despite this, Hunter was paid $83,000 per month by the energy company, just weeks after his father was named "point person" on US foreign policy toward Ukraine, according to Peter Schweizer, senior contributor at Breitbart News, as detailed in his book Secret Empires: How America's Political Class Hides Corruption and Enriches Family and Friends.
The timetable depicts a scenario that many believe is a quid pro quo, a scheme that House Democrats levied against former President Donald Trump's "perfect" phone discussion with Ukrainian President Petro Poroshenko.
In another case, Tony Bobulinski, a former Hunter Biden business associate, met with Joe and Hunter Biden in 2017 for an hour to discuss "the Bidens' family business plans" for a Chinese energy transaction.
That transaction does not appear to have been completed. Bobulinski allegedly passed on knowledge on the trade to former FBI "point man" Timothy Thibault, who buried it. The deal included ten percent "held by H for the big guy," who Bobulinski said was Joe Biden.
The Biden family is being investigated by House Republicans for nine potential offenses, including tax evasion, wire fraud, and money laundering.
Rep. James Comer (R-KY), the Oversight Committee's leader, has asked the US Treasury to turn over 150 bank records highlighted by US banks that would shed light on how money migrated through the Biden family's commercial ventures.
The Treasury has declined Comer's request, prompting the chairman of the committee to threaten a subpoena.
In addition, Comer has requested pertinent records and communications related to his investigation from Hunter Biden. Hunter has denied access as well, citing "no oversight bases."
The next stages in Comer's probe are unknown. With Republicans in control of the House, Comer might utilize a subpoena to force the essential material.
Stay tuned to DC Daily Journal for updates on this developing story.