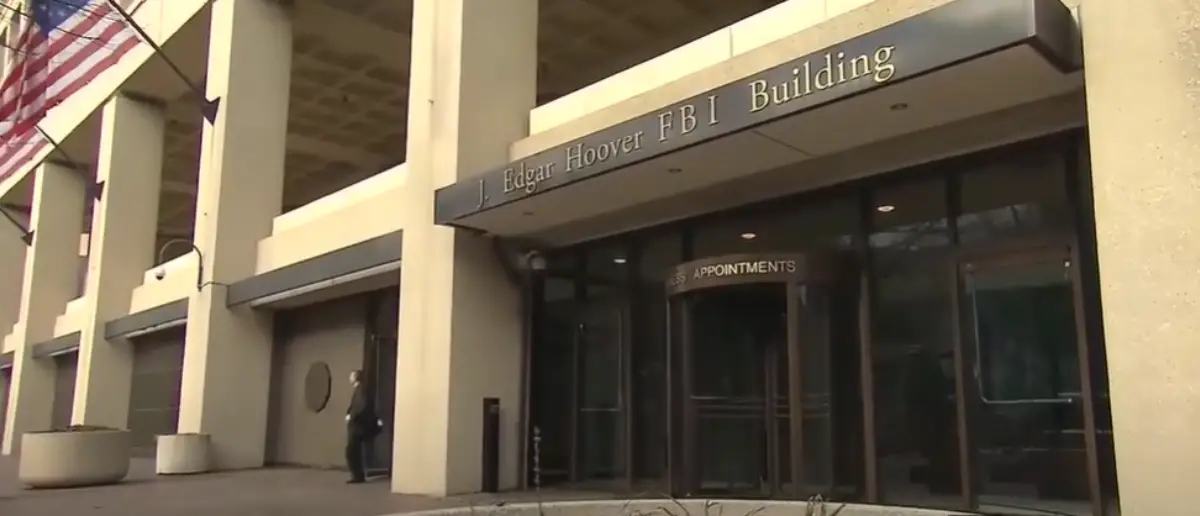 The government is being weaponized against people of faith. But it runs even deeper than anyone ever thought.
And the FBI was just caught doing this shameful act in American Catholic Churches.
Over the past year, report after report has surfaced showing the federal government has been weaponized by the ideological Left, and one of their favorite targets is Christians.
Ever since the Supreme Court ruling reversing Roe v. Wade, Biden's DOJ has been silent on the massive number of attacks on churches and pro-life organizations.
In less than a year, 147 Catholic Churches have been targeted with graffiti and fire bombings according to the latest number from CatholicVote.
In response, only a handful of perpetrators have even been charged, and the DOJ has refused to focus resources on the targeted terror campaign.
Instead, they made headlines last year for SWAT-style raids on pro-life activists, like Mark Houck who was violently arrested in front of wife and children.
Since then, Mr. Houck's case has been dismissed and Congressional Republicans are asking why Biden is targeting Catholics.
But bombshell documents paint an even grimmer picture than previously thought.
According to internal documents discovered by the House Subcommittee on the Weaponization of the Federal Government, the FBI recruited at least one undercover agent to establish strategies to cultivate "sources" in Catholic parishes.
"Based on the limited information produced by the FBI to the Committee, we now know that the FBI relied on at least one undercover agent to produce its analysis," wrote Committee Chair Jim Jordan, R-OH, in a Monday letter to FBI Director Christopher Wray. 
The FBI further "proposed that its agents engage in outreach to Catholic parishes to develop sources among the clergy and church leadership to inform on Americans practicing their faith."
The "shocking" new revelation "reinforces our need for all responsive documents," Jordan stated, adding that "the Committee is issuing a subpoena to you to compel your full cooperation."
The FBI tried to use Catholic churches as "new avenues for tripwire and source development," including at "mainline Catholic parishes" and among "local diocesan leadership," according to the meager evidence provided to Congress.
In addition, the Agency hoped to "sensitize" Catholic churchgoers to "warning signs of radicalization" and "enlist their assistance to serve as suspicious activity tripwires."
Senator Josh Hawley, a member of the Senate Judiciary Committee who recently questioned Attorney General Merrick Garland on the FBI's alleged surveillance of Catholic parishes, said that Garland had deceived Congress.
The revelation comes after Catholic FBI whistleblower Kyle Seraphin revealed in January that the FBI's Richmond, Virginia, field office had created a paper on "racially or ethnically motivated violent extremists" in "radical-traditionalist Catholic" parishes.
As per CatholicVote at the time,
The revelation elicited strong condemnations from Catholic leaders across the country. The document, released Wednesday, includes a list of nine "Radical-Traditionalist Catholic Hate Groups" published by the Southern Poverty Law Center's (SPLC), a disgraced left-wing activist group.

"The memo implies that the FBI under the Biden administration has infiltrated Catholic groups and is already spying on their activities," stated CatholicVote President Brian Burch. "How do they justify this? They cite the SPLC as their primary source in claiming that 'radical' Catholics could soon become violent – and thus the FBI should begin a surveillance program on Catholic organizations."
The FBI withdrew the paper within 24 hours of its release, but American Catholic leaders were outraged, with some urging that Congress look into it further.
Jordan stated on Monday that members of Congress have "repeatedly" requested information from the FBI regarding its surveillance of Catholic houses of worship, only to receive one "substandard and partial response" on March 23, which included many "significant redactions," preventing "the Committee from fully assessing the content and context of the documents and obtaining information requested from the Bureau."
Jordan stated that Congress should be granted access to "all responsive material without redactions." We know from this limited production that the FBI wanted to exploit local religious organizations as "new avenues for tripwire and source development," based on information obtained from at least one undercover employee.
Stay tuned to DC Daily Journal.