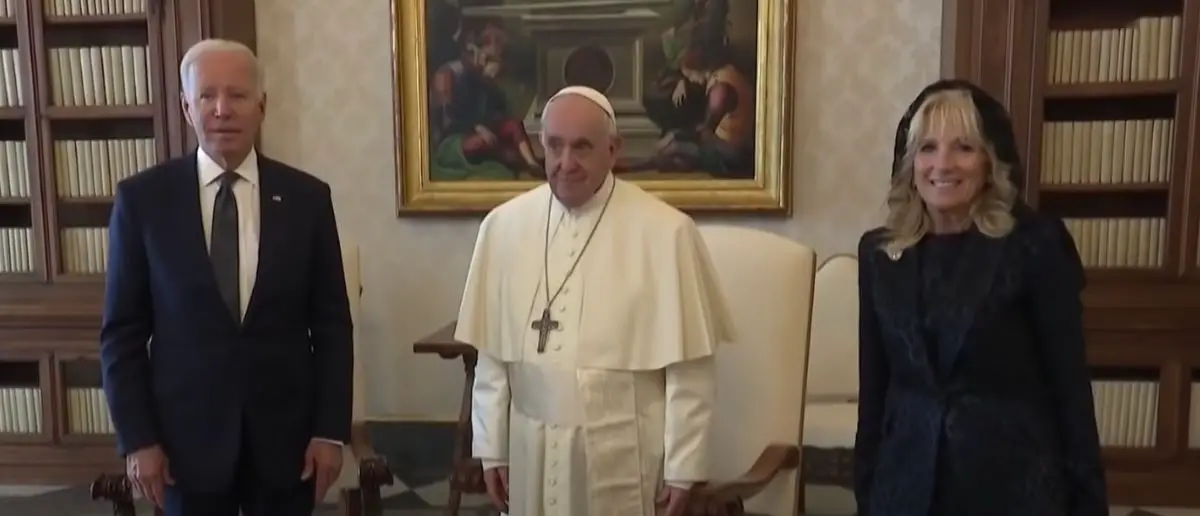 Joe Biden likes to play the part of the "faithful Catholic." Nothing could be further from the truth.
And Pope Francis just dumbfounded Joe Biden in this historic speech.
Two hallmarks of Joe Biden's social policy over the past two years have been his promotion of abortion-on-demand and so-called "gender transition" for minors.
These issues are hotly contested and a matter of national debate in American politics.
But when it comes to the Catholic Church – the faith Joe Biden claims to profess – the answer is incredibly simple.
Despite the Church's constant warnings, teachings, and official documents condemning these positions, Joe Biden has continued in his error.
At times he has even invoked his faith, saying states that states banning "gender transition" for minors is "close to sinful."
But Pope Francis, the Supreme Pontiff of the Catholic Church, left no room for Joe Biden's agenda.
During a speech to civil and religious leaders on the first day of his trip to Hungary, Pope Francis condemned gender ideology and abortion rights as part of a "nefarious path" that leads to "tragic defeat" rather than "progress."
Francis lauded Hungary's efforts to revive culture, tradition, and family values in the presence of Prime Minister Viktor Orbán and Katalin Novák, the country's first female president.
He also praised Novák, whose controversial pro-family policies as former State Secretary for Family and Youth Affairs were regarded as critical to reversing the country's demographic slide.
"How wonderful … to build a person- and people-centered Europe, where there are effective policies for birth and family. We have countries in Europe with the average age of 46-48 years, carefully pursued in this country, where different nations are a family in which the growth and uniqueness of each is cherished."
Pope Francis has frequently lamented Europe's declining birth numbers, and during his speech, he denounced the "ideological colonization" of gender theory and other leftist beliefs.
"I am thinking, therefore, of a Europe that is not hostage to (political) parties, becoming prey to self-referential populism, but neither does it turn into a fluid, if not gaseous reality, into a kind of abstract supranationalism, oblivious to the lives of people," the Pope said.
"This is the nefarious path of 'ideological colonization,' which eliminates differences, as in the case of so-called gender culture, or puts reductive concepts of freedom before the reality of life, for example, boasting as an achievement a senseless 'right to abortion,' which is always a tragic defeat."
During his speech, Pope Francis hailed Hungary's government for its humanitarian work around the world, particularly assistance to persecuted Christians in Syria and Lebanon. He spoke to Hungary's history of wartime tragedy and prayed for peace in Ukraine.
Pope Francis will continue his three-day visit to Hungary by meeting with additional leaders and young people. His journey will conclude on Sunday with a Holy Mass at Budapest's Kossuth Lajos Square.
Pope Francis has raised eyebrows by some conservative Catholics due to his recent restrictions of the Traditional Latin Mass (TLM).
But no one can doubt now that he is firmly positioned against the Woke agenda professed by leading Democrats.
Stay tuned to DC Daily Journal.