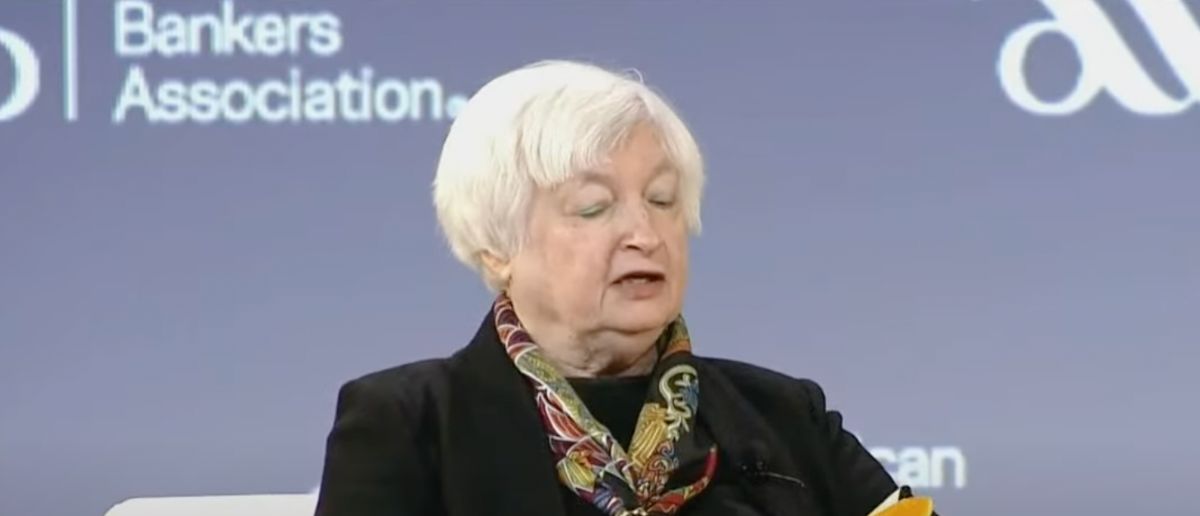 Over the past few weeks, confidence in the American banking system has taken a nosedive. But things are going to get worse before they get better.
And Janet Yellen sent out a dire warning to Americans.
Since the collapse of many major banks, Americans want answers.
But rather than giving relief to the public, the Biden administration has played their cards close to the chest.
Now they're telling us that even more banks could fall under Biden's watch.
Following the Silicon Valley Bank and Signature Bank depositor rescues, Treasury Secretary Janet Yellen stated in remarks Tuesday that authorities may guarantee all deposits at additional institutions.
In prepared remarks to the American Bankers Association on Tuesday, Yellen said the bailouts were necessary to protect the US banking system, referring to the Federal Reserve's activities in insuring SVB's clients' accounts.
"Similar actions could be warranted if smaller institutions suffer deposit runs that pose the risk of contagion," she said.
Previously, Yellen stated that similar moves would be used only for institutions whose failure could endanger the banking system.
"A bank only gets that treatment if a majority of the [Federal Deposit Insurance Corp.] board, a super majority of the Fed board and I, in consultation with the president, determine that the failure to protect uninsured depositors would create systemic risk and significant economic and financial consequences," Yellen said.
"Treasury is committed to ensuring the ongoing health and competitiveness of our vibrant community and regional banking institutions," Yellen said, according to CNBC.
Bloomberg said US officials are looking into ways to expand Federal Deposit Insurance Corp. coverage to include additional depositors in order to avert a financial disaster.
After the efforts taken to cover SVB and Signature Bank customers, Treasury Department staff are examining whether federal regulators have sufficient emergency authority to temporarily insure all balances over the $250,000 limit on most accounts.
According to Bloomberg, authorities do not believe this action is necessary at this time, but they are developing a strategy in case situations deteriorate.
"Since our administration and the regulators took decisive action last weekend, we have seen deposits stabilize at regional banks throughout the country and, in some cases, outflows have modestly reversed," White House spokesman Michael Kikukawa said, not acknowledging if this step is being investigated, according to Bloomberg.
For many, bailing out banks brings back uncomfortable memories of 2008 and 2009.
And with inflation still incredibly high and taking its toll on Americans' wallets, the threat of an economic recession are increasing by the day.
The Biden administration, though, is focused on spending almost $7 trillion in his massive budget.
To finance this, he wants to raise taxes on Americans, all while people struggle to afford groceries.
This is Biden's build back better.
Stay tuned to DC Daily Journal.