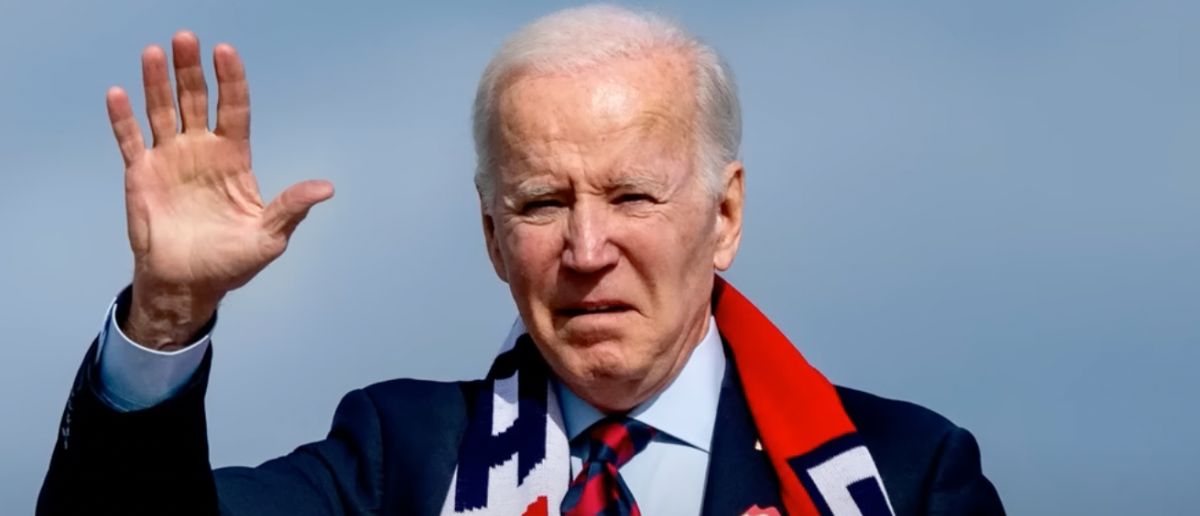 Biden and the Democrats can't stand that Republicans dare oppose their radical agenda. Now they're trying to throw the book at them.
And Joe Biden was just caught targeting conservatives with this ridiculous lawsuit.
Joe Biden's presidency and the Democrats' track-record in Congress during his term have been a disaster.
One of the biggest scandals of his administration has been his treatment of border security at the southern border.
Thanks to his inaction, over two million illegal immigrants have poured over the border since he took office.
Just days ago, the largest caravan ever seen of over 5,000 illegals stormed across the border in a single day.
In response, Kamala Harris, Biden's designated "border czar," has claimed the border is secure.
You could almost laugh at how blatant the lie is if it wasn't such a serious situation.
With the White House sitting on its hands, Republican governors in border states have made it clear they will secure the border with or without Joe Biden.
But Biden and the Democrats won't stand for it.
The DOJ is suing Arizona Republican Gov. Doug Ducey and his administration for using shipping containers to construct a wall along the state's southern border with Mexico.
The DOJ filed the case in the U.S. District Court for the District of Arizona on Wednesday, arguing that the project trespasses on federal property.
"Arizona has unlawfully and without authority failed to remove the shipping containers from lands owned by the United States or over which the United States holds easements," the lawsuit claims.
The legal action follows an executive order issued by Ducey in August authorizing the state's Department of Emergency and Military Affairs to initiate a Yuma County project. In just 11 days, 130 shipping containers were used to block 3,820 feet of formerly open border.
By early November, the initiative had spread to other portions of the border, with 6,680 feet of containers stacked two-high across Cochise County. It is projected that more than 2,700 cargo containers will be required to fill the 10-mile gap along the southern border.
The state filed its own lawsuit in October to defend its right to continue utilizing shipping containers to assist deter illegal crossings.
"Our border communities are overwhelmed by illegal activity as a result of the Biden administration's failure to secure the southern border," Ducey said in a statement.
"Arizona is taking action to protest on behalf of our citizens. With this lawsuit, we're pushing back against efforts by federal bureaucrats to reverse the progress we've made. The safety and security of Arizona and its citizens must not be ignored. Arizona is going to do the job that Joe Biden refuses to do — secure the border in any way we can. We're not backing down," he added.
The lawsuit began after Ducey declined to comply with a demand by the Biden administration to remove containers in the Yuma County area. Arizona officials informed the Biden administration that the containers would not be removed until a permanent barrier was built.
The Biden administration has cautioned that Ducey's containers have hampered access to land near the Morelos Dam and the Cocopah Indian Tribe's West Reservation. It has also claimed that the barriers will obstruct a future initiative by US Customs and Border Protection to patch gaps in the current wall.
Environmentalists have also recently targeted Ducey's shipping container proposal. The Washington Post reported on climate activists' efforts to stop the container border wall, including using their bodies to block machinery and sitting on containers in protest.
Ducey is slated to leave office in January, with Democratic Gov.-elect Katie Hobbs taking over. She is anticipated to halt further container wall construction along the border.
"It's not land that's our land to put things on. That's one problem. The containers aren't working. There's many pictures of people climbing over them," Hobbs said. "It's a political stunt. It's a visual barrier that is not actually providing an effective barrier to entry, and I think a waste of taxpayer dollars."
Stay tuned to DC Daily Journal.