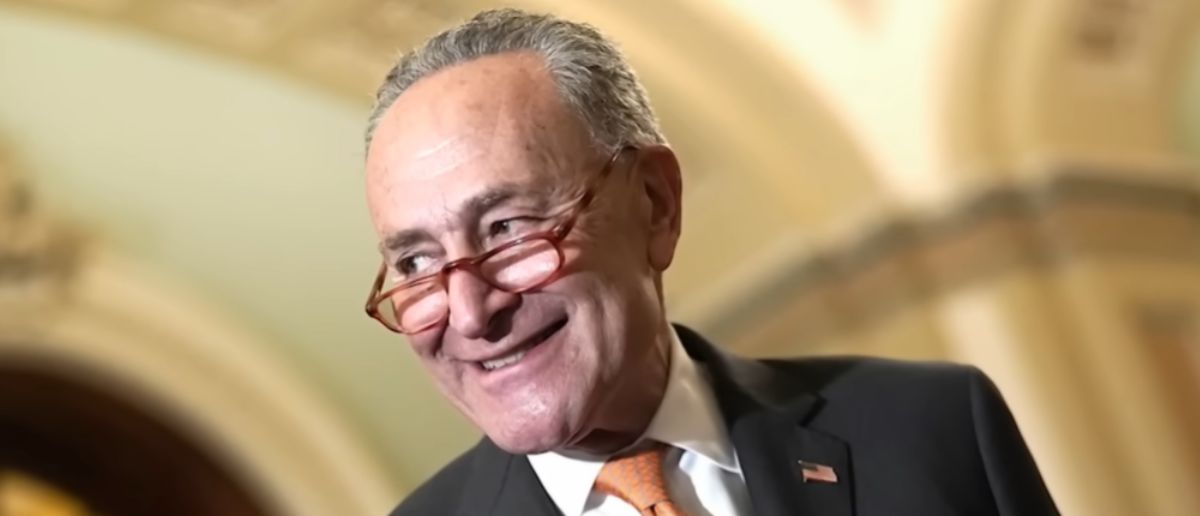 Senate Majority Leader Chuck Schumer is on thin ice. And now he's got a major problem on his hands.
Because Chuck Schumer's sinister plan for 2024 has been exposed by this top U.S. Senator.
The odds for the Democrats in 2024 are not looking good as far as control of the U.S. Senate goes. They will be defending more than twice as many seats as the Republicans will be in November 2024.
That puts Senate majority leader Chuck Schumer at a major disadvantage in trying to keep his position as the decision maker of the upper chamber in Congress.
But he's hatching a secret plan in an attempt to try and turn the tides in the Democrats' favor in the 2024 elections, especially if the U.S. Senate is a lost cause.
The Democrats know they have to try and claw back control of the U.S. House, and that's what Schumer is working to do with his latest efforts in the Senate.
And Senator Kyrsten Sinema (I-AZ), a former Democrat, is exposing how Schumer is working for the Democrats in the House rather than the American people.
In an interview with the media, Sinema asked why the U.S. Senate is announcing more financial support for the state of New York for immigration relief when the southern states like Texas, Arizona, and New Mexico need it way more.
"It's fairly obvious. I don't know if you noticed, but the announcement about that $104 million came out first, in a joint press release from Schumer and Jeffries — not from the White House or from FEMA. The first news of it broke by their press release," Sinema said of the legislation providing support to New York.
"Now, how did that happen?" Sinema tasked Politico.
Kyrsten Sinema knows what Chuck Schumer and company are up to and the answer lies in what Democrat Representative in the House, Jamaal Bowman (NY), has said about what's going on in New York right now.
This is what Bowman has had to say about the state of Democrats in New York:
Here's the thing. Democrats are looking bad right now in New York state, and that's unacceptable when we have to win at least four congressional seats to take back the House, so hopefully, the president is listening.
So Bowman is admitting that the Democrats' odds in New York are looking pretty rough right now and that does not bode well for them in 2024.
With the Senate already looking to be off the cards according to many politcal pollsters for the Democrats, their attention is turning to the House.
That really puts what Chuck Schumer and his Democrat are doing into perspective. They are essentially trying to use the Senate power to secure wins for the Democrats in New York.
Instead of using federal taxpayer dollars wisely where they are needed most, Chuck Schumer is hoping that he can turn the odds around for Democrats with enough kickbacks for vulnerable Democrats who are up for reelection.
As for Sinema, it's unsure if she will run again for her U.S. Senate seat from Arizona, especially considering she's switched her party affiliation from Democrat to independent.
Though, reports say that Sinema has filed the paperwork that's necessary for one to fundraise for an effort to be reelected in 2024.
Stay tuned to the DC Daily Journal.