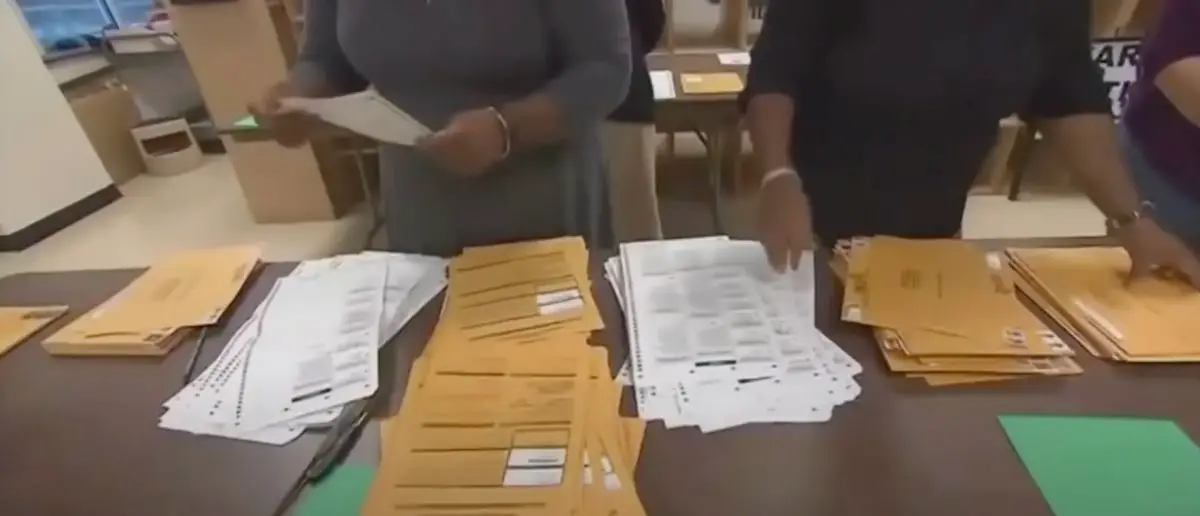 The Left has been claiming that our elections are completely secure and safe. Nothing could be further from the truth.
Because now Democrats have been caught red-handed stuffing illegal ballots in an election fraud case.
A mayoral election in a specific Connecticut town is set for next week, after the outcome of the Democrat primary race was nullified on Wednesday.
After footage surfaced of a person – who is claimed to be an ally of Democratic Mayor Joe Ganim – stuffing several ballots in an absentee ballot drop box on September 12 in Bridgeport, Superior Court Judge William Clark threw out the results.
According to WNPR-FM in Connecticut, Ganim beat out his opponent John Gomes by a margin of 251 votes despite coming in second place in the in-person vote and third place after counting absentee ballots.
Clark said in his order that the number of improperly handled ballots "calls the result of the primary election into serious doubt" and prevents the court from determining the "legitimate result" of the primary.
He concluded that the findings "are shocking to the court and should be shocking to all the parties."
According to Connecticut law, only the voter or the voter's designated agent may deposit a ballot in a collecting box for absentee ballots.
Gomes filed a lawsuit to have the primary election results overturned, and the case went to trial.
Ultimately, the tapes don't lie, Gomes's attorney Bill Bloss said.
He claimed that "substantial, massive absentee ballot misconduct" was evident from the tapes. "And that was certainly a substantial reason why the judge ruled the way he did, I think," Mr. Bloss added.
BREAKING: A Democrat Judge in Connecticut has OVERTURNED the results of the Mayoral Primary Election in Bridgeport and ordered a new election be held after bombshell video evidence of election fraud was found

"The volume of ballots so mishandled is such that it calls the result… pic.twitter.com/ah1SLTbYrw

— George (@BehizyTweets) November 1, 2023
Gomes was quoted as saying, "This is a victory for the people of Bridgeport," by The Associated Press. "Our campaign always believed that the integrity of our democratic process must be upheld, and Superior Court Judge William Clark agreed," Gomes noted.
The Hartford Courant reports that the court has no power to cancel an election, thus Tuesday is still when the election will be held.
Ganim is a Democrat, whereas Gomes is an independent standing in the general election. David Herz, a Republican, and Lamond Daniels, a petition candidate, are also on the ticket.
A new primary election date has not been announced.
According to WNPR, Clark has mandated that all interested parties convene with election authorities within 10 days to discuss next steps.
Ganim called on his backers to vote in the upcoming election, saying, "Let's send a powerful message that we want to keep the progress going in Bridgeport."
Democratic governor Ned Lamont reportedly nominated William Clark to the bench in 2021, as reported by Only in Bridgeport.
This news is getting national attention as Democrats have for more than two years now been claiming that our elections are completely secure and that it's basically impossible for any foul-play to occur.
But now we know that's completely false. Even Democrats are willing to cheat against each other in their own primary races, apparently.
Stay tuned to the DC Daily Journal.