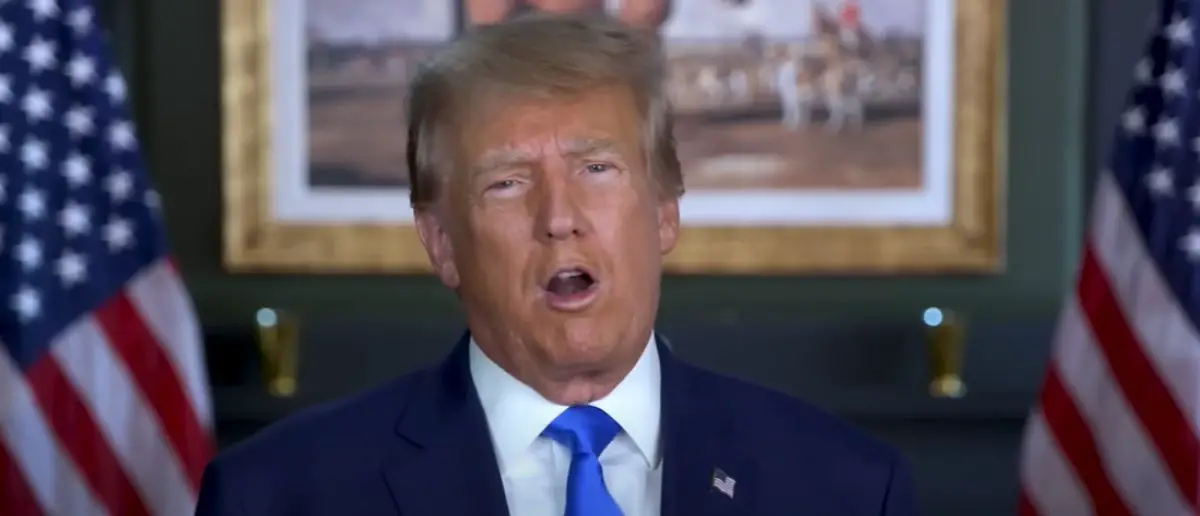 Trump is hot on the campaign trail. He's not taking any prisoners.
And Donald Trump destroyed this Republican candidate with one bombshell video.
When you take a look at the race for the presidency, the reality is crystal clear.
Donald Trump is far and away the best performing candidate if you look at the polls.
According to Morning Consult polls, Donald Trump is garnering 59% of the Republican primary voters.
Only Ron DeSantis has double digits beyond Trump, garnering around 16% of the vote – while other polls show him lagging even further behind.
And it could partly be because of Trump's ability to tear down his competitors in cheeky and creative ways – and he's doing it once again.
During a rally in New Hampshire on Tuesday, former President Donald Trump criticized Republican presidential candidate Chris Christie's weight, joking that Christie is "eating right now" and urging his fans to "not call him a fat pig."
Trump spoke on the Republican primary field in New Hampshire before making a joke about Christie's weight.
Before someone in the audience interrupted and brought up Christie, Trump noted that Florida Gov. Ron DeSantis (R) is "rapidly being caught" by billionaire Vivek Ramaswamy.
"Christie, he's eating right now. He can't be bothered," Trump told the Windham, New Hampshire, crowd.
"Sir, please do not call him a fat pig. That's very disrespectful. Don't call him that," Trump joked to an audience member.
"See, I'm trying to be nice. Don't call him a fat pig. You can't, can't do that. So now, because you're not allowed to do that, and therefore, we're not going to do it, okay? We want to be very civil," Trump added.
Holy sh*t Trump just bodied Chris Christie

"No Christie's eating right now"

"Sir please don't call him a Fat Pig — that's very disrespectful" pic.twitter.com/5voRsgDc4N

— johnny maga (@_johnnymaga) August 8, 2023
Trump's remarks about Christie's weight come as new polling shows the former New Jersey governor tied for second place with DeSantis among likely New Hampshire Republican voters.
According to the most recent NHJournal/coefficient survey, both candidates are tied at 9%.
Trump, on the other hand, maintains a clear 34-point lead over the two, with 43 percent support.
Furthermore, 62% of New Hampshire Republicans indicated they would vote for Trump even if he was convicted of a felony, while 57% said they would vote for him even if he was "serving time in prison."
Christie, a previous Trump supporter, told CNN's Christiane Amanpour over the weekend that he no longer supports Trump because of his accusations that the 2020 election was rigged.
"I didn't leave Donald Trump … he left me. When he stood there on election night 2020 behind the seal of the president in the East Room of the White House and said the election had been stolen when he had absolutely no evidence to support that," Christie said. "We know now, that was a complete lie."
"In 2020, after the election, and on election night, I broke with him permanently," he added. "And I'm running in this race because I do not believe that America needs the type of leader who puts themselves before the country."
Stay tuned to the DC Daily Journal.