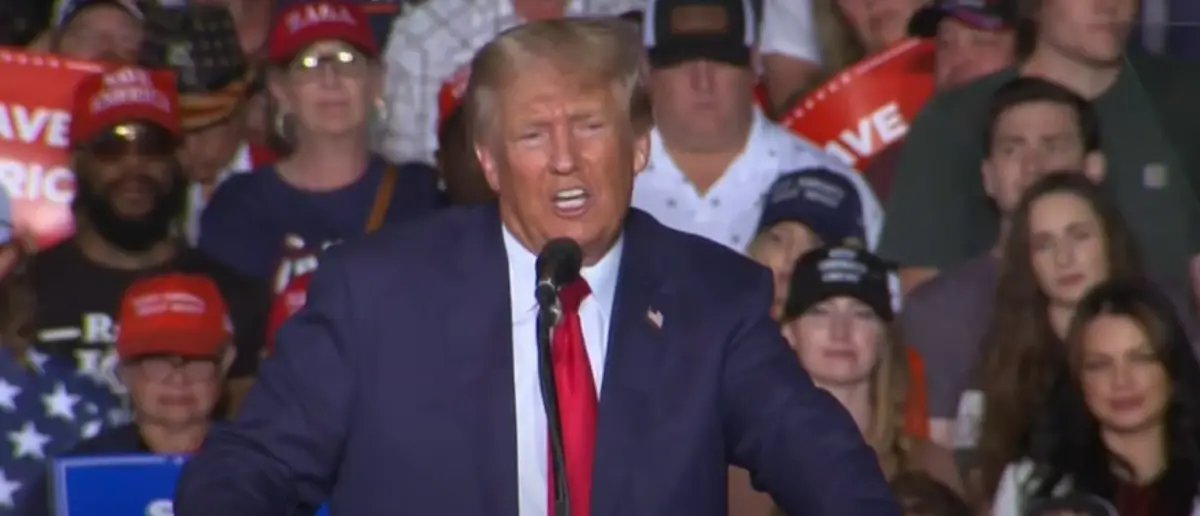 The political elite are waging all out war on Donald Trump. Now he can't even defend himself.
Because Donald Trump is being slapped with a chilling gag order.
A New York judge has prohibited President Donald Trump from using social media to discuss evidence in a criminal case involving alleged hush money payments to Stormy Daniels.
Bloomberg reports that State Supreme Court Justice Juan Merchan ordered that no one with access to the case's evidence may "copy, disseminate, or disclose" the evidence to any other party, including social media, without the judge's permission.
Trump is only entitled to study "limited" materials "in the presence of defense counsel, but the defendant shall not be permitted to copy, photograph, transcribe, or otherwise independently possess the evidence," the judge ruled.
Additionally, according to the decision, "any materials and information provided by the People to the Defense in accordance with their discovery obligations… shall be used solely for the purposes of preparing a defense in this matter."
Trump is also prohibited from discussing the case's witnesses or evidence in public.
The gag order was issued as Trump ramps up his his bid to unseat Joe Biden as president in 2024.
The gag order prevents Trump from responding, while Biden is free to speak about the accusations made in the lawsuit against his potential rival.
According to NBC, initially, prosecutors stated they were only looking to prevent Trump from misusing their evidence, not to obtain a gag order against him.
Donald J. Trump has a long-standing and possibly unique history of attacking witnesses, investigators, prosecutors, trial jurors, grand jurors, judges, and others involved in legal proceedings against him, placing those people and their families at significant risk, the district attorney's office wrote in a court filing last month.
They added that the "Defendant has a constitutional right to speak publicly about this case, and the People do not seek to infringe upon that right."
In a filing last week, the attorneys for the former president and current candidate for president argued that the DA's requested order would do just that, stating that "The People's Proposed Protective Order infringes upon President Trump's First Amendment right to freely discuss his own character and qualifications for federal office and the First Amendment rights of the American people to hear President Trump's side of the story."
In this case, Stormy Daniels allegedly received a $130,000 hush payment in order to prevent her from disclosing an alleged relationship with Trump.
A Manhattan grand jury indicted the former president in March; he has pleaded not guilty to all 34 allegations and asserted that he did not engage in extramarital relations.
Trump's attorneys also submitted paperwork last week to transfer the lawsuit to federal court.
Of course, Democrats will do everything in their power to keep the case in Manhattan, where they think they have a better chance of crucifying him.
And there's no guessing why they want to silence Donald Trump.
He spent years fighting back against slander from Democrats at every level.
But, with this, he's a sitting duck.
Stay tuned to DC Daily Journal.