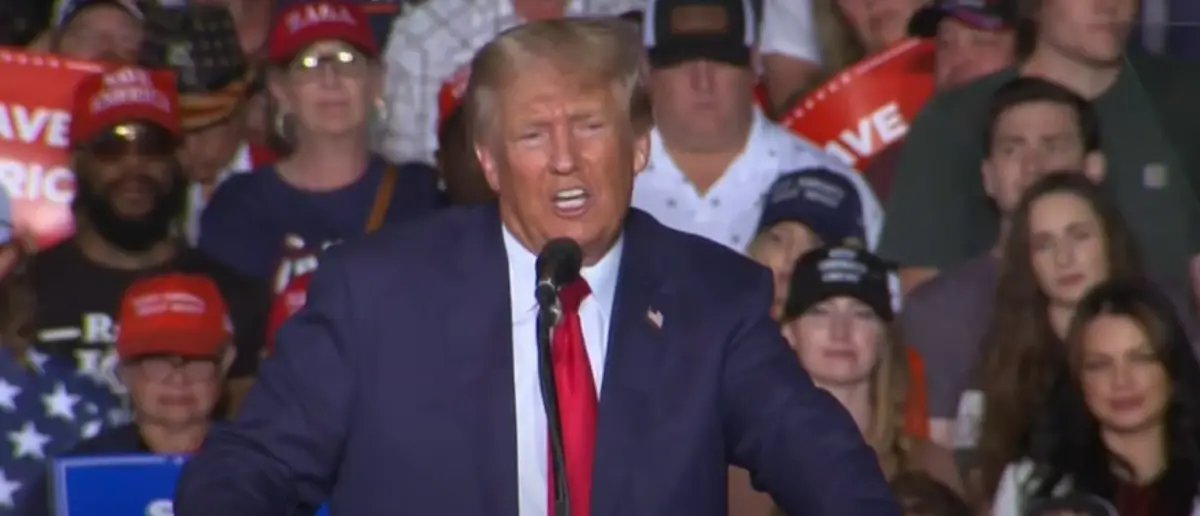 New York Attorney General Alvin Bragg's political targeting of Donald Trump is unprecedented. But he isn't going down without a fight.
And Donald Trump is unleashing after his New York City arrest.
Never before in the history of America has a former president been charged with a crime.
Many could've been, like former President Richard Nixon after he resigned in the wake of the Watergate Scandal.
But instead, this barrier is being broken thanks to a politically motivated attack on President Biden's chief political opponent, Donald Trump.
Trump is set to be arrested and formally charged with 34 felonies in New York City this afternoon.
After this, he will be released and will immediately return to Mar-a-Lago for a much anticipated speech.
According to a statement made on Sunday by Trump's reelection campaign, the speech will take place at 8:15 p.m. EDT at his Mar-a-Lago estate in Palm Beach, Florida.
No additional information regarding the content of Trump's remarks was immediately made public.
Still, the address will follow Trump's trip to New York City, where a grand jury indicted him last week and his arraignment is set for Tuesday afternoon.
The accusations "revolve around," according to Trump's lawyer Joe Tacopina, the evidence of hush money payments made to adult film actress Stormy Daniels during the 2016 election season, despite the fact that the indictment is still under seal, he told ABC News on Sunday.
Trump, who is a Democrat and claims to be the subject of "political persecution" by Manhattan District Attorney Alvin Bragg, is innocent of all charges.
"The Democrats have lied, cheated and stolen in their obsession with trying to 'Get Trump,' but now they've done the unthinkable – indicting a completely innocent person in an act of blatant Election Interference," Trump said in one of his recent statements on the case.
Inquiries into the Georgia 2020 presidential election and a federal probe into Trump's handling of records and the circumstances surrounding January 6, 2021, all of which are being overseen by special counsel Jack Smith, might lead to charges against the president.
In addition to Trump, businessman Vivek Ramaswamy and former South Carolina governor and United Nations ambassador Nikki Haley have entered the contest for the Republican presidential nomination in 2024.
The former Republican governor of Arkansas, Asa Hutchinson, declared his candidacy on Sunday. Trump should withdraw from the campaign, he added.
"First of all, the office is more important than any individual person," Hutchinson said on ABC News.
"And so for the sake of the office of the presidency, I do think that's too much of a sideshow and distraction and he needs to be able to concentrate on his due process and there is a presumption of innocence."
Former Vice President Mike Pence and Florida Governor Ron DeSantis are two other candidates who are anticipated to enter the GOP presidential primary race. President Joseph Biden has stated his intention to run for re-election but has not yet formally announced his candidacy.
Stay tuned to DC Daily Journal.