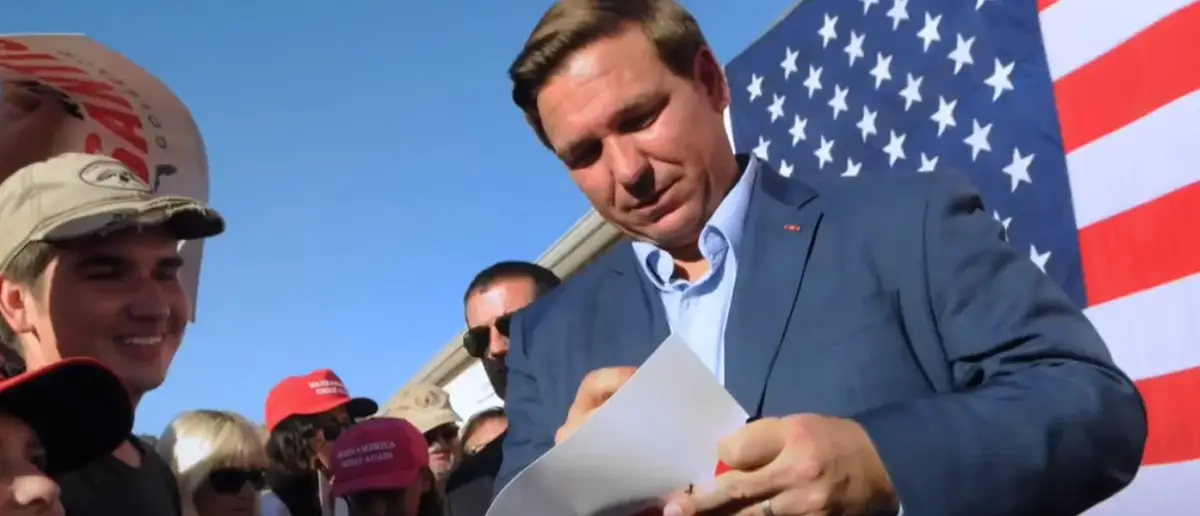 The Trump versus DeSantis battle is one to watch in the coming months. The two Republican juggernauts are digging their heels in.
But Donald Trump got completely stunned by what Ron DeSantis just admitted about him.
The media is trying to paint a picture that Donald Trump and Ron DeSantis absolutely hate each other to the core.
That isn't true.
Donald Trump puts a lot of stock in loyalty and feels as though Ron DeSantis is being disloyal, but that doesn't mean he hates the man.
And Ron DeSantis really hasn't engaged in the warfare with Trump that the media is trying to drum up into something more than it is.
In fact, Ron DeSantis just extended Donald Trump an important olive branch that proves that there isn't any real ill will between the two.
Ron DeSantis this week announced that if he is elected President, he will have no problem using the power of Presidential pardons on whomever he wants.
That includes Donald Trump.
DeSantis started out saying that he wants to bring justice to the victims of the weaponization of the federal government that has been a major stain on the Biden administration.
"On day one, I will have folks that will get together and look at all these cases, who people are victims of weaponization or political targeting, and we will be aggressive at issuing pardons," Florida Governor Ron DeSantis said on a podcast.
He added that there's too many examples of individuals being persecuted by the federal government because their politics don't line up with the Democrat establishment's.
"But if there are three other people who did the same thing, but just in a context like BLM and they don't get prosecuted at all, that is uneven application of justice, and so we're going to find ways where that did not happen," DeSantis added.
"And then we will use the pardon power."
In contrast to what most Presidents do, DeSantis said he wants to use his pardon throughout his Presidential administration rather than just at the end.
With regards to Donald Trump, he said everything will be a case-by-case basis and that Trump could very well fall under the criteria that DeSantis would be looking for in using a Presidential Pardon.
"I would say any example of disfavored treatment based on politics or weaponization would be included in that review, no matter how small or how big," DeSantis said with regards to Donald Trump.
Donald Trump could also pardon himself if he were to win a second term in 2024.
But Ron DeSantis might be an ally that Trump wants to keep, so it could be wise for him to tone down some of the attacks that some conservatives say go too far, at least with a potential pardon from DeSantis being kept in mind.
Stay tuned to the DC Daily Journal.