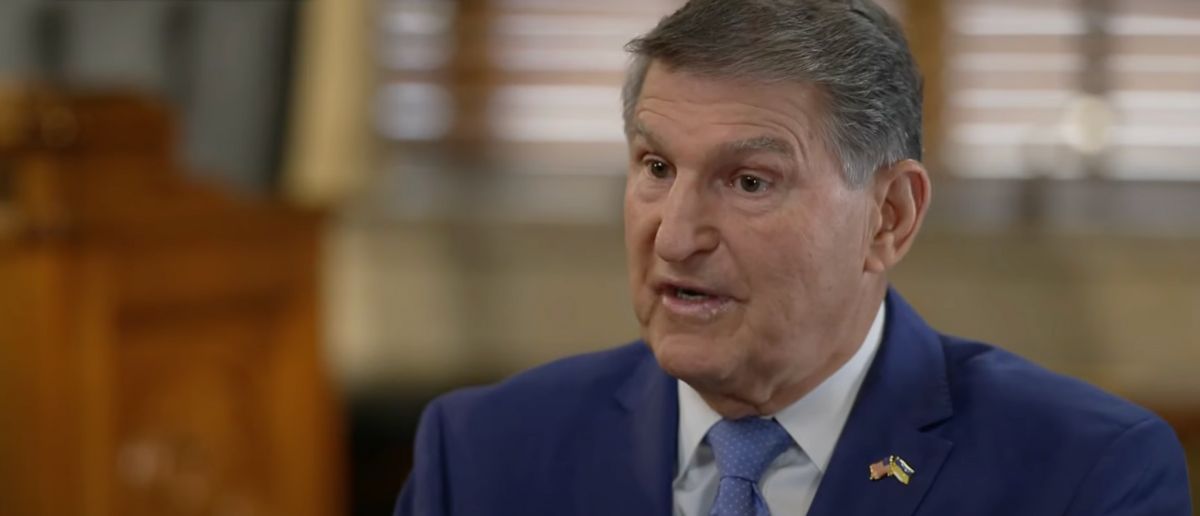 President Biden's chances at re-election were bad enough as is. But this could put a nail in the coffin.
Because Joe Manchin made one announcement that has Biden sweating bullets.
Another Joe may soon run for President.
In an interview aired Wednesday, outgoing Senator Joe Manchin (D-WV) kept the door open to a presidential bid, saying he would "absolutely" consider running for the highest office in the land.
"I will do anything I can to help my country, and you're saying, 'Does that mean you would consider it?' Absolutely," Manchin told NBC's Meet the Press moderator Kristen Welker.
"Every American should consider it if they're in a position to help save the country."
Manchin said last week that he would not run for re-election to the Senate, avoiding an uphill battle to maintain his seat in his ruby-red home state.
In the 2020 election, the Mountain State backed former President Donald Trump by roughly 30 percentage points, and it hasn't backed a Democrat for president since Bill Clinton in 1996.
Manchin, 76, hinted in a video speech announcing his decision not to run for re-election that his political career might not be done yet.
"What I will be doing is traveling the country and speaking out to see if there is an interest in creating a movement to mobilize the middle and bring Americans together," he said at the time.
"I'm going to do everything in my power to make sure, to mobilize that moderate, sensible, commonsense middle," Manchin told Welker Wednesday.
The Democrat emphasized that he is "totally, absolutely scared to death that Donald Trump would become president again," adding that "I think we will lose democracy as we know it" if that happens.
The moderate No Labels organization has been scouting for a third-party presidential candidate, and Manchin has backed them up.
Manchin co-hosted a No Labels event in New Hampshire this summer with former Utah Republican Gov. Jon Huntsman.
Fears among Democrats are that a third-party candidate may derail President Biden's campaign and pave the way for a Trump triumph.
"I've never been a spoiler in my life of anything, and I would never be a spoiler now," said Manchin, who indicated that he views March 5 — Super Tuesday — as the rough deadline to make a final decision.
During the first two years of Biden's presidency, Manchin emerged as a pivotal vote for Democrats in the 50-50 Senate.
Despite tremendous pressure from progressives, he failed to pass many high-dollar variants of Biden's Build Back Better plan.
Manchin eventually agreed to the watered-down $740 billion Inflation Reduction Act last year, which he has since publicly condemned.
Manchin also accused Biden of drifting "too far left" during his administration in his NBC interview, though he defended the soon-to-be-81-year-old from age criticism.
"When I've met with Biden, we've always had a very active engagement," the senator said.
With Manchin's decision not to run for Senate, Democrats' calculations for preserving control of the upper chamber have become more challenging.
Democrats are defending 23 seats in election season, while Republicans are defending only 11.
Stay tuned to the DC Daily Journal.