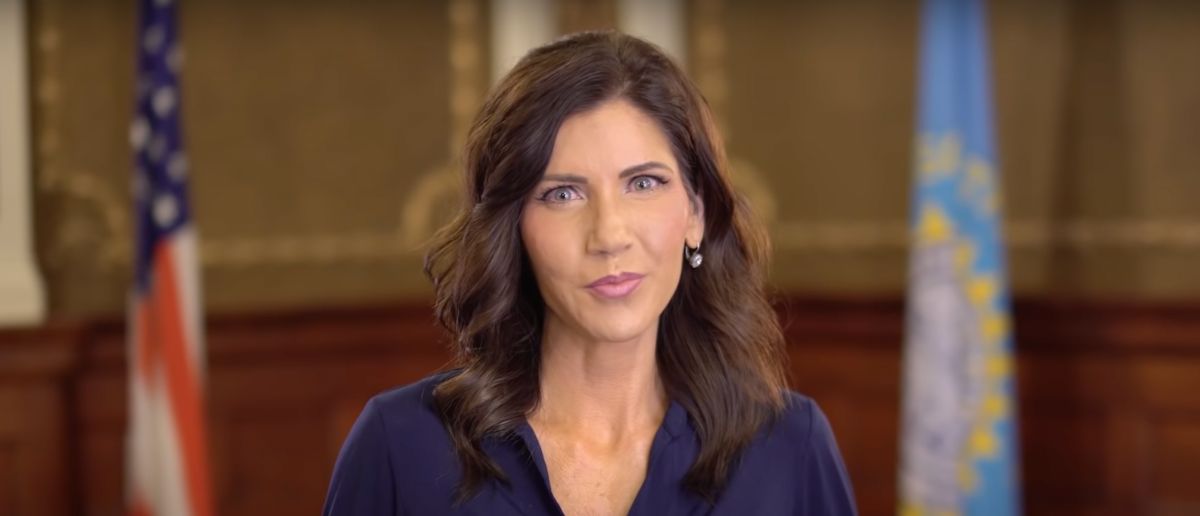 South Dakota Governor Kristi Noem is a force to be reckoned with. She's developed a strong following for being unwavering.
That's why total chaos was unleashed when Kristi Noem made this 2024 announcement.
If there's two individuals who best represent the future of conservatism in the Republican party, those two would have to be Ron DeSantis and Kristi Noem.
Both of those two Republican Governors have picked up the flame of the revitalization of conservative politics since 2014 that eventually installed Donald Trump into office in 2016.
Kristi Noem, in particular, got popular during the COVID-19 pandemic panic as she bravely led her state in defying the status quo of shutting down businesses and forcing people to live unsustainable lives locked up in their homes all alone.
She stood strong in her defense of the American people's right to exercise their right to freely assemble, according to the First Amendment.
She's also been on the forefront of the battle against the radical Left's gender ideology nonsense that has seen innocent minors fall victim to the mutilation of their God-given biological sex organs.
Just recently, South Dakota became one of the first states to ban so-called "gender-affirming" treatments for anyone under the age of 18.
ICYMI: South Dakota Governor Kristi Noem signed a bill Monday banning gender-affirming treatments for minors. https://t.co/3XdTtmRnev pic.twitter.com/ZVzKvlZXhw

— NEWSMAX (@NEWSMAX) February 15, 2023
So whenever Kristi Noem has a comment to make about the state of the Republican party, especially as it relates to the 2024 election, ears make sure to tune in.
She did so recently and made some predictions about the 2024 Presidential election race that may surprise you.
Noem was asked by KWAT radio if she was considering running for President in this next cycle. She responded saying that she is not at this time.
"Wouldn't that be interesting? If there was South and North Dakota governors running for president? But no. Right now, I am so focused on South Dakota," Noem said referencing Doug Burgum running for President.
She said that Burgum asked her to endorse him in the 2024 election cycle and shared that she thinks Burgum is a "good guy" trying to do what's best for North Dakota and America.
Noem was then asked if she plans on making any endorsement in the race for the White House. Noem again simply said no, but her reasoning is interesting.
"No, I don't think so. President Trump is in the race and right now I don't see a path to victory for anybody else with him in the race and the situation as it sits today," Noem said.
She then added that she believes the race could get wild.
"But I think people should saddle up — it could be a roller coaster of a presidential race," she continued. Then Noem made a comment that made people believe she might actually be planning a run.
"I think it'll be unprecedented in what we'll see. There's a lot of unknowns and the person who may win may not even be in the race yet," she added.
Noem's comments are interesting on a couple of different fronts.
First of all, her comments about Trump seem to indicate she isn't that thrilled that Trump is the de facto choice for the Republican party right now. Her comments gave off the impression that Trump is more of a roadblock for anyone else to be successful rather than supporting Trump.
Surely she will support Trump if he ends up being the nominee to run against Joe Biden for the November 2024 election. But, like she said, she doesn't plan to make an endorsement right now.
Which makes her ending point more interesting. The comment about the idea that the person who could win the Republican primary not even being in the race at the moment could be her leaving the door open for her to make a late joining of the party.
She's likely just keeping her options open. Which makes sense considering the chaos that the 2024 election is going to prove to be. The two front-runners in Joe Biden and Donald Trump are both vulnerable for different reasons. Capitalizing on that vulnerability is what DeSantis is trying to do and there's no reason Noem couldn't follow suit.
Stay tuned to the DC Daily Journal.