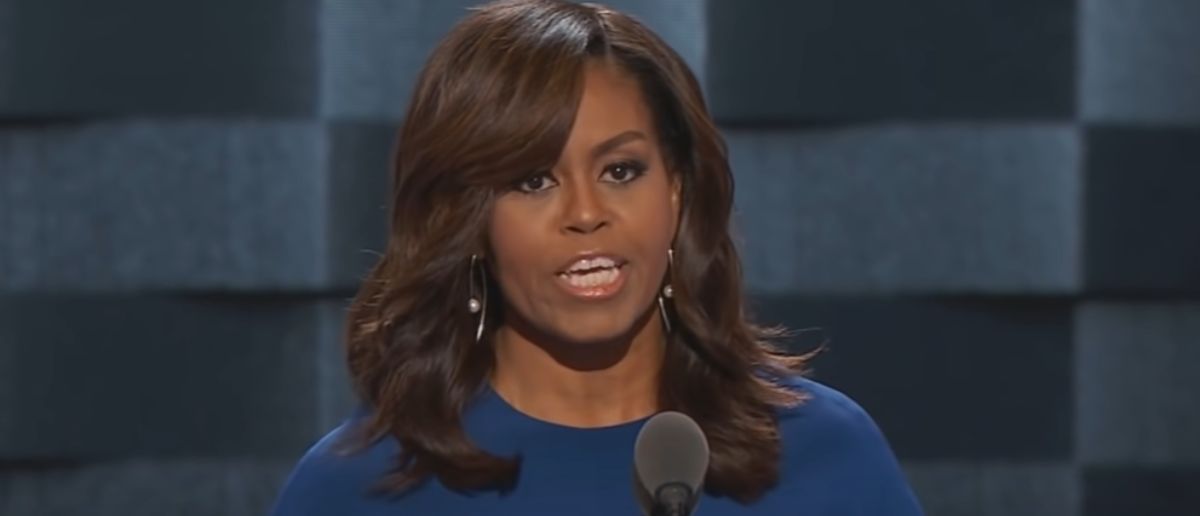 There's been a lot of smoke over a potential Michelle Obama run for President. Usually, where there's smoke, there's fire.
But Michelle Obama's secret 2024 plans have finally been revealed.
Many believe that the race for the White House in 2024 is essentially a three-man race between incumbent Joe Biden, former President Donald Trump, and Republican up-and-comer Ron DeSantis.
Certainly, those three men have the best chance at winning the general election in 2024 after winning their respective primaries.
But there's been murmurs about Joe Biden not being able to make it to the finish line for a variety of reasons.
High-profile Democrats within the Party have said that they do not believe that Joe Biden should be their candidate because they are worried about his reelection odds with his poor approval ratings and his advancing age.
Others say he just physically won't be able to and that his physical and mental state will prevent him from running a campaign this time next year.
So who would be the fill-in for Joe Biden on the Democrat side to take on a conservative juggernaut like Donald Trump or Ron DeSantis in the general election next year?
The Democrats know who they want. That's former First Lady Michelle Obama.
It's entirely possible that Joe Biden runs his campaign as expected and that he does end up meeting either Donald Trump or Ron DeSantis on the ballot come November 2024.
But Michelle Obama has a strong tie to 2024 election that may surprise you and may indicate that she could jump in at any moment.
What's the most obvious roadblock Donald Trump has to becoming the Republican nominee and getting a more favorable rematch against Joe Biden? It's obviously the indictment trial he will be facing in December after being charged by special counsel Jack Smith earlier this year.
Well, the former First Lady Michelle Obama has a tie to Jack Smith that definitely makes the whole indictment bologna reek of Deep State quid-pro-quo.
Multiple outlets have confirmed that Michelle Obama has worked with the wife of Jack Smith for one of her documentaries.
Jack Smith's wife, Katy Chevigny, worked on Michelle Obama's documentary called "Becoming" which is about the Obamas and their time in the political scene.
So Jack Smith just so happened to be the one to be picked to be the special counsel over the investigation into Donald Trump's handling of allegedly classified materials at his Mar-a-Lago estate?
The one guy with an obvious tie to the Obamas — may be the most radical first family in the history of the United States and is still heavily involved in national politics — was chosen to oversee this?
And what do you know? Donald Trump was hit with indictments left and right by special counsel Jack Smith. Color us surprised.
That brings us to the 2024 election. Let's assume Donald Trump is taken out of the picture due to death by a thousand cuts in the courtroom. As resilient as Donald Trump is and as much as a fighter he is, there's absolutely no way the average American would be able to get behind a President convicted of the felonies he's being charged with.
With Trump gone, you'd basically have DeSantis left as the default for the Republicans. Keep in mind that the Democrats say they want to run against Donald Trump again. They believe running against him is their best bet to win. Whether or not that's true is beside the point.
Would the Democrats really be willing to keep Joe Biden in the Democrat nomination spot if he's running against a Ron DeSantis who is half his age and commands immense respect from Americans all over the country with one of the highest approval ratings of any major politician in the country?
Probably not, right? Well, who would they turn to in their hour of need? Who knows. But it wouldn't be surprising to see Michelle Obama pop up if that were the case.
Michelle keeps saying that she isn't interested in running for President now or in the future. But do we actually believe that? If given the chance to install herself and her family back into the White House to continue their radical reshaping of America in the "progressive" utopia (dystopia) they want, would she take it?
That's the million-dollar question.
Stay tuned to the DC Daily Journal.