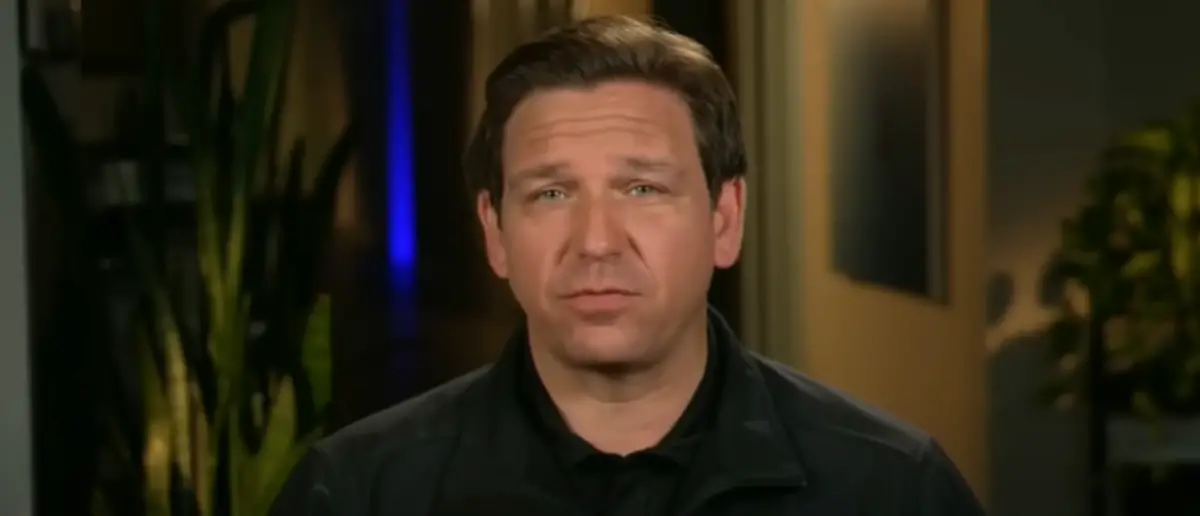 The 2024 Presidential election is proving to be extremely hot. But that means some are willing to stoop to new lows.
And now a new investigation of a top 2024 candidate has unleashed total chaos.
Florida Governor Ron DeSantis (R) has put a target on his back by being willing to take on the radical Left just as much as Donald Trump has for the past seven years.
And running for President makes him a real threat to Joe Biden and the Democrats trying to hold on to power in Washington, D.C in 2024.
While the Democrats are hoping that getting Donald Trump out of the picture in 2024 by hitting him with seemingly unending criminal charges, they can't do anything about Ron DeSantis.
Democrats could potentially get undecided and independent voters to sour on Trump, but that would be an almost impossible task with regards to DeSantis.
DeSantis is basically half the age of President Biden and commands a ton of respect from Floridians from all walks of life. That's why he won his reelection by an astounding 20% over his opponent, Charlie Crist.
Simply put, if DeSantis meets Biden in the general election in 2024, it's game over for Biden and the Democrats.
So what are the Democrats going to do? Well, demonize DeSantis as much as they can, of course.
House Democrats are seeking an investigation into "anti-democratic abuses" in Florida after Governor DeSantis terminated yet another radical progressive prosecutor for dereliction of duty related to her history of downgrading and dismissing charges in major criminal cases.
Democrat Representatives Maxwell Frost and Dan Goldman, along with ranking member Jamie Raskin of the House Committee on Oversight and Accountability, wrote a letter requesting a hearing to "examine ongoing efforts to subvert democracy in the State of Florida."
It was a resubmission of a request made in May, they claimed, to look into "the shocking trends of anti-democratic abuses of power in the state." They said that on Wednesday, DeSantis suspended Democratic state attorney Monique Worrell for the Ninth Judicial Circuit of Florida in order to replace her with a political loyalist.
Due to her history of enacting methods and regulations that "systematically permitted" violent offenders, drug traffickers, major juvenile offenders, and pedophiles to dodge prison time, DeSantis removed her from her position by executive order.
After Andrew Warren, the state attorney for Hillsborough County, openly stated that he would not enforce the state's six-week abortion prohibition, 2024 presidential candidate Ron DeSantis suspended him as well.
The executive order claimed that Worrell had skewed her charging decisions so that juvenile offenders would not face serious charges or incarceration, that those convicted of drug trafficking and gun crimes would not face mandatory minimum sentences, and that those convicted of being in possession of explicit videos and photos of children would face fewer charges.
Worrell's charge determinations and the ensuing penalties permitted offenders who could have otherwise been behind bars to inflict additional harm on the community in three situations were referenced in the executive order.
Worrell's expulsion, the House Democrats said, "flies in the face of the courts and the Constitution in what appears to be a scheme to undermine the will of the electorate where the courts cannot provide a legal remedy for the Constitutional violation."
The governor of Florida has the legal authority to suspend a state attorney under the state's constitution. The Florida Supreme Court has affirmed that the governor just needs to publish genuine grounds for suspension, which may include "neglect of duty."
The Republican-controlled state senate, not the state courts, has "the exclusive responsibility to sit in judgment of the merits of a suspension." The Senate will assess the situation and either remove the suspended official or reinstate them.
The DC Daily Journal will keep you updated on any updates regarding DeSantis's firing of prosecutor Worrell.