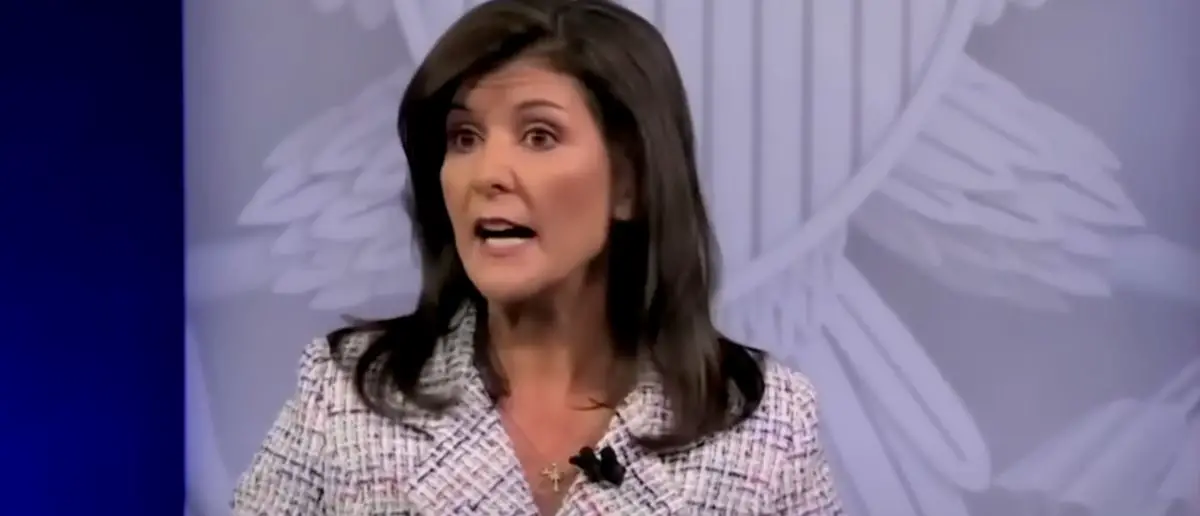 Former President Donald Trump is the obvious front-runner. So everyone's gunning for him.
But Nikki Haley crossed the line when she hit Trump with this sick personal attack.
Nikki Haley, a presidential contender, attacked Trump's foreign policy during a Thursday campaign appearance in Portsmouth, New Hampshire, calling him "weak in the knees" on Ukraine.
When challenged about Trump's legacy, she avoided being too openly critical of the GOP frontrunner by showering praise on the outgoing president.
"He was the right president at the right time," Haley remarked. "He broke things that needed to be broken. He listened and brought in a group of people who felt unheard."
Donald Trump was, nevertheless, the target of her share of criticism.
"He was thin-skinned and easily distracted. He didn't do anything on fiscal policy and really spent a lot of money and we're paying the price for it," she claimed. "He used to be good on foreign policy and now he has started to walk it back and get weak in the knees when it comes to Ukraine."
In the GOP race, Haley has been a strong advocate for military aid to Ukraine, while Trump has hesitated and refused to take a firm stance on the issue.
Trump has pledged time and time again, without providing specifics, to end the conflict between Ukraine and Russia if he is elected president. He has also called for funding to Ukraine to be reduced, though not as drastically as some of his Republican rivals.
Since the Russian invasion of Ukraine began over a year and a half ago, Republican support for Ukraine has faltered. This week, funding for Ukraine has even emerged as a central issue in disagreements over the federal budget among House Republicans.
The 2024 Republican primary is expected to have a lot of rhetoric like Haley's, with contenders praising Trump and his presidential successes (which are favored with the GOP voter base) while simultaneously arguing why they are the superior choice.
In polls of the Republican primary, Trump is way out in front. National poll averages show that he is supported by roughly 55% of Republicans. Haley is in fifth place with around 5% of the vote, behind his closest rival, Florida Governor Ron DeSantis, who has roughly 14%.
This may have been a critical mistake for Nikki Haley at this point in time in the Republican Presidential primary race.
Frankly, Nikki Haley had a good showing during the first Republican debate that was filled with nonsense and candidates shouting at each other.
She pierced through some of that when she stole some of the thunderous applause from businessman and political outsider Vivek Ramaswamy during their exchange on America's alliance with Israel.
Dropping support for Israel has long been unpopular in conservative circles, so Nikki Haley was met with cheers when she told Ramaswamy he had no idea what he was talking about when it came to American relations with Israel. That was her moment.
.@VivekGRamaswamy is completely wrong to call for ending America's special bond with Israel. Supporting Israel is both the morally right & strategically smart thing to do.

This is part of a pattern with Vivek—his foreign policies have a common theme: they make America less safe.

— Nikki Haley (@NikkiHaley) August 21, 2023
But now, she's making the mistake of being overly harsh about Donald Trump, and that will make her a target to attack for the Trump campaign.
The "thin-skinned" comment, in particular, is sure to catch the attention of the Republican front-runner and he will likely use this against her.
That's the problem that Republican hopefuls not named Donald Trump are having right now. They simultaneously have to defend Donald Trump while also support their claim that they will be even better than Donald Trump ever was.
The only candidate to remotely do that with success is Florida Governor Ron DeSantis who will most likely be a Republican nominee for President at some point in the near future.
But it's unlikely to be 2024. Donald Trump still has a strong grip on the race and that's unlikely to change.
Stay tuned to the DC Daily Journal.