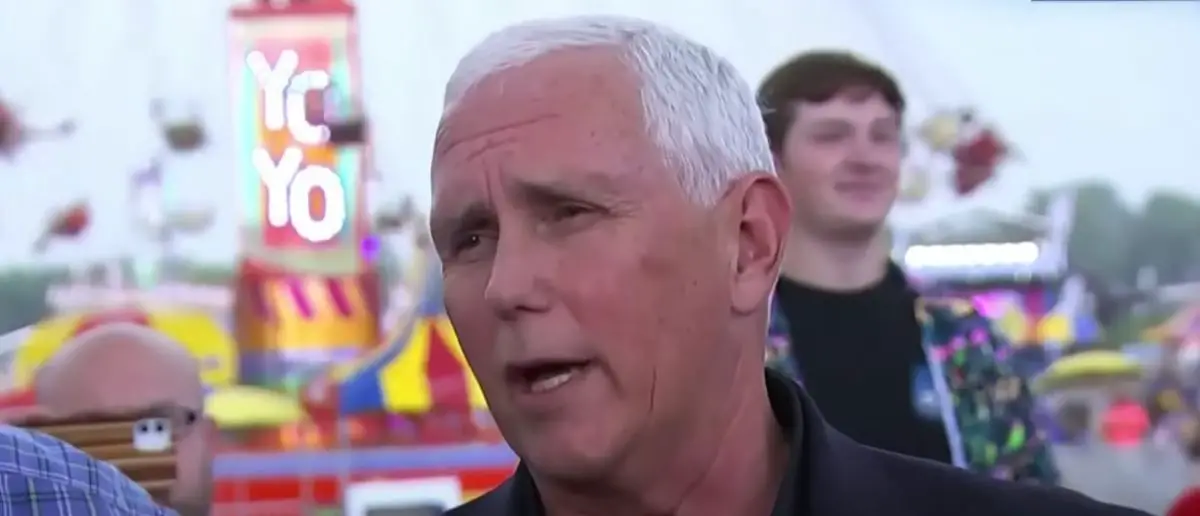 Mike Pence and Donald Trump were once political allies. That's not the case anymore.
And Mike Pence said three words about Trump's arrest that will utterly floor you.
NOTE: As of the writing of this article, Donald Trump has not been arrested. We will update this article to reflect the latest facts if that happens.
When the news broke Friday that law enforcement agencies were "preparing" for Donald Trump to be arrested early this week, it set the whole political world ablaze.
NBC reported that these agencies were the NYPD, the New York State Court Officers, as well as others.
NBC wrote:
The agencies involved include the NYPD, New York State Court Officers, the U.S. Secret Service, the FBI's Joint Terrorism Task Force, and the Manhattan District Attorney's Office, the officials said.

NBC News has reached out to all of those agencies for comment, and all have declined to comment.
Then Donald Trump announced early that Saturday morning that he was expecting to be arrested on Tuesday the 21st of March.
He criticized the Manhattan District Attorney as "corrupt" and "highly political" and added that their prosecutions where phony.
Immediately, conservatives came to Donald Trump's defense, agreeing with him that the Soros-backed Manhattan DA office was playing political games with the legal system.
House Speaker Kevin McCarthy said that Trump being indicted was "an outrageous abuse of power by a radical DA who lets violent criminals walk as he pursues political vengeance."|
Here we go again — an outrageous abuse of power by a radical DA who lets violent criminals walk as he pursues political vengeance against President Trump.

I'm directing relevant committees to immediately investigate if federal funds are being used to subvert our democracy by… https://t.co/elpbh7LeWn

— Kevin McCarthy (@SpeakerMcCarthy) March 18, 2023
Even Ron DeSantis, who is expected to face off against Trump in the 2024 Republican primaries as the favorite to win the Republican nomination for President, came to Trump's defense saying that the Soros-funded prosecutors were "imposing" a political agenda.
"The Manhattan district attorney is a Soros-funded prosecutor and so he, like other Soros-funded prosecutors, they weaponize their office to impose a political agenda on society at the expense of the rule of law and public safety," DeSantis said.
Immediately everyone wanted to know what the former Vice President for the Trump administration, Mike Pence, thought about all of this though.
Would Mike Pence continue to hold a grudge against Donald Trump, according to the Big Media outlets trying to put a wedge between them?
Or would Pence also come to the defense of Trump and call out the political weaponization of the legal system like other prominent conservatives have?
Now we have our answer. Pence had just three words to describe the potential Trump indictment.
"I'm taken aback," Pence said to the media.
"Like many Americans, I'm just, I'm taken aback," Pence added.
He lamented the fact that, yet again, Trump's enemies who wish he never took power in the Oval Office, are trying to drum up another sham prosecution.
"Here we go again, back into another politically charged prosecution directed at the former president of the United States, and I would just hope for better," Mike Pence added.
Pence also added that while the potential indictment "reeks of the kind of political persecution" that they "endured back in the days of the Russia hoax," he expects Trump to be just fine.
"One thing I know is — I know that former President Trump can take care of himself."
The media has been trying to paint Mike Pence as this grudge holding, hateful man because of the 2020 election fallout. But the reality is actually not that juicy.
Mike Pence and Donald Trump may not be as close as they once were, Pence isn't afraid to call out the fishy political games that are being used to throw Donald Trump behind bars.
Any true conservative at heart should be able to see how Joe Biden and the Democrats have been attacking anyone who threatens their political agenda.
Stay tuned to the DC Daily Journal.