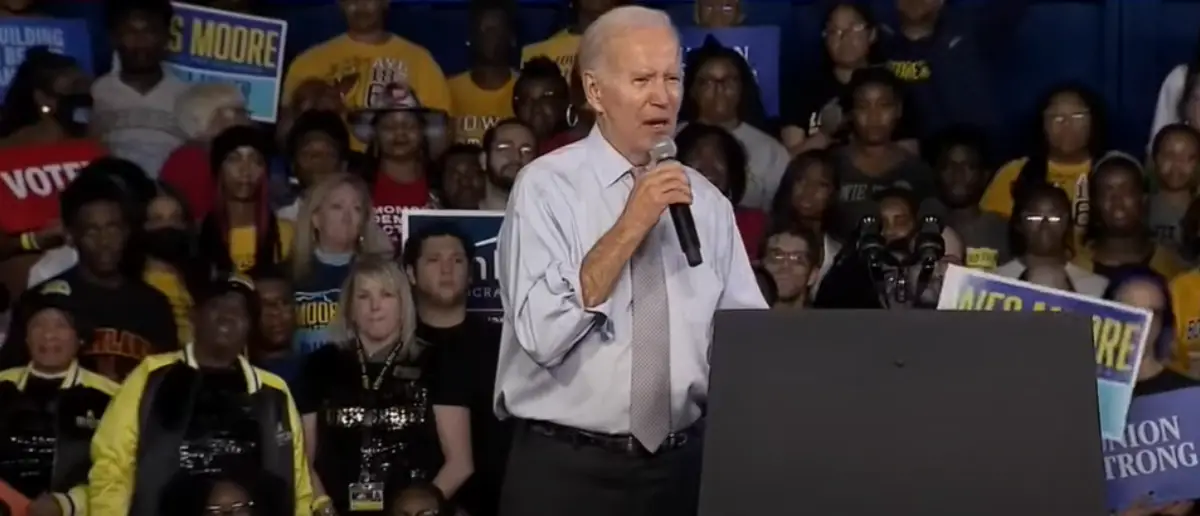 President Biden isn't getting any younger. His career is absolutely nearing the end.
And now reports of Joe Biden limping are causing Democrats to completely panic.
Under normal circumstances, an incumbent president getting to rematch against a candidate that they just beat out in the previous presidential election would be a dream.
But it's likely Joe Biden's nightmare right now.
Joe Biden may have "won" in 2020, but Donald Trump is storming back and his campaign is doing extremely well so far.
Trump's fundraising is as high as ever despite the indictment troubles he is facing. His support within the Republican party also remains high.
Joe Biden isn't enjoying such positive developments for his 2024 campaign, however.
Plenty of reports have come out demonstrating how the Democrat base simply don't even want Joe Biden to run for office at all as they would prefer he step down to allow someone else a shot to run in 2024 for President.
51% of Democrats don't want Joe Biden to run for second term.

GOP Spokeswoman @Danielle_Alva explains how the Democratic Party is ignoring their voters and changing the rules to ensure Joe Biden wins the primary. pic.twitter.com/zOqb1okAT5

— GOP (@GOP) April 26, 2023
As we all know, polls aren't everything. If he wins the Democrat primary, it doesn't really matter because those Democrat voters aren't going to vote for Trump or DeSantis. But polls do show that the Democrat hopeful Robert F. Kennedy Jr. is actually surging in in the polls.
There's news about the Biden campaign that should seriously scare the Democrat establishment, though. Joe Biden's campaign is seriously limping.
According to a Politico report, the Biden campaign is not doing well in terms of donations and they are falling behind where they would like to be.
This has reportedly given many high-profile Democrats anxiety about the future of the Biden campaign and his chances to win in 2024.
Townhall reports:
Biden aims to raise about $2 billion for the entire cycle to defeat the Republican nominee. However, tickets for the president's campaign events are struggling to sell. Politico pointed out an email from one fundraiser informing recipients of "limited Reduced Price Tickets" to entice supporters to show up.
Townhall also reports that events for the First Lady Jill Biden are not doing well at all either, to the surprise of no one.
Another Biden campaigner reportedly faced difficulty when trying to sell tickets for an event in Nashville with First Lady Jill Biden, despite tickets being less expensive than they usually would be.
Meanwhile, Donald Trump and Ron DeSantis are showing no signs of slowing down in their campaigns for President.
Ron DeSantis raised an eye-watering $8.2 million in the first 24 hours of announcing his candidacy for President in 2024. About $1 million of that was just in the first hour alone.
Donald Trump has also been doing extremely well in the campaign financing world as the indictment trials have only boosted support for the former President as he can use them to point out how corrupt the Biden regime is.
As for crowd turnout? Both Trump and DeSantis both have been easily able to sell out their events. Biden can't even seem to fill any seats.
Donald Trump and Joe Biden Both held rallies in Wilkes-Barre Pennsylvania this week.

Here is what they looked like back to back.

Incredible. pic.twitter.com/Xe7cWQzrQO

— Benny Johnson (@bennyjohnson) September 4, 2022
Stay tuned to the DC Daily Journal.