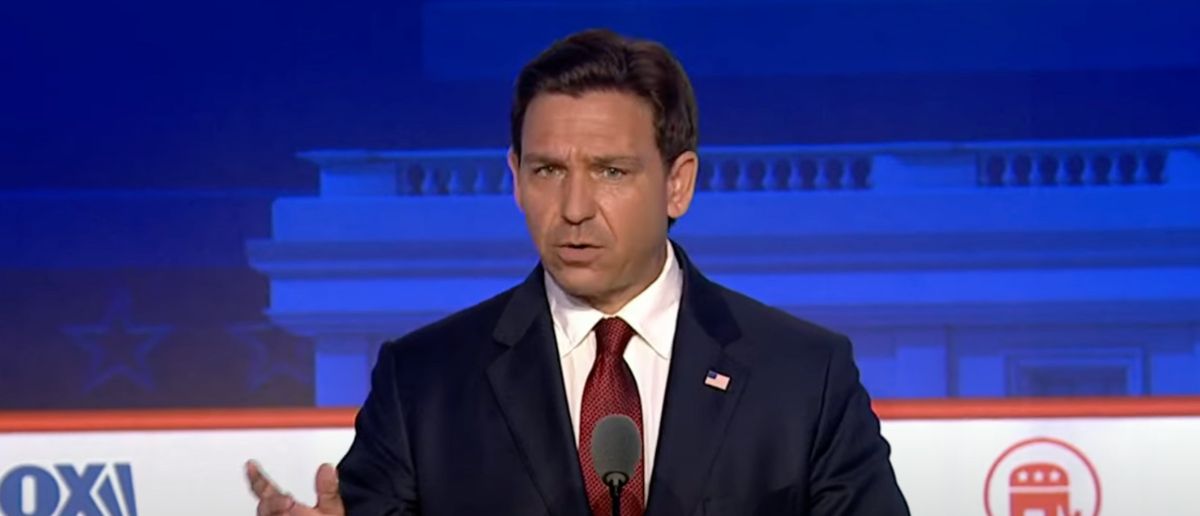 The battle for the White House has reached a tipping point between these two. They're trying to get every advantage they can.
And Ron DeSantis threw a curve ball at Trump that he never saw coming.
The second Republican primary debate occurred on Wednesday night.
Former President Donald Trump was again absent from the debate, choosing to opt-out since he's so high in the polls right now.
Unsurprisingly, his fellow Republican challengers did not take lightly to his absence.
Republican candidate and former New Jersey Governor Chris Christie, referred to Trump as "Donald Duck" for ducking out of the past two debates.
Florida Governor Ron DeSantis had a different strategy however.
Instead of resorting to name calling like Christie, DeSantis decided to challenge Donald Trump to a debate featuring just the two of them.
When speaking with Fox News' Sean Hannity after the debate, DeSantis said, "Maybe we can say – since the former president didn't come here. Maybe he'd be willing to do one with you and I."
"I think he owes it to our voters to come and make the case."
Let's do it.

Donald Trump owes it to our voters to come and make the case. pic.twitter.com/I4aiwDY805

— Ron DeSantis (@RonDeSantis) September 28, 2023
This isn't the first one v. one debate that Hannity is hosting involving DeSantis.
On November 30, Governor DeSantis will debate Governor Gavin Newsom (D-CA) on Fox News, a debate that has been suggested for a while by Newsom.
It's happening… https://t.co/8sqvIMuiHS

— Sean Hannity 🇺🇸 (@seanhannity) September 25, 2023
"This is going to be 'Hannity: One-on-one debate central,'" Sean Hannity said after DeSantis suggested the debate with Trump.
Even though Donald Trump is firmly ahead in the primary polls, Ron DeSantis feels as though the former President has a since of entitlement.
"No one's entitled to anything," the Florida Governor said.
It will be fascinating to see if Ron DeSantis is able to gain some ground on Trump should they debate.
But as it stands now, there's no reason for Donald Trump to take part in any sort of debate since he has nothing to gain and everything to lose.
Stay tuned to the DC Daily Journal.