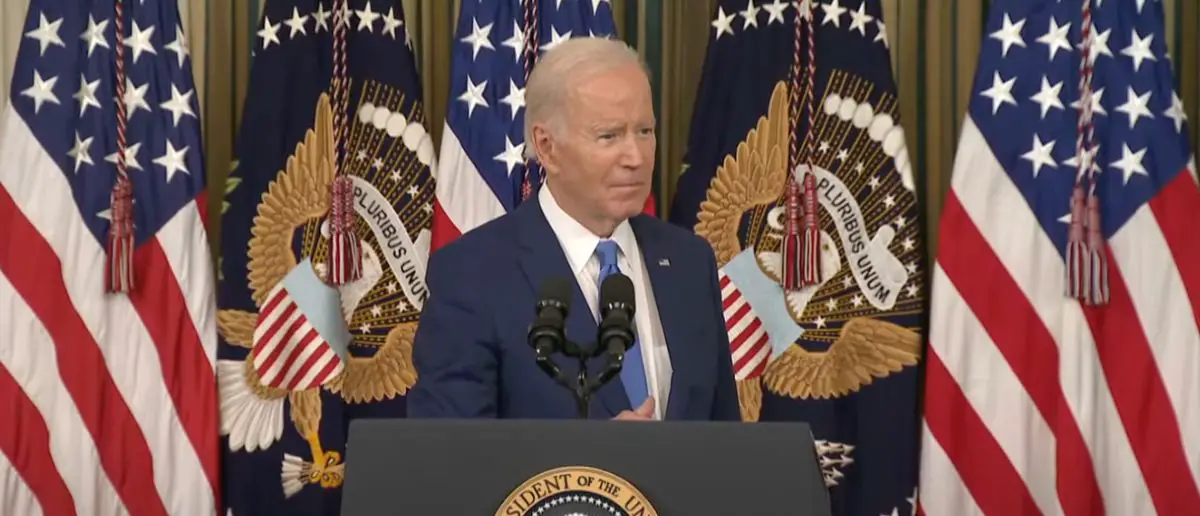 Joe Biden knows he can't win the 2024 election on his own merits. That's why he's recruiting misinformation peddlers to do his dirty work.
And this secret White House propaganda room was revealed in a shocking report.
Joe Biden's poll numbers are in free fall. He knows his chance at re-election are slim to none.
In fact, a recent poll from CNN – hardly a conservative outlet – shows that just one third of Americans believe Biden deserves a second term.
A majority of Democrats also signaled they want someone other than Joe Biden to be the Democratic nominee for president next year.
And Biden has seen some of his worst performance among the younger generations, a demographic usually swept by the Left.
For those adults under the age of 35, only 26% say Biden should get a second term as president, down from 36% in December.
The White House can see the writing on the wall and is doing everything it can to shore up their sinking ship.
According to a source, the Biden administration is enlisting the support of notable TikTokers and other social media influencers to help court young voters as the Democrat prepares for reelection.
Axios reported that President Biden's digital strategy team is connecting with hundreds of influencers across the country who would promote the 80-year-record old's in the Oval Office in order to attract electors ages 18 to 29 who do not already follow the White House or the Democratic Party on various online platforms.
The campaign is apparently being led by White House staffer Rob Flaherty, who has been made assistant to the president, which is the same status as the communication director and press secretary.
Reaching out to young voters is so important to Biden that unpaid social media influencers could get their own briefing room inside the White House to work in-person or remotely, according to Axios.
You read that right, a bunch of social media stars are going to get a work space in the White House to peddle the Biden administration's agenda.
"We actually asked the White House, 'When are we going to get press briefing passes,'" 20-year-old TikToker Harry Sisson told the outlet. "They were actually were very responsive to it."
The NYU student has over 663,000 TikTok followers and posts a summary of the day's major news events on the platform.
When Biden visits a specific state, the White House allegedly aims to communicate with influencers who have local followings.
Oddly enough, the Biden administration's insistence on pushing Biden's message through TikTok comes at the same time legislation is moving through Congress that would prohibit TikTok or compel its sale due to the platform owner's ties to the Chinese government and concerns that it has access to the network's user data.
But these abuses haven't stopped them from utilizing the platform for political gains.
The White House enlisted TikToker Daniel Mac, who has amassed a big following by asking drivers of fine automobiles what they do for a career, to ask Biden the same question at the Detroit Motor Show last September.
The TikTok video of Biden's answers, in which he praised the production of more electric vehicles, has been viewed 38 million times.
"We're trying to reach young people, but also moms who use different platforms to get information and climate activists and people whose main way of getting information is digital," White House Deputy Chief of Staff Jen O'Malley told Axios.
With inflation soaring, China threatening American sovereignty, and culture wars dividing America, is this really what the White House should be concerned with?
Stay tuned to DC Daily Journal.