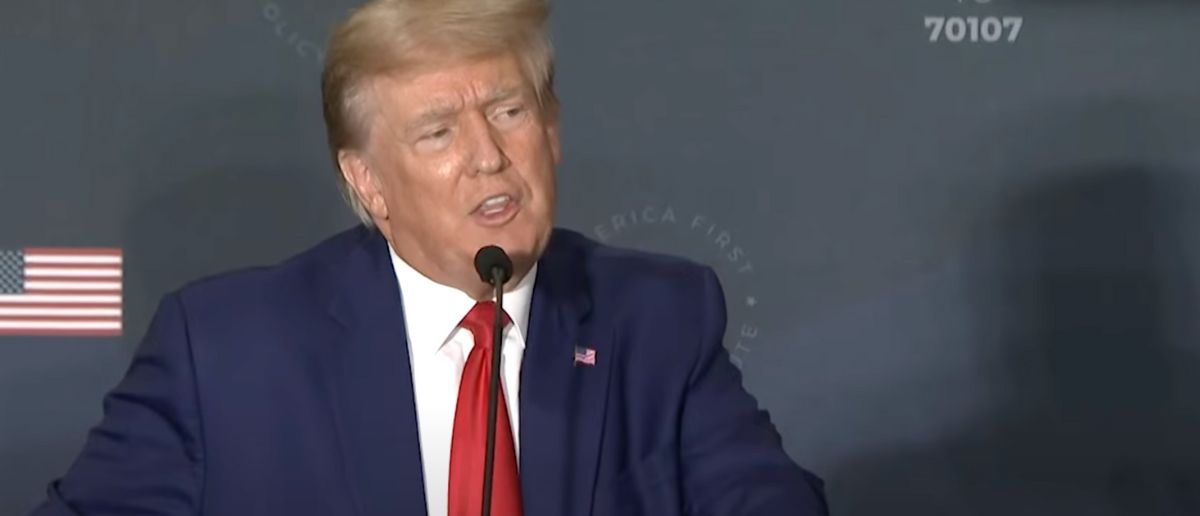 Donald Trump has his eyes set on a second term in the White House. But he's got major legal battles to contend with.
And now the Supreme Court has given Donald Trump a ruling that will change his life.
A constitutional amendment ratified all the way back in 1868 in the wake of the Civil War could not be used to remove former President Donald Trump off the primary ticket in Minnesota, according to a new ruling from the state's Supreme Court.
"Ridiculous 14th Amendment lawsuit just thrown out by Minnesota Supreme Court. 'Without Merit, Unconstitutional.' Congratulations to all who fought this HOAX!" former President Donald Trump shared to his followers on Truth Social this week.
Anyone who took an oath to defend the Constitution are disqualified from holding office under Section 3 of the 14th Amendment if they are deemed to have "engaged in insurrection."
Trump's opponents have been scouring this amendment for months to argue that on January 6, 2021, when hundreds of demonstrators entered the U.S. Capitol to witness the certification of the 2020 election, Trump participated in acts worthy of being called an "insurrection" as it pertains to the 14th amendment.
Spokesman Steven Cheung told CNN that the ruling in Minnesota is "further validation of the Trump Campaign's consistent argument that the 14th Amendment ballot challenges are nothing more than strategic, un-Constitutional attempts to interfere with the 2024 election."
The 14th Amendment challenges to Trump's eligibility to be president "should be summarily thrown out wherever they next arise," Cheung said. CNN said there are similar investigations going on in the states of Michigan and Colorado.
There is "no state statute that prohibits a major political party from placing on the presidential nomination primary ballot…a candidate who is ineligible to hold office," the Minnesota Supreme Court wrote in its opinion.
The court held that the petition should be thrown out "because there is no error to correct here as to the presidential nomination primary."
It was not apparent whether the organizations that fought unsuccessfully to get Trump off the primary ballot will appeal the decision. Interestingly, the court did note that they would not necessarily stop anyone from trying to get Trump off of the general election ballot in 2024.
Politico reports that legal arguments in the lawsuit were heard by the court last week.
The voters' attorney, Ronald Fein, said the 14th Amendment "protects the republic from oath-breaking insurrectionists because its framers understood that if they're allowed back into power, they will do the same or worse."
"Should we do it? Even if we could do it and we can do it?" Chief Justice Natalie Hudson inquired, claiming legal systems might create "chaos" if various states consider the 14th Amendment in various ways.
For this reason, the matter "probably should be decided by the U.S. Supreme Court," as Hudson put it.
Justice Paul Thissen expressed doubt that Trump is covered by the relevant provision because it does not reference the presidency.
The attempts to kick Donald Trump off of general election ballots throughout the country for 2024 were always going to be longshots. But that doesn't mean they shouldn't be taken seriously.
We've seen some wildly unfair things happen to Donald Trump over the past several years, so it would be no surprise if some rouge judge or state Supreme Court decided to take matters into their own hands, so to speak, to make it more difficult for Trump to win in 2024.
Democrats know that Joe Biden is extremely vulnerable, that's why they are looking for every possible way to keep Trump from being able to have a fair chance at beating him in a rematch in 2024.
Stay tuned to the DC Daily Journal.