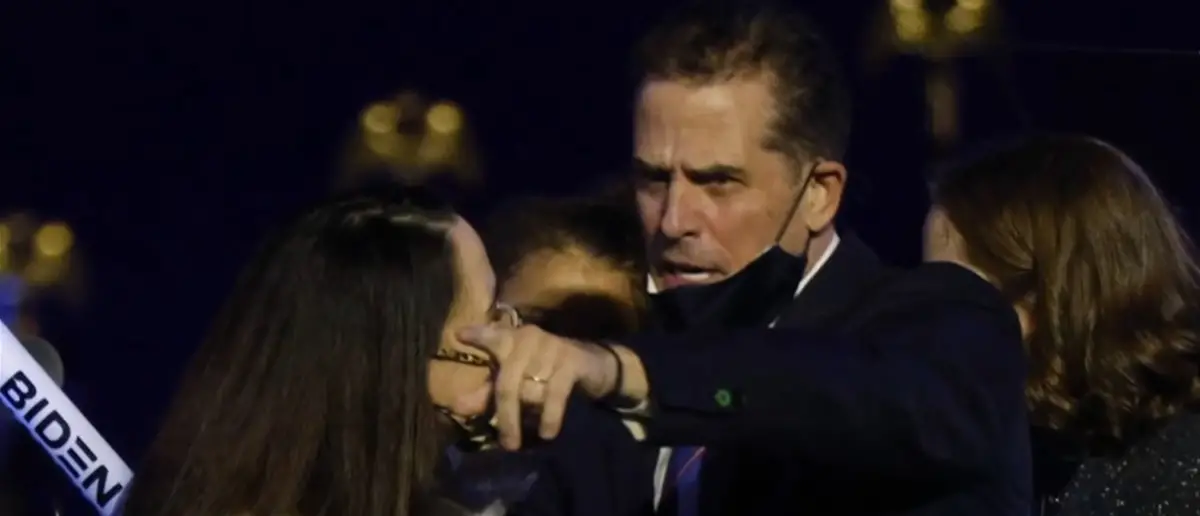 President Biden has been dodging responsibility surrounding his son Hunter for years. He can't get away this time.
And this Hunter Biden revelation is sending Joe Biden down in flames.
The more the public discovers about the Biden family, the more shady and corrupt they all sound.
If you rewind, Democrats accused Donald Trump of using coercion for political favors in Ukraine – they even impeached him on it.
Then it came out that Biden was caught on tape doing exactly what they accused Trump of doing to stop Ukraine from investigating his son, Hunter.
They accused Trump of mishandling classified intelligence only to have Biden exposed for the having Top Secret information stowed in his Delaware garage, where Hunter Biden was staying.
Long story short, Joe Biden has proven he's willing to flex his political power and bend (or break) the rules to benefit his son and himself.
But now even more damning evidence has surfaced surrounding Joe's involvement with Hunter's business practices.
A Hunter Biden email promising information on Russian oligarchs to an American aluminum company has raised new concerns about the first son's access to classified documents recently discovered in his father's Wilmington, Del., home, as lawmakers prepare to investigate allegations of influence peddling.
According to The New York Post's exclusive October 2021 investigation, Hunter attempted to sell intelligence on Russian oligarchs to the US aluminum business Alcoa Inc. for $55,000 in documents dating back to 2011.
Hunter Biden volunteered to provide a "statistical analysis of political and corporate risks, elite networks associated with Oleg Deripaska, the Russian CEO of Basic Element company and United company RUSAL," which had recently signed a metal supply arrangement with Alcoa, when his father served as former President Barack Obama's second-in-command.
Hunter Biden also provided the corporation with a "list of elites of similar rank in Russia," as well as a "map of [Deripaska's] networks based on frequency of interaction with selected elites and countries."
Given recent revelations that Hunter Biden had access to the Delaware lake-front home where secret papers from his father's time as vice president were discovered in a garage, basement, and library — combined with Republicans taking control of the House of Representatives — the deeply detailed proposal has come under intense scrutiny.
Rep. Jim Banks (R-Ind. ), a prominent former chairman of the conservative Republican Study Committee, told The Washington Post that the Alcoa solicitation is part of a larger picture.
"The Biden family is the most corrupt family in the history of American politics," he said. "The biggest question facing Republican investigators: Where to begin?"
Banks is not alone in this. Others, like as Sen. Ron Johnson (R-Wis.), have voiced suspicions that Hunter Biden, who has previously claimed the 6,850-square-foot estate as his residence, may have utilized the classified materials in business dealings.
Johnson stated that an April 12, 2014 email from Hunter Biden to his business partner regarding Ukraine appeared "suspiciously" like it could have come from sensitive material.
"It reads like one of those scene-setters — highly detailed Ukraine information," Johnson said Fox News on Tuesday.
Hunter's email to Devon Archer included a 22-point memo he described as "thoughts after doing some research," which included forewarnings that Petro Poroshenko will be elected president of Ukraine and that "some sort of decentralization will likely occur in the East."
"If it doesn't the Russians will continue to escalate there [sic] destabilization campaign, which could lead to a full scale take over of the eastern region most critically Donetsk," Hunter Biden wrote. "The strategic value is to create a land bridge for RU[ssia] to Crimea."
The House Oversight Committee will investigate Hunter Biden's alleged influence peddling, cashing in on links to his then-vice president father to rake in millions from foreign firms, its chairman, Rep. James Comer (R-Ky.), told the National Press Club on Monday.
Stay tuned to DC Daily Journal.