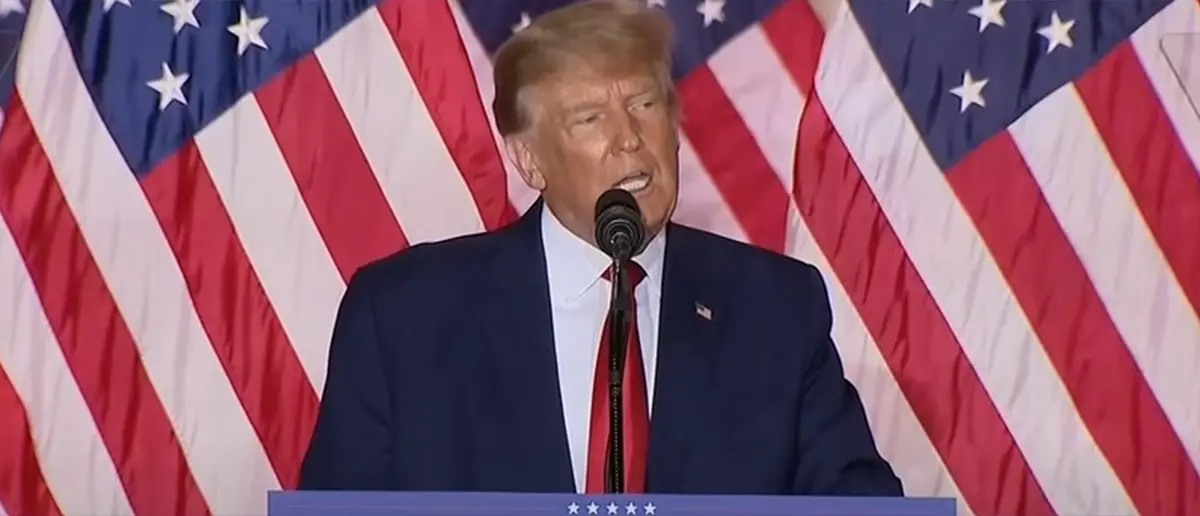 Donald Trump faced his second arrest this year after getting indicted by the federal government. His next move is shocking everyone.
Because the Trump campaign did the unthinkable after his arrest on Tuesday.
Back in March of this year when Donald Trump was hit with his first indictment, Trump immediately looked to his supporters to back his campaign in the face of what he says is injustice.
His supporters definitely answered his call at the time as raised more than $15 million for his campaign in the few weeks after the announcement of the indictment from the Manhattan D.A. office of Alvin Bragg.
Trump's fundraising has remained strong since, but some were wondering if his fanbase would be growing tired of the legal troubles and potentially fall off after the announcement of this second and more serious indictment from the federal government.
That doesn't seem to be the case at all. He's doing just as well as before, if not better than ever in terms of support and fundraising from his following.
According to reports, Donald Trump has raised more than $7 million just since his official arrest on Tuesday this week.
The Trump campaign put out an official statement the day after his arrest saying that $6.6 million of that came in within 24 hours.
Former President Donald Trump's 2024 White House campaign said he had raised $7 million since being indicted on federal charges last week, as his message of political persecution continues to resonate with die-hard supporters https://t.co/AKGGeMWczP pic.twitter.com/NwIvTD5Zfe

— Reuters (@Reuters) June 15, 2023
"Since deranged Jack Smith took the unprecedented step of weaponizing the justice system to attack his political opponent, Donald J. Trump for President 2024 has raised more than $6.6 million in just a few short days," the Trump campaign said in an official statement on Wednesday.
They say that this is a "clear sign" of the support that Trump still has from patriots all over the country who want to defend him from the injustice of the Biden administration's legal attacks of Trump.
"In a clear sign of the steadfast support President Donald J. Trump enjoys from grassroots Patriots across the nation, over $4.5 million has been raised from digital fundraising, with an additional $2.1 million raised at President Trump's event at Bedminster last night," the Trump campaign also said.
This case will likely carry on for the next year, bleeding into the Republican primary race that will be starting in February of 2024 and finishing up in June of 2024.
Fundraising is always a good metric of how energized Americans are for a candidate, but it doesn't always translate to votes at the ballot box.
It will be interesting to see how the Trump campaign fairs in terms of votes when the primary season rolls around. A lot can still happen in the next 8-12 months in the race for the Republican nomination.
Trump, for example, has yet to pledge his support that he will support the inevitable Republican nominee for President, even if it's not himself.
The Trump campaign says that only Donald Trump can beat Joe Biden in the general election in November of 2024.
"Universal polling both nationally and statewide has shown President Trump holding insurmountable leads and is the only candidate who can beat Joe Biden in a general election," the Trump campaign has said.
Though, that isn't necessarily true. His internal team's polling may show that he has the best chance to beat Joe Biden. But third party polling shows Ron DeSantis has a very good chance at beating Joe Biden in 2024 as well.
If Trump doesn't announce his support for the Republican nominee no matter who it is, he will not be welcomed on the debate stage and that could definitely impact his standing with voters.
To what degree is yet to be seen, but there's a lot of factors at hand. Regardless, it seems like Trump's campaign is doing better than ever despite his enemies doing everything they can to take him down.
Stay tuned to the DC Daily Journal.