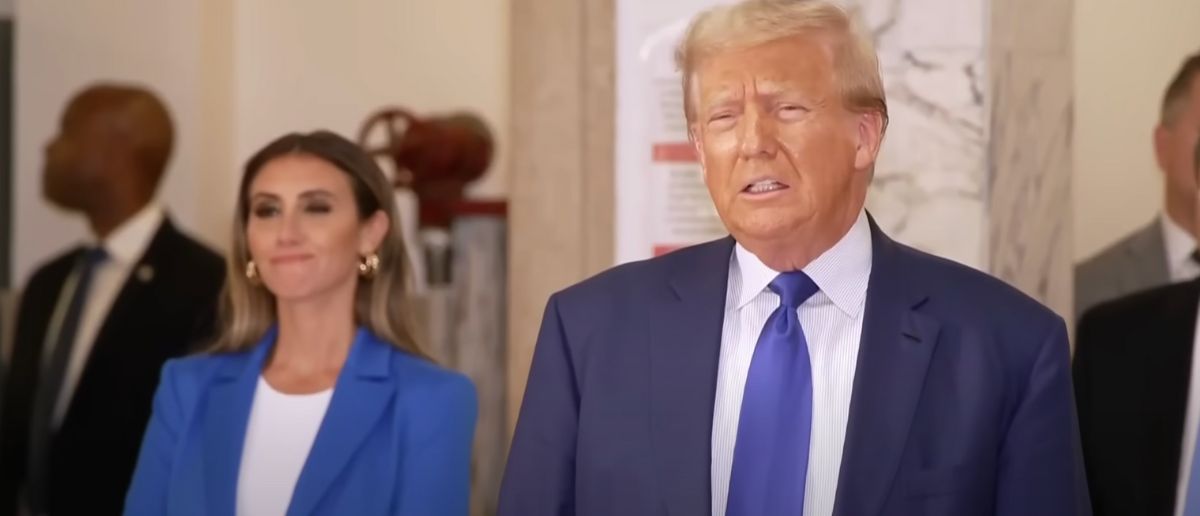 Former President Donald Trump is defending his future in court. It's taken a bad turn.
And Trump nearly fainted when he saw who walked into the court room for his case.
On Monday, hearings began in a state that may be a swing state where former President Donald Trump's candidacy is at risk. The judge presiding over the case is a surprise appointment by the state's Democratic governor.
Judge Sarah Wallace, appointed by Colorado Governor Jared Polis, presides over the proceedings, as reported by Colorado Newsline. She was originally appointed back in August of 2022.
This lawsuit is the latest in a long line of actions against Trump and Republican allies of Trump who have dared to demand that Congress refuse to certify the results of the 2020 election.
Remember that Democrat lawmakers have done this in every election they've lost this century, but the media has largely forgotten about it thanks to the Capitol invasion.
Another group has recently claimed that the leading Republican contender for president in 2024 shouldn't be on the ballot because of an old, forgotten provision of the 14th Amendment that prohibits anybody who "engaged in insurrection or rebellion" from holding federal office. This provision dates back to the Civil War.
Citizens for Responsibility and Ethics in Washington, a watchdog group, and six Colorado voters are behind this legal challenge, arguing that the amendment can be interpreted to apply to Trump.
The legal action was filed on September 6 and states, "Donald Trump attempted to overthrow the results of the 2020 presidential election."
The document states, "On January 6, 2021, his efforts came to a head when he incited, exacerbated, and otherwise engaged in a violent insurrection at the United States Capitol by a mob who believed they were following his orders and refused to protect the Capitol or call off the mob for nearly three hours as the attack unfolded."
These arguments have been made before, without success. This one, however, might be different.
It has been observed by Colorado Newsline that "the Colorado case — the first to be filed by CREW, a nonprofit based in Washington, D.C., and the first to go to trial — represents the most substantial test for such efforts to date."
The group "CREW" "represented plaintiffs who cited the 14th Amendment in a successful suit to remove from office Couy Griffin, a county commissioner in Otero County, New Mexico, who had participated in the Jan. 6 attack," the site reported.
But a small-time politician who joined in on the Capitol invasion is a far cry from the Republican frontrunner right now.
"After the 2020 election cycle, President Trump made various statements and took various legal actions questioning the fairness or accuracy of the announced results," Trump's counsel wrote in a request to dismiss filed on September 29.
They added, "But he is hardly the first politician to do that — and Petitioners identify no facts that could convert this political controversy into an insurrection against the government."
On Monday, the case's opening statements were made.
Joe Biden leads Donald Trump in a head-to-head fight in Colorado, a state that leans blue but occasionally springs a surprise, according to polling and statistics website FiveThirtyEight. The site's most recent poll, conducted by Emerson College between October 1 and 4, showed Biden with a 4-point lead, 42% to 38%.
Wallace had previously stated that she would not address the claims made by Trump's attorneys challenging "whether President Trump engaged in an insurrection."
On October 30, 2023, she stated, "this issue will be addressed at the hearing that is set to begin."
This case absolutely has the potential to make it all the way to the U.S. Supreme Court where it seems unlikely that the new conservative bench would be willing to give the idea that Trump is ineligible to hold federal office the light of day.
Stay tuned to the DC Daily Journal.