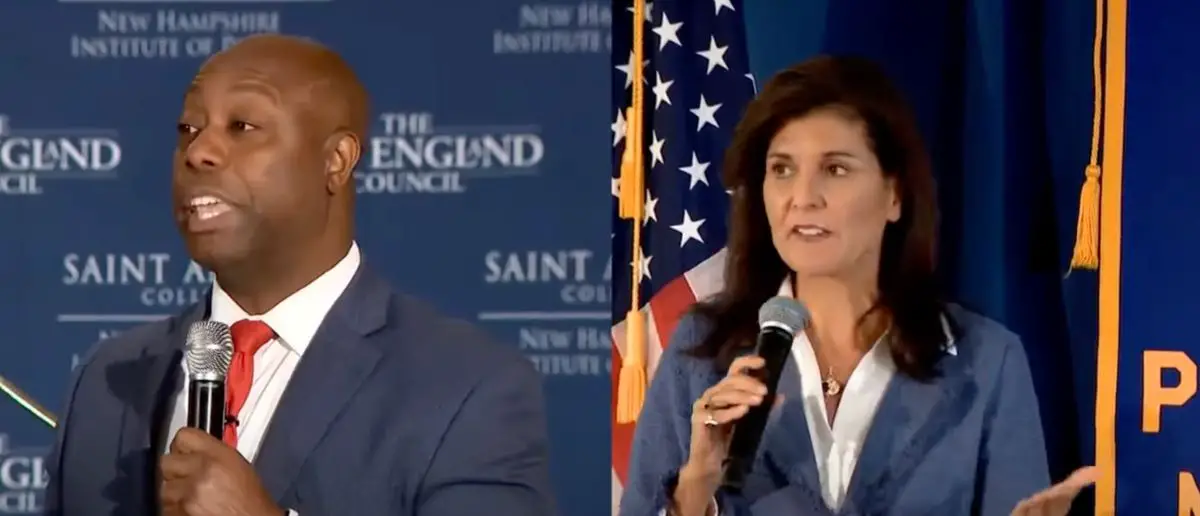 The 2024 election has reached a pivotal point for these candidates. This could be the end of the line for them.
And two GOP presidential candidates receive sobering news about their 2024 hopes.
As one of the first few states to hold their presidential primary, South Carolina is a big early campaign stop for 2024 Republican candidates.
Former South Carolina Governor Nikki Haley and Senator Tim Scott (SC), are two Republicans who are hoping to perform well in their home state.
But that dream may be coming to a screeching halt based off the latest round of endorsements coming out of South Carolina.
As reported by the Washington Examiner, former President Donald Trump received thirteen endorsements from top politicians out of the state.
"Thirteen additional endorsements for Trump were rolled out in the Palmetto State, including Attorney General Alan Wilson, Secretary of State Mark Hammond, and House Majority Leader Davey Hiott," according to the Washington Examiner.
"The former president already enjoys the endorsements of Gov. Henry McMaster (R-SC), Lt. Gov. Pamela Evette, Sen. Lindsey Graham (R-SC), Treasurer Curtis Loftis, Speaker Murrell Smith, and Republican Reps. Joe Wilson, William Timmons, and Russell Fry."
Trump already has a sizable lead over his fellow Republican candidates.
According to a FiveThirtyEight poll, Donald Trump sits at 55.2% nationally, while Haley is at 5.6% and Scott is at 2.5%
In South Carolina, it's more of the same, with the former President at 46%, Haley at 18% in a distant second, and Scott at 9%, according to a Fox Business poll.
These large amount of endorsements from South Carolina is the last thing Nikki Haley and Tim Scott want to see.
"President Trump's legacy of judicial appointments is the strongest in my lifetime," South Carolina Attorney General Alan Wilson said.
"With more than 300 federal judges and three Supreme Court Justices appointed during his tenure, our country will see originalist, Constitutionalist rulings for decades to come…He has my wholehearted endorsement."
House Majority Leader Davey Hiott explained why he believes Trump is the best option to defeat Biden, saying, "Joe Biden has been a disaster, and we recognize Republicans must support a strong and proven leader who will reverse our nation's decline."
"President Trump is dominating South Carolina's First in the South Primary and his nomination will be the first and best step to evicting Joe Biden from the White House. We are proud to join many of South Carolina's officials in endorsing Donald J. Trump as the next President of the United States."
Tim Scott and Nikki Haley are in for a long road ahead of them if they want to catch Donald Trump.
The problem is, if one of them can't carry their home state, they'll have little to no chance of winning the nomination.
And if that's the case, it might be time for Haley and Scott to consider bowing out of the race.
Stay tuned to the DC Daily Journal.