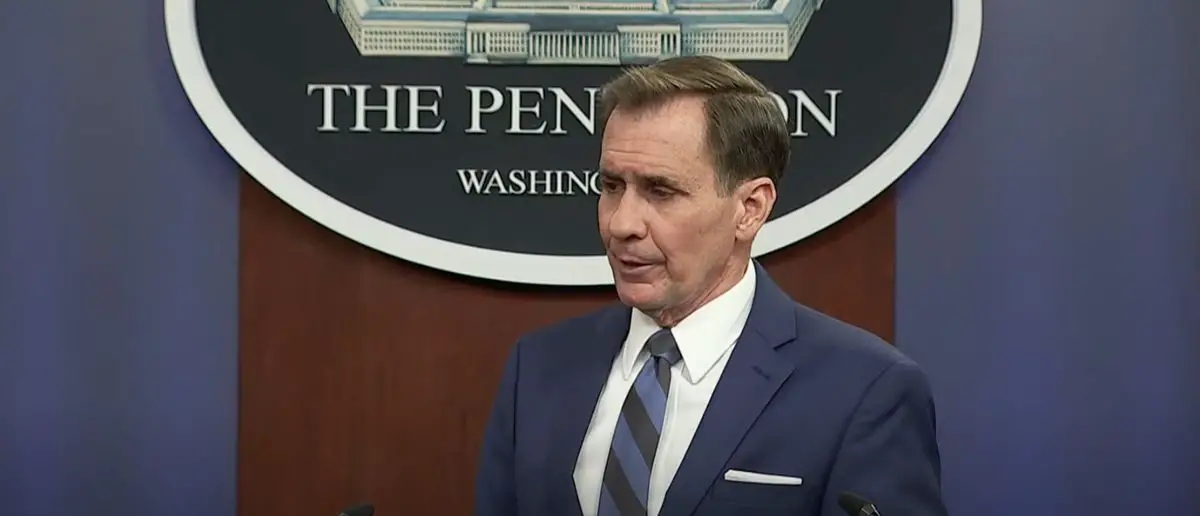 Joe Biden likes to pretend he's a devout Christian. All the while, he's tearing down religion at every turn.
And Biden admin just erased the First Amendment with the stroke of a pen.
President Biden is ostensibly a "practicing Catholic."
To him, going to Mass and wearing rosary beads around his wrist is all he needs to be in line with his Church.
Unfortunately for him, he is diametrically opposed to the Catholic Church on nearly every moral issue – including abortion, same-sex marriage, and gender transitions.
But even more sinister than that is his administration's war against the Catholic Church and Christianity in general.
Just recently, Americans learned that the FBI has attempted to infiltrate Catholic parishes in order to flip priests on their parishioners.
A DOJ memo also labelled traditional Catholics as domestic extremism threats, as if following your religion faithfully is a danger to others.
The FBI has also conducted SWAT raids of pro-life Christian households for supposed crimes that were immediately thrown out by juries while his administration recommends no jail time for those who vandalize churches and assault church staff.
Now the Biden administration is going further, ensuring military men and women don't have access to the spiritual services they need.
And lawmakers aren't happy.
After a military hospital terminated a contract with Franciscan friars who had offered Catholic pastoral care for over two decades, lawmakers are demanding explanations from the Biden administration.
During Holy Week, the Holy Name College Friary in Silver Spring, Maryland, got a cease-and-desist order ordering them to halt all services at the nearby Walter Reed National Military Medical Center.
Rather than continuing the contract, which was set to expire on March 31, the medical facility declared that it would instead work with the secular Mack Global, LLC, rather than the friars.
On its website, Mack Global says that it works with the U.S. military, government organizations, and private companies to provide telework consulting services, administrative and religious staffing, transportation and roadway services, and professional development and training. Janitorial supplies, tactical and training equipment, raw materials, and industrial machinery are all part of its product supply offering. Watertight doors and gym equipment are especially mentioned.
Rep. Chris Smith, R-New Jersey, a Catholic, accused the administration of a "lack of consideration to service members' religious needs and rights" in a letter to Secretary of Defense Lloyd Austin, and expressed "grave concerns" about a secular organization's ability to provide Catholics with the pastoral care they require.
"This highlights questionable judgment by officers awarding a Catholic pastoral care contract to a for-profit company best suited to provide industrial services instead of a Catholic religious institution with a strong record of providing pastoral services," Smith said in the letter.
Smith had Austin respond to a series of questions about the decision to choose a secular contractor. The letter, dated April 14, requests responses within 14 days.
Smith queried in his letter why the agency sent a cease-and-desist letter during Holy Week and why they chose a for-profit contractor. He also inquired as to whether the friars were "notified in a timely manner" and whether they take into account a bidder's "relationship with established religious institutions."
He further asked what steps the department will take to "review the … contracting process and requirements regarding contracts for pastoral care services" and requested a justification for "awarding a Catholic pastoral care contract to a for-profit defense contractor over a religious order affiliated with the Catholic Church."
According to Smith, this is not the first time the Department of Defense has failed to appropriately address the "religious needs and rights" of service members.
"The large number of denials for religious exemptions for the COVID-19 vaccine and the questionable decision making regarding the provision of pastoral care services raise serious concerns regarding the Department of Defense's commitment to respecting the rights of conscience for those who volunteer to serve our nation," Smith said.
Smith added that this decision, "coupled with the recent revelation of the FBI targeting Catholics for increased surveillance in Richmond, Virginia, and the failure of DOJ to prosecute repeated anti-Catholic vandalism at churches" raises questions about the "federal government's respect for, and protection of, the innate religious rights of Catholics in the United States."
Stay tuned to DC Daily Journal.