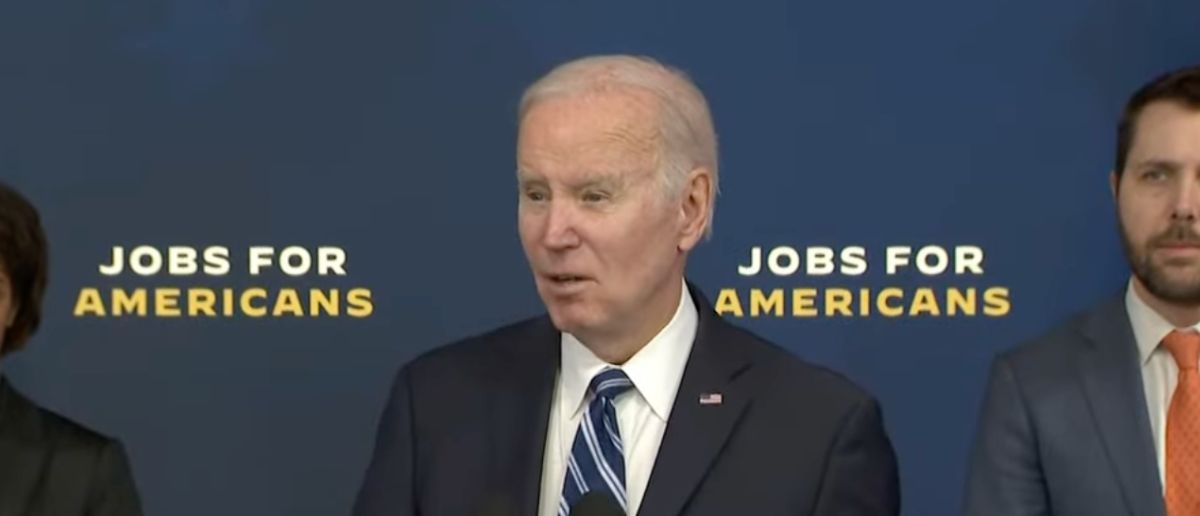 Joe Biden isn't interested in promoting American prosperity. For him, it's all about the Democratic agenda.
And Biden declared war on American businesses with one alarming statement.
As much as Democrats want to push the idea that "Bidenomics" has been a boon for Americans, the average citizen knows better.
Prices are high, and still rising thanks to above average inflation.
Just take gasoline prices as an example: AAA reports that a gallon of regular unleaded gas costs $3.83 on average in the US.
If you look at Trump's last month in office, January 2021, the average cost per gallon of gas was $2.42, according to the U.S. Energy Information Administration.
So what is Biden doing to remedy the problem that plagues nearly every American?
He's declaring war on oil and gas. Yep, you heard that right.
President Joe Biden stated on Wednesday that he is working "very hard" to prevent "all" oil drilling on the East and West Coasts, as well as in the Gulf of Mexico.
Stephanie Abrams, a Weather Channel meteorologist and Pattrn co-host, challenged the president on his climate change agenda during a sit-down interview.
"Let's talk Gen Z because they're going to play a big role in the next presidential election, and many of them are angry about the 7,000 oil and gas permits you approved since you've been in office. You promised no new drilling on federal land or offshore. Can you tell Gen Z that you haven't broken your promise?" Abrams inquired.
Biden responded, "Yes because the courts overruled me. The courts said I couldn't do it. I wanted to stop all drilling on the East Coast and the West Coast and in the Gulf, but I lost in court."
He added, "The private sector's coming off the sidelines. They've invested $250 billion in alternative energy. They're building solar facilities. They're building … you know, there's electrolyzers to take hydrogen and turn it. … I mean, there's so much going on."
"Finally, finally, no one can any longer deny that we don't have a problem with climate change," Biden said – apparently not recognizing the double negative he spoke.
The Biden administration prohibited any new uranium mining operations on approximately 1 million acres of public property next to Grand Canyon National Park while visiting the Grand Canyon in Arizona.
So nuclear power, the most efficient power source, is off the table, too.
"Nationally, we've conserved more land. We've moved into rejoining the Paris climate accord … [and] we passed a $360 billion climate control facility," Biden said in his Weather Channel interview.
"We're moving. It is the existential threat to America," the president added.
When Abrams asked to clarify if he had already declared a national emergency on climate change, Biden said, "Practically speaking, yes."
The president spoke at a groundbreaking ceremony for Arcosa, a wind tower manufacturing plant expanding operations in Albuquerque, New Mexico, on Wednesday.
Stay tuned to the DC Daily Journal.