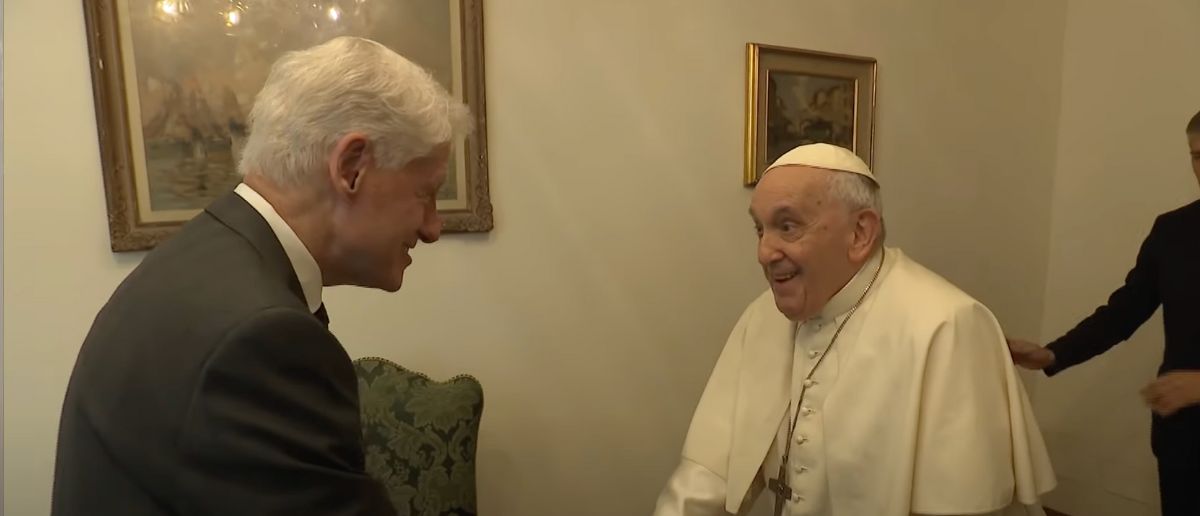 Many conservatives have had concerns over the Bishop of Rome's politics for years. But this takes it to a whole new level.
And Bill Clinton's meeting with Pope Francis sends the Catholic Church into chaos.
The Clinton Foundation announced on Thursday that Pope Francis and former President Bill Clinton will discuss important issues confronting the globe at the annual conference of the Clinton Foundation's worldwide humanitarian endeavor next week.
The Clinton Global Initiative (CGI) 2023 summit will begin on Monday, Sept. 18, with "a special conversation between President Clinton and His Holiness Pope Francis" via remote link, according to a press statement from the foundation.
According to the release, the conversation will center on "what it takes to keep going on the most pressing global challenges of our time," such as "climate change, the refugee crisis, the welfare of children, and the mission and projects of the Bambino Gesù Children's Hospital."
Francis already met with Bill Clinton at the Casa Santa Marta papal residence earlier this year, however no specifics of that encounter have been revealed.
Chelsea Clinton, vice chair of the Clinton Foundation, spoke at a virtual Vatican summit on health two years ago.
The Clinton Foundation describes its global mission on its website as "creating a community of doers who are taking action on the world's most pressing challenges, together."
Next week's conference will also feature U.S. Treasury Secretary Janet Yellen, California Governor Gavin Newsom, former British Prime Minister Tony Blair, and Michigan Governor Gretchen Whitmer.
According to the Clinton Foundation, the Global Initiative has assisted "more than 9,000 organizations [launch] more than 3,900 Commitments to Action," which are "new, specific, and measurable projects and programs."
Of course, Pope Francis has always been a vocal advocate for the poor and destitute.
He also has talked about his concerns regarding climate change, though his seminal environmental encyclical, Laudato Si, heavily focused on access to water, biodiversity, and the breakdown of society among other things.
Many faithful Catholics are getting exhausted by the murky statements and seemingly counter-productive meetings of the Pope.
What good will come of attending a foundation led by people who openly despise the Church's teachings?
And all of this comes on the heels of Pope Francis' crackdown on the Tridentine Latin Mass (TLM) around the world.
The TLM is seen by many as a slice of tradition in this rootless world, yet the Holy Father greatly restricted it in his Apostolic Letter Traditionis Custodes.
Further, the Pope is reportedly mulling over the idea of asking Bishop Joseph Strickland of Tyler, Texas to resign.
Strickland has come under fire for his suspiciousness towards the Vatican's motives and actions, in addition to blasting Hillary Clinton on Twitter.
Please, please don't listen to this evil woman. Her lies and immorality need to be silenced for the good of humanity. https://t.co/fZhp6bljnK

— Bishop J. Strickland (@Bishopoftyler) December 3, 2022
So why is Pope Francis putting the pressure on conservatives but not liberals?
God only knows.
Stay tuned to the DC Daily Journal.