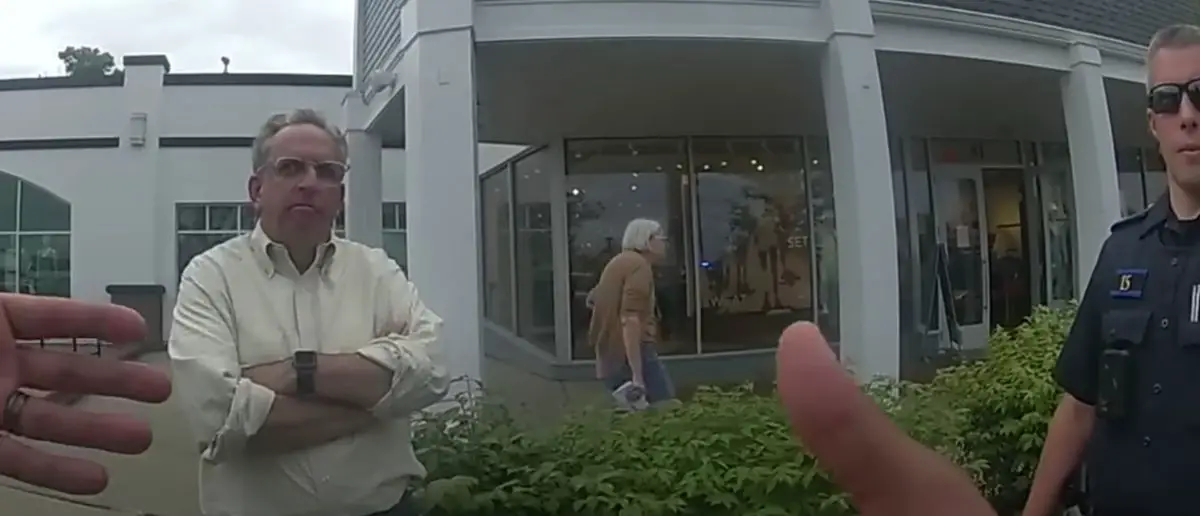 You're free to disagree in politics provided you keep it civil. One Democrat through that rule right out the window.
And this Democrat Senator was just arrested for a violent crime.
The Left likes to pretend they are the party of tolerance and acceptance.
In reality, they only tolerate and accept your opinion if it doesn't question the liberal orthodoxy.
That's why they've been so quick to label MAGA Republicans as threats to this country – they won't play ball with the Democrat agenda.
But one Democrat took it way too far and now they're facing the consequences.
Local police in Rhode Island reportedly detained and charged a Democrat state senator last week with vandalism and deliberate injury to property after the lawmaker allegedly damaged a vehicle parked at an outdoor shopping area with a "anti-Biden" sticker.
Cranston Police arrested State Senator Joshua Miller (D) on Thursday after he was accused of "keying" an SUV in the Garden City Center parking lot at 3:30 p.m.
After confronting him about the event, the vehicle's owner identified the 69-year-old politician to authorities, alleging they spotted a man standing outside their vehicle holding a keychain and squeezing a single key and hurriedly walked away.
The anonymous victim, a supposedly Trump supporter, observed a vehicle parked nearby with a "Re-elect Senator Josh Miller" bumper sticker attached. Following the event, the victim conducted an online search for Miller and identified him as the culprit.
Miller, a Cranston and Providence representative since 2006, first rejected the accusation to both the authorities and the victim.
"He was blocking my way, saying I scratched his car, I didn't scratch his car," Miller said in a video posted on social media. "I'm a state senator — I think he'd recognize. I think he's one of the gun nuts."
In the video, an unidentified male responds, stating he doesn't "know any of the senators, to be honest."
Surveillance video shows the moments Senator Josh Miller is accused of keying an SUV with an anti-Biden sticker at Garden City

He first tells Cranston PD he didn't do it, then when they show up at his house and say they have video, he admits to it @wpri12 https://t.co/Fn78uKFKrt pic.twitter.com/vt8Zw3sZD0

— Amanda Pitts (@AmandaPittsTV) June 23, 2023
A local NBC affiliate contacted Miller and inquired whether he had keyed a Trump supporter's car.
Miller responded, "I have to review the charges."
Miller allegedly changed clothes at the scene to avoid being identified. When asked by the reporter if he removed his jacket at the location, Miller responded, "I took my jacket off — that's not against the law."
Miller appeared to confess to police after an officer arrived at his house and stated that police had obtained video of the incident.
The senator agreed to travel to the police station, where he was charged with vandalism and malicious property damage and released on $1,000 personal recognizance.
"Nobody is above the law, including those who make and enforce the laws," Cranston Police Chief Michael Winquist said in a news release Friday. "The officers who handled this investigation did so with fairness, integrity, and without preferential treatment."
Miller will be formally arraigned in court on July 18, according to local media.
Miller has been involved in contentious acts in the past, according to the Post Millennial: a video previously showed him telling a man, "Go f*ck yourself," after telling the lawmaker, "The Second Amendment shall not be infringed, you people need to understand that."
Miller, according to Rhode Island GOP Chairman Joe Powers, should resign following his arrest.
"This behavior is unbecoming of anyone holding a leadership position," Powers wrote on Twitter. "State Senator Joshua Miller has proven once again the he does not have the composure required to represent every constituent in his district and must resign immediately."
Stay tuned to the DC Daily Journal.