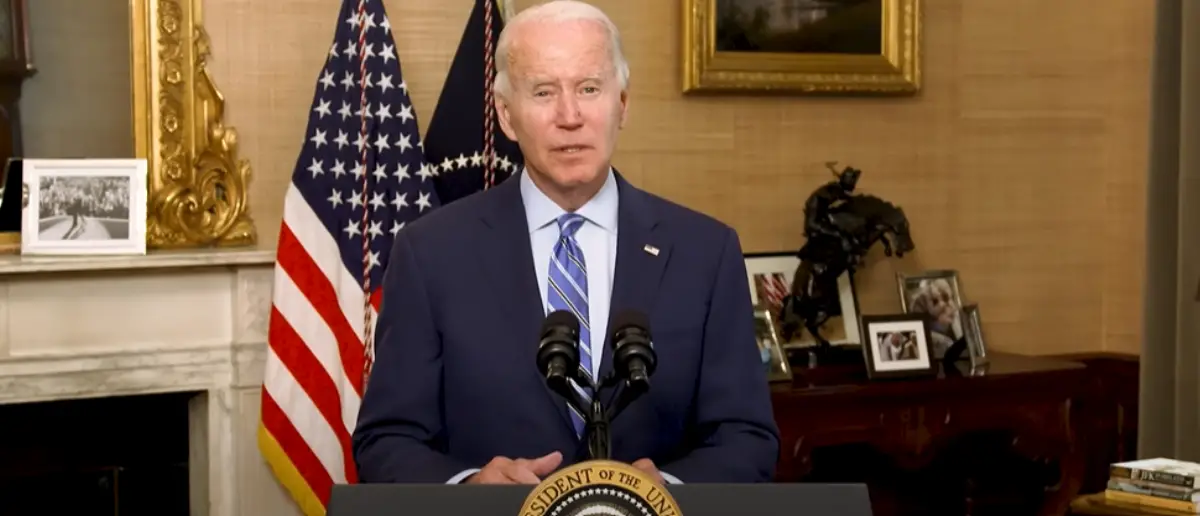 The White House has been in chaos since details surfaced of Joe Biden's mishandling of classified documents. Joe Biden couldn't hide any longer.
That's why he addressed his classified document scandal with this shocking statement.
President Biden has had a rough couple of years, to say the least.
On foreign policy, he disastrously withdrew from Afghanistan, leaving thousands of allies stranded and over a dozen U.S. servicemen dead.
Domestically, inflation is still at record highs, the national debt is soaring, and supply chain shortages are rampant to anyone who has been in a grocery store lately.
Even with all that, many thought Joe Biden would be able to whether the storm, but his classified document scandal threw the entire White House for a loop.
Not only were documents discovered at a Biden-associated think tank, but classified material was also found in Biden's Delaware home and garage.
If that wasn't bad enough, his son Hunter, who is currently being investigated for his financial dealings and connections with Joe Biden, lived in the home for the years the documents were there.
Hunter notoriously associated with foreign business partners from China, Russia, and many other eastern countries, which raises the question, did Joe compromise national security by hiding these documents?
Even if no one but Joe Biden saw these documents, the answer is "yes." You can't stash Top Secret material in a box in your garage and pretend that isn't a threat to the nation and our intelligence agencies.
All of these questions are starting to grind on the gears of the White House. Press Secretary Karine Jean-Pierre has even had to explicitly reject any question on the matter.
Q: "Can you tell us if there's any sort of assessment…to determine if national security has been jeopardized at all?"

Karine Jean-Pierre: "That's for the Department of Justice."

Q: "Why?"

Jean-Pierre: "It's not your decision to make on what I can and can't answer." pic.twitter.com/9mgCAqIPIj

— RNC Research (@RNCResearch) January 18, 2023
The White House has tried to sweep this all under the rug, but it's too late for that. That's why Joe Biden finally addressed the scandal.
President Joe Biden replied to the probe into his handling of secret material on Thursday by stating he has "no regrets" about his behavior.
"We're fully cooperating, looking forward to getting this resolved quickly," Biden said following remarks on the ongoing recovery efforts in California following recent storms. "I think you're gonna find there's nothing there. I have no regrets. I'm following what the lawyers have told me they want me to do — that's exactly what we're doing. There's no there, there."
Biden slammed the reporter who for even asking the question, saying it "quite frankly bugs" him that it was asked.
A reporter asks Biden a question about the classified docs: "What quite frankly bugs me is we have a serious problem here and the American people don't quite understand why you don't ask me questions about that" before adding he has "no regrets" about how he handled the docs. pic.twitter.com/rkV8eOiaPq

— Greg Price (@greg_price11) January 19, 2023
After U.S. Attorney for the Northern District of Illinois John Lausch, who was assigned to do an initial review of the case, recommended that a special counsel be appointed, U.S. Attorney General Merrick Garland appointed former U.S. Attorney Robert Hur — who served during the Trump administration — to serve as special counsel in the investigation.
Under a mutual agreement struck with Biden's personal counsel, the Department of Justice declined to dispatch FBI officers to monitor the search of Biden's residence. Department officials apparently concluded that FBI oversight would overcomplicate the federal probe into sensitive information relating to Biden, and that it was unnecessary given Biden's cooperation.
That's right, since Biden is cooperating now that he got caught, the DOJ will let him investigate his house himself.
Stay tuned to DC Daily Journal for updates on this developing story.